Another week and another obstacle race to test my progress since my surgery November 30th. This time I was racing up in Wisconsin for the my third appearance at the Gladiator Assault Challenge. This race has become one of the races that I look forward to every time it comes around. The obstacles, challenges, distance, festival area, and location are all top notch. Located at Grand Geneva Resort in Wisconsin they really utilize the steep inclines that make up the fairly short (in terms of height) hill. Every time I've come to this race the course has been drastically different which has kept it surprising and interesting.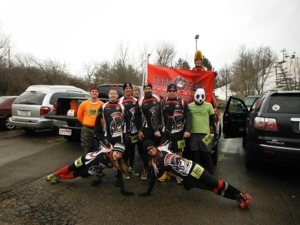 When we arrived there was still snow on the ski hill but myself and the Corn Fed Spartans that I met there were all still on a high from spending the previous weekend in Vegas for the Super Spartan. This snow added a new elemental challenge and was a complete 180 of how things were the week before. New Balance shorts, Injinji performance socks, and Inov-8 X-Talon 212 shoes…that was Vegas. Injinji compression socks, same shoes, Inov-8 Gaiters, Under Armour Cold Gear compression pants, Under Armour Heat Gear long sleeve compression shirt, my Legend of the Death Race tshirt, an Under Armour beanie, and Under Armour gloves. Cold weather requires so much more but with the right gear you can be plenty warm, wick away the water, and not have to restrict movement which is key in cold weather obstacle racing. Get Dry. Stay Warm. Retain flexibility.
GAC does release a map of the course and obstacles but I choose not to really look except maybe a quick glance before race day. I really do prefer the unknown. I find it makes you learn to react faster when you come up to a new challenge and develops analytical thinking ie. do I climb over the elevated cargo net or do I try to traverse as though it was set of monkey bars, these types of decisions are critical in determining how fast you complete any course. While I understand there are many people that don't worry about their time or how fast they finish, the way I see it is you have to challenge yourself, and to do that you have to set a baseline. From there it's all about pushing yourself to meet and exceed that with the intention of creating a new baseline. Continuing this process and replicating it in all areas of your life is the path to becoming the best person you can be.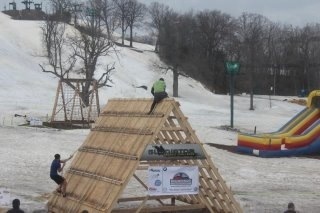 Before the race began I was hanging out with the Corn Fed Spartans inside the lodge, I believe they were waiting on some people finishing up in the bathrooms. I didn't want to miss the first wave start that Sunday morning. So I told them I'd meet them at the starting line and I took off to drop my backpack off at bag check. I climbed to the top of the steep ski slope and did a quick active stretch before the race began. I thought I'd be clever and put my GU energy gel in my glove for easy access later and so it wouldn't fall out of my shorts. The race started off faster than I expected and as I descended the steep slope there were my friends all heading up the hill. I waved at them as I took the lead and hit the first wave of rolling hills. Within the first couple minutes we were heading up a large A-frame obstacle and I heard a "Go Anthony" from Joe, one of the owners of Gladiator Assault Challenge. As I hit the top I gave him a quick glance and nod to acknowledge and then I was floating down the other side and attacking the snow covered course with a burst of excitement and competitiveness I hadn't felt since the Midwest Super Spartan.
That lasted only a short while, after running through the fire and hitting a few sets of steep inclines I was toast. Once again I was forced to realize that I'm still not 100% and that's okay, I'm training and pushing hard to get back to where I was. It's a process. One I am dedicated to. After my position fell past the top 10 I focused on my race and stopped worrying about where I was. I found myself battling for the second half of the course, probably sometime right around the log carry, somehow I ended up with a essentially a tree on my shoulders. Surprisingly enough it didn't bother me too much.
That was one hell of a log carry too. Every time I thought we were coming up on the turnaround point to head back and drop our logs back off I'd find us twisting somewhere further down the trails. I remember coming out to a clearing and thinking to myself, "finally." Then my eyes took in the entire picture and glanced to the ground below, or lack there of. We had to carry the log across this shoulder high swap that had a single rope going down the center for shorter people to grab hold of. There was no way I could keep my log on my shoulder and not risk drowning myself so I tossed it in front and did my best to push it along the muck. By the time I exited my log weighed twice as much as before I started, what's that one song…I wish I was a bit taller?…ya right then, I did. I took off and was barely able to respond to Rob (GAC employee) when he questioned why I would do that to myself, meaning why I grabbed the log the size of a tree, and began the trek back so I could finally unload. It was one of the longest log carries I have done and when I finished I felt awesome. I knew my strength was returning and soon my speed would.
The rest of the race I found myself trading places with this one guy wearing a blue shirt. After every so many turns one of us would overtake the other and then I'd get ahead and would hear him coming up behind me. It wasn't until toward the very end of the course when we came upon a quicksand-like mud pit. The suction was incredible, I found it very difficult to pull myself out, and the key is to only use your arms because kicking will only make it worse. After that there were two sets of balance beams, the first was just a 2 inch wide platform which I only successfully crossed by a quick leap to the end of it, the second one was 4 inches wide and much easier to conquer. Finally, you hit the end of this gauntlet of obstacles which was a cargo net set up to be like monkey bars over a few feet deep mud pit. I elected an alternative option and climbed on top of the structure and jumped off the end, it did slow me down but ensured success and avoided causing any damage to my somewhat fragile shoulder. From there it was around a mile or so to the finish. I had finally created some distance and came over the top of that last A-pillar obstacle, crossing the finish line, and feeling so much better since my pathetic performance in Vegas.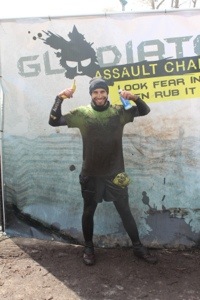 After the race I waited for the Corn Fed Spartans to finish, met up with Joe and talked about how great the course was (he had just finished running it with his 12 year old daughter, ya that's right she finished and she's 12). Joe invited me to the Boone, IA race that they are hosting May 18th so if anyone in the Chicagoland area wants to carpool with me let me know (Hotel is $60/night). I will most definitely be attending as many of the Gladiator Assault Challenge races as I can fit in my schedule. I suggest you check one out.
Once everyone had finished we had some burgers, brats, and dogs grilled by Missy, thank you! A bunch of obstacle racers, that I consider family, tail gating in the parking lot after a tough race, it was the perfect ending to a wonderful race. Oh ya and ZICO Coconut Water hooked Corn Fed up for the Indiana Spartan Race and Legend of the Death Race secured them as a sponsor.