Returning to the Obstacle Racing world as an athlete and competitor has been one of my primary goals ever since I elected to have the labrum in my left shoulder repaired by Dr. Mark Bowen. Since then it has been an upward battle with myself to redevelop my strength and flexibility, still a work in progress, yet with all my recent micro-triumphs (a pull-up here and a burpee backflip there) I have still found myself wondering how far I had actually come.  I am a strong believer in testing yourself where it matters most, at a meet, during a race, or at a competition in the sport you play. The same goes for obstacle racing. The only way I was truly going to know where I stood as I begin my training for the 2013 Death Race, basically taking my 6 month plan from last year, throwing it away and experimenting with a 2 month accelerated regimen.
Currently I work out 3-4 times  week with one day focused only on shoulder flexibility and strengthening. I'm running 3-5 times per week now, only doing 15-20 miles per week so far but upping the mileage as fast as my body allows.  My eating has been pretty spot on, and I've been taking my Innerzyme Pain and Inflammation blend. I rarely take pain killers but occasionally I'll have a few aleve. Everything needed to get me back in gear for obstacle races.
To begin my journey I personally needed to know if I could complete a Spartan Race, based on my physical therapists recommendations and my doctors I originally made my schedule out to have the Gladiator Assault Challenge serve as my first test run followed by the Indiana Spartan Race Sprint as my chance to start racing in the "Elite" circuit again. When I realized how fast my strength was coming back I decided on the whim to see if I could catch a ride to the Vegas Spartan Race Super.  To me Vegas is like a second home, it's the most visited place I've ever been serving as our go-to vacation spot growing up.
Vegas Bound
Flying out to Vegas was not an option so I reached out to my network to see who might be road tripping. Sure enough my friends from the Corn Fed Spartans and hosts of the Legend of the Death Race location had a spot open. I met with my man Chad, his wife Lisa and Jon in Wisconsin on Tuesday April 2nd and we set off on a 24 hour road trip to the Fabulous Las Vegas, Nevada. Even though we were not flying I still tagged my bags with my new LostnScanned© tags just incase anything got misplaced out there. (Full Disclosure: LostnScanned© is a new startup that I work with, it's a very cool product that helps you retrieve your lost valuables).
We arrived in the early afternoon on Wednesday, checked-in, hung out at the pool and it was then that Vegas took over and the debauchery began. Vegas was good to me and hooked me up with a couple extra bucks before I left. After a few nights of what we'll simply call, "Vegas," I had every intention of NOT getting all "Vegas" on Friday before the race on Saturday, however the excitement of more friends arriving that night got the best of me and I gave in and began day "Vegas" way more than I should have. Stupidity at its finest.
Vegas – Super Spartan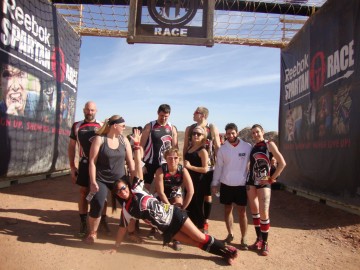 Come race day and I was not in any shape to be running over 8 miles in the desert at Lake Las Vegas. Even though I felt like absolute shit I didn't let that stop me from pushing myself.  Starting your day dehydrated and then trying to rehydrate/stay hydrated during an intense mountainous, desert obstacle race is like skydiving without a parachute. It's really dumb.  Needless to say, I puked on the course, it had to happen. After that one of the volunteers had medical check on me, the gatorade he gave me was a huge help for my hydration issues.
Most of the race I found myself running with my friends I made during Team Tire's tribulations at the 2012 Death Race from Team SISU and the Weeple Army.  Daren, Louis, Matt, Dave, Rob and whoever else I'm forgetting to mention (sorry theres a lot of ya) made for some great company during the race, something I'm not used to having. We talked about the SISU IRON event that Daren is hosting, sounds like a mini Death Race, the Legend of the Death Race, and of course about THE Death Race. For us, everything else is preparation for the main event, including this race.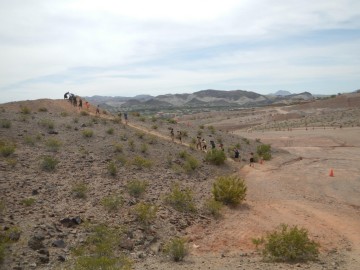 The course was gorgeous, Lake Las Vegas is an awesome location for an obstacle race. The dust was a bit of an obstacle itself, within minutes of hitting the course there were just clouds of sand and dirt all kicked up into the air, choking you out and taking away from the already minimal air supply you had to work with. The water was refreshingly cold. There was a new obstacle, a tire drag, you had to drag a tire that was attached to a rope and spike in the ground all the way out until the rope was tight and then back. It aggravated my shoulder a little bit, the weight was prolly in the upper 150-200 lb range.
Spartan Race is doing this cool new thing where they actually send you all your video clips from the race. So they captured me doing the rope climb, shipping container cargo nets, and the fire and gladiators at the end. It was a real treat to see video from my race, very cool Spartan Race, very cool. This was an amazing race and it's good to see that it continues to improve and evolve both on the course and technologically. Now if only they would get rid of the annoying pop-up ads on their websites. Here is a link to the video reel, it'd be nice if this gets updated to allow you to compile and publish to your youtube account.
How it Felt
As it stands I'm still in recovery mode, I was able to do all the obstacles without having to do burpees. I did skip one obstacle and burpees because my shoulder was sore, and that was the bucket carry. The weight, distance and way I would have to carry the bucket was not worth the risk. I am no longer able to consider myself anelite competitor but I believe there is more to being an elite than how you place. It's how you train, it's how you recover, it's how you spend time helping others, it's how you giveback and always keep yourself open to learn more. I'm not placing in the top 15 overall and top 5 in my age group after this first race and that is okay.  It just motivates me to train more and of course train wise. There's a happy medium I have to focus on with my newly healed shoulder and I'm finding my limits and learning when to break past them.
Overall I am super happy about this race and even though I performed worse than I ever have since I began racing I'm okay with it. I was dehydrated from the heat, sun, and from all the "Vegas" that happened. It was a whole new challenge and one I learned a valuable (already known, so I guess it's a reminder) lesson going forward. Everything is improving and I have two months left until the Death Race. Let's do this.