*Gladiator Assault Challenge. An Obstacle Race you should get to know.
March and early April are generally six weeks of terrible weather in Chicago.
Say what you want about Midwest winters but spring?
Hate.
It's rainy and cold and about a 50/50 chance that the snow from winter may or may not have melted. Worse yet, that same percentage also describe the odds that it will actually still snow in a given day! Road racers may recall that March weather in Chicago was so bad for a good five year stretch that it forced the annual Bank of America Shamrock Shuffle to, temporarily, be run in late April due to 1) runners pulling out of the race but then 2) not signing up again the next year as the crap weather was pretty intolerable for road racing.
But you know what the slushy, sloppy, cold and icy Midwest spring is perfect for? Off road.
The Setup
I wouldn't call myself a true racer – road, obstacle, endurance, trail or otherwise – but I do enjoy the experience as a hobbyist and was highly entertained when Legend of the Death race called about heading north to the Grand Geneva resort in Lake Geneva, WI for something called the Gladiator Assault Challenge.

Neither of us had heard of the company or the race before but truth be told, does it really matter? It's been 18 years since former Black Flag frontman Henry Rollins had his essay Iron and the Soul published in Details magazine (1994), but what Henry says about two hundred pounds ALWAYS being two hundred pounds? Yea, that goes double for running seven miles.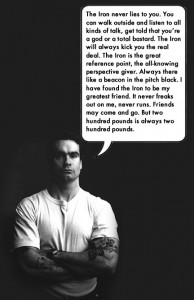 Point being we had a cold weather race practically in our backyard – and both of those seem to be rarities when it comes to trail or obstacle racing – so we jumped at the opportunity. For once we wouldn't have to spend the dough on flights or hotel rooms or spend hours upon hours in a car driving to an event. Nope, sleep in my own bed then drive a leisurely hour and a half to just over the Wisconsin border, run the course and head back. We could even detour at the Mars Cheese Castle and/or pick up a trunkful of New Glarus' Spotted Cow beer from a liquor store (not available in Illinois) and still make it home in time for a late lunch at Pequod's (mmmmm, Pequod's).
Done and done.
Pre-Game
Both Tony and myself had each reviewed the course map the week prior – a little vague but nothing that seemed like it would be particularly bothersome – so my only real concern was the weather. It was easily 20 degrees below projected temperature for the morning of March 31 so we were hovering right at 30 the degree mark with a light on-and-off drizzle and a wind-chill factor that made it feel more like 20 degrees.
Awesome.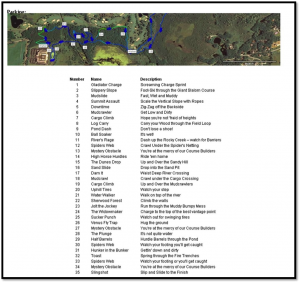 I get real quiet right before physical activity so the car ride up to Grand Geneva was dominated by the sound of Spotify playlists with little conversation between Tony and I.
Checking in was easy enough – I guess one of the benefits of holding an event at a ski resort is you already have massive areas set aside for things like parking and registration and don't have to muck about with makeshift anything in that regards. What can I say; it's the little things.
Back beyond registration was another story though: Pure. Muddy. Chaos.
Lots of shivering faces crammed into the (relatively) small locker room area that houses skiers for all of a few minutes before they head to the slopes. Today, no one looked happy. Generally people finishing an event will have that tired look in their eyes, this is true. This was something different though, as people looked truly miserable.
Awesome x2.
The usual pre-race stretch (lots of attention on the hammys) and we made our way midway up the main slope to one of the smaller hills where the race would begin. We had about 10 minutes to spare so we faux-stretched for a bit (you know, the kind where you look like you are stretching but really just half-assing it to kill time) and got ourselves a prime position at the start line.
Boom.
Gun went off and we tore down the first ski hill and up the second….
In Which Our Hero Learns How Useless Road Running Gear Is in Obstacle Racing
… and almost immediately after were sent down the Slip n' Slide's 'roided up cousin of a 30 yard tarp into a three-foot pool of mud water.
GAC's course map said "Mudslide – Fast, wet and muddy" but I said: 
 This course was also very reminiscent off the inaugural Spartan race in Indiana I did a few weeks later in mid-April. There were considerably less man-made obstacles and the course primarily used the terrain itself make life miserable for racers. Based on feedback of the aforementioned Spartan Race I know a lot of Spartan participants disagree, but I love the natural feel of courses like these. You are constantly dealing with changes in incline (to say nothing of scaling some of the slopes themselves) and steep declines of the out-of-season ski slopes; the quickly-deteriorating paths in the woods surrounding the entire property that make accelerating or changing direction difficult; way more water than anyone would ever like to see when it's 30 degrees out and basically making it hell to stretch out the legs and pick up significant amounts of speed. That's what I get for running three years of road races before trying my first obstacle race though!

However, no obstacle race is ever satisfied with simply utilizing the natural terrain. The aforementioned massive Slip n' Slide would have been fun if it was warmer out but the mud pits wouldn't be fun in any temperature. Don't let the below right photo fool you – that mud is waist deep and you were sinking in fast from the moment you hit it.
Special mention goes to the cleverness of an obstacle that seemed like it was a simple tunnel crawl (bottom left) but in actuality led us off of a hill so the tunnel ended in an unexpected free-fall (all of five feet) onto another tarp and took us for a quick slide into, yes, more water. Not difficult by any means but there were more than a few F-bombs dropped (I can claim at least three) when racers attempt to fly through the tube in a low crawl and absolutely lose their shit when they hit nothing but air at the end!

The big lessons from my first obstacle race were twofold:
1. Very rarely are you going to get the open space to hit your stride like you would in a road race.
Every athlete, from the pros to weekend warriors like myself, knows how important core work is. The unstable footing, uneven terrain and general build of an obstacle course emphasize the importance though. Think of an NFL running back – short, choppy, powerful steps through the hole and then explode once you have some semblance of open space. Being able to change direction or move laterally is something regular runners hate. It reduces the amount of forward momentum that is crucial for maintaining a rapid pace and as altogether a time-killer on the road. In an obstacle race, however, these are natural movements necessary virtually throughout the course – so never rely on cardio training alone and make sure your core workouts are going to allow you to churn your legs and quickly change direction without burning through your energy reserve.
2. No tech gear is going to help. In fact, it may actually hinder you.
I love my Salomon XT softshell jacket, I really do (half-zip version available HERE)… but no amount of performance gear makes a difference when it is waterlogged and covered in mud. I was covered head to toe in some of my favorite running gear (tights, shorts, tech-T as a base layer and even my running gloves) and all it did was get heavy and from the combination of water and mud. Moisture-wicking aside, you really (REALLY) don't want all that staying on you.
I have run multiple obstacle races since and I have to admit that there is something to the stripped-down bare essentials exemplified by all-around badass Brakken Kraker (above, left) and other gentlemen of obstacle racing. Ladies, this goes for you too. Check out the Spartan Chicked blog (and join their group on Facebook HERE) and you'll notice a common thread. Ok, BESIDES that they are all badasses and routinely destroy the majority of the male field… it's that they are wearing minimal gear. Skiers and other cold weather athletes claim that cotton kills and while it may not kill you in obstacle racing there's a very good chance wearing more than you need will contribute to killing your time (generally make you miserable while doing it).
Not a good combination.
The same goes for shoes. Running or cross-trainers are great for the gym or on the street but the mud and water do the same damage to your footwear as they do your choice in race gear. Keep in mind that you want light, fast draining and some sort of natural grip on your kicks – road shoes do great on the first aspect but horrendous on the other two.
For shoe recommendations: Margaret Schlachter of Dirt in Your Skirt has a great review of the Inov-8 TrailRoc shoe HERE (and make sure you follow her on Twitter at http://twitter.com/DirtinYourSkirt) and keep your eyes on Legend of the Death Race for Tony's upcoming reviews of both Inov-8 and Vibram products for obstacle racing.
The Aftermath
35 obstacles later we could see why there were so few happy faces amongst the finishers. The mixture of cold weather and lots of water hazards soaked participants from the second obstacle and kept them chilly for the duration.
The course was well done, especially for this being the first race offered by the company. A few choke points along the way, especially in the tree-walls (four sets of increasing height "walls" made by nailing horizontal planks between trees – the tallest being a good 30 feet off the ground), and lot of course loops forcing participants to backtrack towards the central course area, but these seem to be present at every event no matter the company in charge.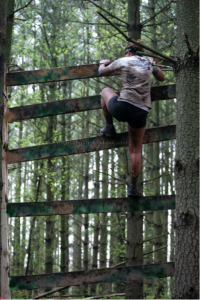 Finally…
I'm excited to see what GAC does as they get more races under their belts. They seem to be operating four events per year at the current time – two in Lake Geneva, WI and two in Boone, IA – with the next event towards the end of September (WI-2). As companies like Warrior Dash (Red Frog) and Peak Racing (Spartan Race series) as well as Tough Mudder and the growing number of smaller competitors continue to create events around the country it is a nice feeling to have one based here in the Midwest in GAC.
For more information on future Gladiator Assault Challenges please visit www.gladiatorassaultchallenge.com or Like them on Facebook at https://www.facebook.com/GladiatorAssault.
All photos used in this post are by Christie Maddox Photography from the March 31, 2012 Gladiator Assault Challenge in Lake Geneva, WI and are available on the photographer's Facebook page HERE.
A sweet video montage of the Gladiator Assault Challenge in Wisconsin on March 31, 2012 was created by YouTube User JTOBCAT and can also be found HERE.