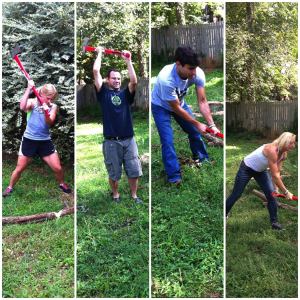 When you are staying with other Obstacle Racers, the obstacle race training never ends.  Sunday morning we, Maureen, Andi and myself, headed over to Matt's house to have breakfast together. After we all ate we were put to work. We helped Matt gather firewood from a neighbor's house who was moving away.   Even his lil' ones, Jackson and Emma, helped out.  I gave everyone a lesson in how to properly swing an axe and we all took turns chopping away at some very waterlogged stumps and such.  Matt also had some fun busting a couple old doors up with a sledgehammer.  They also played around with Andi's homemade tractor pull, even Emma got in on the fun.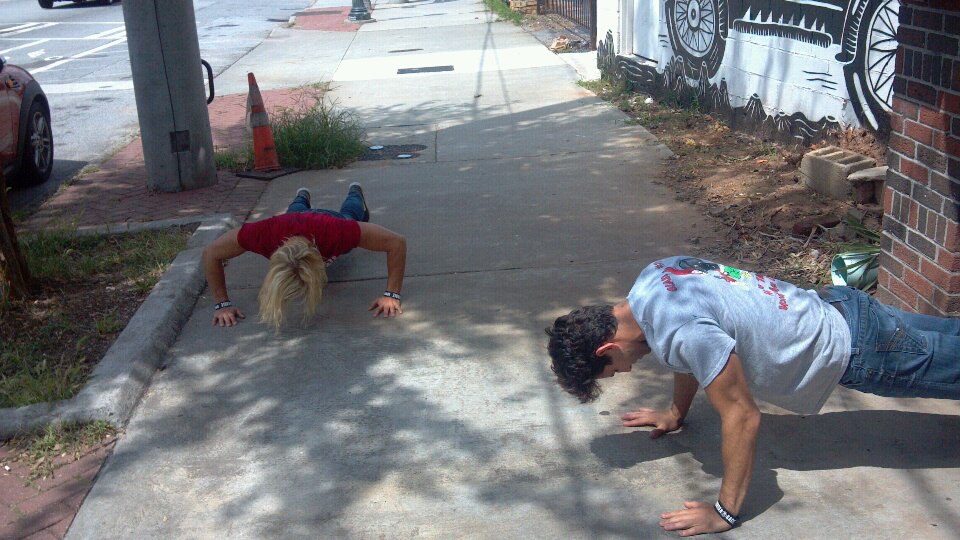 After all that we began to get hungry again so we walked down the street to a local restaurant.  Though the options were limited, because it was brunch, we had some real good food.  I absolutely devoured my burger.  Before our food came out however, Andi and I decided why not knock out some of our pushups for the Push Up Challenge that is happening for the month of September.  We went outside the restaurant and both cranked out a hundred.  It's funny how many people stop to ask why we're doing what we do.  Always turns into a great opportunity to promote the Spartan Races, and other obstacle races that we are training for.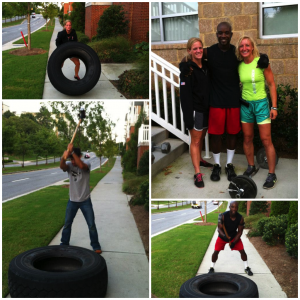 Later in the day when Maureen, Andi and I were driving to Jason's Deli for dinner, delicious by the way, I spotted a guy flipping a tire outside on the sidewalk at an apartment/townhouse type complex.  Of course we just had to stop.  It turned out he was training for a bodybuilding show in New York.  Andi asked Kerwin if we could flip his tire.  Only crazy obstacle racers would do such a thing. Ha.  So we all took turns flipping this big tire.  Then he brought out the sledgehammer and we all got our turn striking the big tire.  I think we convinced him to consider doing a Spartan Race, hopefully we'll see him out on the course in the near future. He was a BEAST.
Post dinner we decided to do some sightseeing in downtown Atlanta.  We made a stop by the Olympic park area and of course what did we do? More pushups.  We got the attention of some guys walking by. The one asked if we really just knocked out 100 pushups, which Andi and I had.  He claimed he could prolly only do twelve, we said well join us! He dropped down and him and I went head to head at first, and then Maureen and Andi joined in.  I think he did some 38 pushups or so and he said he was going to join in on the Push Up Challenge for the rest of the month because we inspired him to start doing them everyday.  I love it; being able to motivate people to start doing something as simple as some push-ups is so invigorating.  That's what it's all about for us, ripping one person off the couch at a time.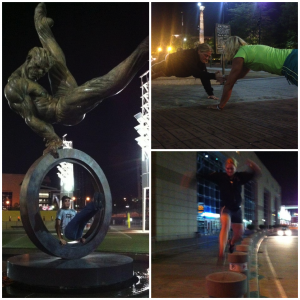 Next we made our way over to the Olympic Gymnast statue near the convention center where I remember competing in a National Cheerleading Competition a few years back; we placed 3rd in the International Open Division that year.  When we got to the statue I was in awe.  It was so, so cool to see this massive gymnast doing flares on a ring.  I jumped in there and held the best V-hold I could. It's been a long time but I've been starting to practice these more and more recently.  Andi ended up climbing up on to the statue and grabbed the guys butt. Too funny.  It was getting late so we started to head back. On the walk back we noticed all these concrete pillars.  The obstacle-racing mind right away thought, oh look it's just like the log hop.  I got up there and right away started hopping from one to the next ALL the way down the street.  Maureen took a little bit to get over the fear of doing it but she got into a nice rhythm; Andi rocked it out as well.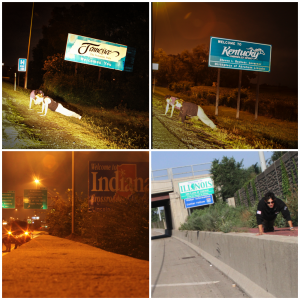 When we got back to Andi's we realized it was probably best if we left right then and there instead of trying to just catch a couple hours of sleep and then drive.  If we had to stop along the way we would.  It was hard saying goodbye.  It was such an incredible weekend with some of the best people.  During our journey home Maureen and I decided to take a picture at every state boarder welcome sign.  We knocked out a few burpees at each as well.  All in all this spur of the moment trip was priceless.  I couldn't have asked for a better training weekend. Thank you Matt and Andi for being such wonderful hosts and thank you Maureen for coming with! See you all in Vermont later this month.