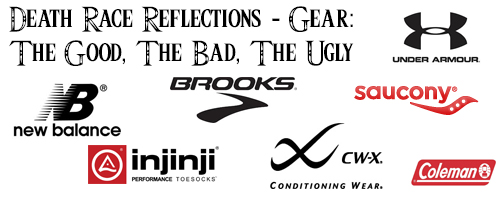 Looking back on the Death Race isn't hard to do. Nearly every morning I still have visions of being on that mountain back in Pittsfield, VT. The mornings that I don't think about it are few and even when they do occur, at some point of the day my mind reminds me of all I accomplished during those miserable, wonderful, life altering 58 hours and change. A topic of frequent discussion with various Obstacle Racers has been about what gear worked best for the Death Race. Fellow racer, rucker, and friend, Tim asked me recently to help him put together a gear list for upcoming The Ultimate Suck event. The Ultimate Suck is hosted by a man who has accomplished feats such as completing 2 Badwater Ultra Marathons, earning Back 2 Back Death Race wins, and holds a Guinness Book of World Records for being the World's Fittest Man, I'm of course speaking of the one and only Joe Decker. Before I get anymore off track let me get back to the point. Tim wanted to know what to use for this 36 hour event that is sure to test the limits of even the strongest willed and bodied. It got me thinking about what worked and didn't work for me at the Death Race, and what I'll be doing different as I prepare for the 2013 Death Race, Year of the Gambler.
The Good
We'll consider this to be all the items that worked best for me. That doesn't mean it'll work best for you. As always, test your gear, test your food intake, and test EVERYTHING you possibly can account for BEFORE race day. Testing new methods at a race will lead to complication 9 times out of 10.
Let's start with shoes.
Brooks Cascadia 7 Trail Shoes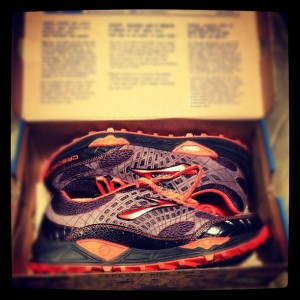 The Brooks Cascadia 7 turned out to be a dream come true. It was a rough start when I first picked these up and began training in them. These shoes came to me as a recommendation by my close friend Jon, a marathon, ultra marathon and trail runner, and former UK Soccer player. He sent a text one day saying these should suit you well for the Death Race. Jon frequently has advised me on shoes to buy. When I began my quest to become a barefoot runner he got me started on the right path with my first pair of Vibrams. Shoe choice is a frequent topic of discussion for us. Along with the text message there was a link to this review. After reading it I knew I had to try them.
Leading up to the race these shoes were questionable, they were big and heavy compared to all the barefoot pairs of shoes I had acquired over the past year. I remember asking Jon why they were bothering me so much and he recommended fighting through the break-in period before I judge them. I was happy I did. At the race they were wonderful. The toe box protected very well, they drained surprisingly well, which came in handy after submersion early on. I was able to stick with the Cascadia 7s for the first 36 hours. The laces never came undone with a simple double knot. While I did get some blistering, I don't believe there is ANY way to avoid that at the Death Race.
Overall, even though these shoes were heavier than my minimalist preference they served me very well at the Death Race. Chances are I will use the next model of the Cascadia shoe as long as it lives up to the same quality as the 7 when I compete at next years Death Race.
Injinji Toe Socks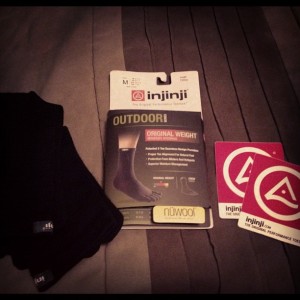 I swear by my Injinji socks. Throughout the race I encountered many racers talking about all the tricks and homebrew concoctions they came up with to help their feet last longer. Me? I just simply threw on a pair of Injinji crew length socks. I stuck to the outdoor versions of these because they use nuwool and have fast wicking capabilities. The individual toe slots prevent blistering between the toes and overall my feet looked much better than what I saw with some of the other racers' feet.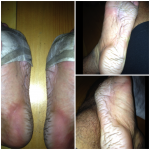 Before beginning the second half of the race I swapped out the outdoor Injinji crew length socks for another pair of their standard middleweight Injinji Toe Socks and on top of those I had a pair of CW-X compression socks. The best thing about the Injinji socks is how few blisters I had. My feet still appeared very trench-like post race and there were some blisters but overall they looked damn good next to some of my competition. A few days ago I ordered a pair of Injinji compression socks, I'll be testing those out at the Spartan Ultra Beast, the first ever 26.2 marathon distance obstacle race, back in Vermont. Injinji has superb customer service also. I had a pair of my outdoor socks get a rip near the ankle not too long ago and without question they replaced the pair. What surprised me more was how fast the package arrived. Within I found a new pair of Outdoor Crew Length Middleweight Injinji socks, some stickers and a nice discount offer which went to the new pairs of socks. Injinji, you done good!
CW-X Compression Socks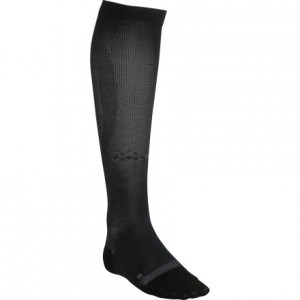 Compression socks are something I had always a bit skeptical about. I have heard often that they can be good for recovery, and more importantly were helpful during long distance races. After 36 hours and however many miles we had covered I could feel my calves getting tight. Our pace had slowed down. Since I had packed these with me I figured this was the perfect time to see how well they actually would work. I was not breaking the number one rule because I had trained in these before, just never in this specific type of situation.
Within minutes of putting the compression socks on I could feel my legs loosening up a bit. They always say with injuries to follow the RICE (Rest, Ice, Compress, Elevate) method. Recently I've encountered a new theory that eliminates the ice part but we'll save that for another post. Compression is usually the one missed most often due to the lack of something to compress with. I will be focusing more on that compression part in the future after realizing just how helpful it was. As the race went on and the miles logged increased I could feel my soreness being alleviated. I now wear my compression socks more often than prior to this experience. I have found they help me recove faster between runs. I really enjoy wearing them to bed and normally I HATE wearing socks to sleep.
Under Armour Compression Gear
Now, lets just start off with my big Ooops. When it came time to change gear I was searching frantically for my Under Armour long tights. I never found them, some how after all my preparation I forgot these. They would have been perfect and I will definitely be bringing them next time.
For the top I wore a black UA Heat Gear Compression shirt to start and switched to a white one on Sunday morning. Yes, I knew the white would get destroyed, and yes, it is very stained after bleach washes. The white served a purpose though; white reflects the sun's rays. Standard physics. I wanted to wear white because I had a feeling at some point we'd be stuck in blazing hot sun being that it was June. Sunday, was just that, very hot. The white shirt served me well and kept the sweat off my body and kept me as cool as I could be in the summer heat. I swear by compression gear, whether its a standard obstacle course race or more of an adventure race like the Death Race. Compression gear will keep you going longer, more comfortably, period. Less sweat, less discomfort, minimal chafing, and let's face it; if you have muscle you look bad ass in a compression shirt.
Saucony Compression Sleeves
I didn't bring long sleeve compression shirts because it was summer. I figured IF I needed something that these compression sleeves would work well for the night hours when the temperature dropped. I was never really certain if these were meant to be arm sleeves or calf sleeves, they were given out at the Red Bull Trail Daze I did back in December 2011. It didn't really matter they fit well and worked perfect for keeping my arms warm. Whenever I got too hot with them on all I had to do was roll them down and keep them around my wrists. I highly recommend incorporating something similar, the ability to adjust your body temperature on the fly without having to waste time changing or anything, you can't bet that.
The Bad
The following items fall into a category that is best looked at as items I could live with using but will be replacing with something better next year.
New Balance Minimus MT10 Trail Shoes
After 36 hours and almost quitting, Morgan and I took time to switch out most of the gear we began with. My only other reasonable pair of shoes I had to bring with were a pair of minimalist shoes. While these shoes have been amazing in most scenarios, they did not serve me very well at the beginning of what we'll refer to as the second half of the race. Now in part I blame the low performance of these shoes on the fact that they had already been near the end of their life cycle. I trained almost exclusively in these shoes leading up to the Death Race.
While going up the ravine to retrieve our logs I fell on my ass more times than I care to count. The tread on the shoes was worn but I couldn't believe it was having this much of an effect on my ability to stay standing. I will not be using these next year for the Death Race. They are great for standard trails, but anything wet like the ravine and you'll be falling all over the place. Everything else they were good for however. I still stand by my original review of these shoes, just not something I will recommend for competing in the Death Race.
The Ugly
Finally we have an item that basically failed me completely.
Coleman 3AAA LED Headlamp
Yes, that's actually what they call it on their website, even though it is branded on the headband strap as AXIS. I picked this up last year for my first ever Hurricane Heat at the Midwest Spartan Sprint (my very first Spartan Race also). It wasn't great but with all the other bodies it seemed to work alright there. I used it again at the Hurricane Heat in Texas. I've always kind of known I'd eventually need to replace it. Up until the Death Race I usually was using the headlamp in large groups, so it wasn't too hard to see because of all the other lamps lighting up the darkness. Well I finally realized what a piece of garbage this really was when I was out in the dark alone heading up the mountain with my first batch of logs at the Death Race. This was before I tossed them into the woods and decided along with Morgan that we wanted to quit. On my way up I kept having to really look around and stop multiple times to make sure I could see where I was going.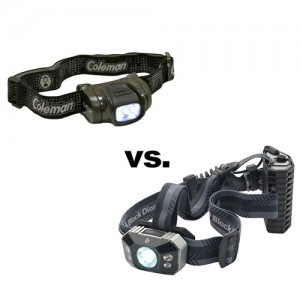 The Coleman headlamp was just no where near bright enough to light up the mountain. Where I live there is usually a glow in the sky, and you can see some stars in the sky but no where near as many as I saw on while climbing that mountain. That's why I never realized how bad this headlamp was. When I would use it on my night runs back home I could always see fairly well because of the added glow from all the street lamps and other lights. I'm looking into upgrading to the Black Diamond Icon Headlamp, hopefully before I head out to Vermont again for the first ever marathon distance Obstacle Race, the Spartan Ultra Beast.
That concludes this Death Race Reflections installment.
Don't forget to check out my Death Race Wish List board on Pinterest. I've been grabbing all the "wish I had that" items in one easy to find place.