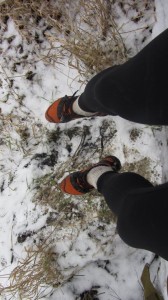 I've been running in the New Balance MT10 Minimus Trail shoes for a few months now. I first began my minimalist transition with a pair of Vibram Five Fingers, which I still use and love, but picked these up to see the difference between the two.  I have yet to put these through a full out obstacle race, unless I count that pitiful Tundra Challenge, however I have done a lot of trail running and hiking with them so they've been put through most of the suck. One thing that sticks out is these are a much better winter shoe than the VFF's, my feet stay very warm especially with the Wigwam Super Merino Wool socks.
The MT10's are definitely a shoe that should still be treated like any minimalist shoe, take it sloooooow! I took my time with these even though I was already used to running in a VFF's which have a zero drop, drop is the difference between heel height and toe height. The MT10's have a 4mm drop which is still basically nothing. At first when I run in them I felt a little tightness near the front of my foot, but I found that went away as I broke them in and loosened the lacing a bit.  These shoes have really grown on me over the past couple months, they provide a great minimalist feel and perform pretty decent on asphalt. Personally I always try to avoid hard surfaces like asphalt and concrete, but they do all right. I wouldn't recommend running uber long distances on those types of surfaces though.
These are definitely trail shoes, made for running trails. I found that they have good traction even when there is a little mud. Another great aspect of these shoes is the top structure, it's primarily mesh, very flexible, and it lets your foot breath. When the weather isn't cold I'll usually run in these without any socks. Worried about stench? I haven't had a problem yet and believe me when I don't wear socks its normally not a friendly smell that comes out after. Thankfully the MT10's are machine wash safe, just throw them in, I usually go with warm/cold, and then let them hang dry somewhere.
When it comes down to it, what you really want to know is should you buy these or not? YES, you should give them a shot. With shoes though it's about what you find comfortable and what works for you. I'm excited for the newly release Zero Drop New Balance Minimus Trail shoes that just launched this month. I'm hoping to have a pair of those in the not so distant future to test and review.
RATING: 4.5/5
Pros:
Lightweight
Minimalist Sole
Good Traction
Good in Cold Weather
Machine Washable
Cons:
Adjustment Period
Tight fitting at first
This is my first review on a shoe so if there are any questions you have please leave them in the comments.