Founders Race
Just a year ago a group of us Midwestern folk were pushing hard to bring a Spartan Race Spartan Sprint to Indiana. At the time the only Spartan Race was in IL and the rest were either on the East or West coast. With a lot of help from the Corn Fed Spartans the race became a reality and Spartan Race unleashed the first ever Founders Race in a small little town known as Laurel, IN. Last year was so unique compared to the typical Spartan Race; it was designed to be a more natural course.  This year we got the full Spartan Race treatment. It was glorious.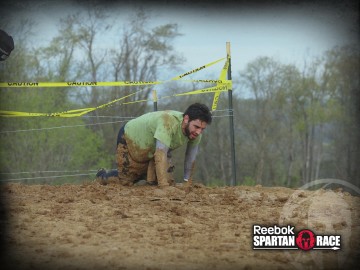 Spartan Race brought all the goodies you usually see at one of their sprints, Atlas Carry, Log Hop, Rope Climb, Spear Throw, and one of the most difficult, peanut butter-like barbwire crawls ever. Utilizing an entirely different part of Haspin Acres, Race Director Todd Sedlak made his debut, one that was heard across the interwebs. Claiming no-one would finish under an hour days before the race, Sergeant Sedlak was spot on with only 0.27% finishing in the sub one hour time that he deemed impossible for this grueling 5.2 mile course. That's right this Spartan Sprint was 5.2 miles in length, that's appox. 0.7 miles longer than what average Sprint typically ends up being.
Come race day and I had already spent two days at the course. Thursday I drove up, picked up "Mick" (Michael Aspinall), we also met when I picked him up. My new Australian friend and I drove up to Haspin Acres and met up with Todd Sedlak. Friday we hung out at the course for the second half of the day and even saw the Hurricane Heat get started, I loved the look of the pond and may have suggested that the HH'ers looked a little too dry (insert evil laugh). After that I drove out to the Cincinnati Airport, which strangely enough is in Kentucky, to pick up my friend Jennifer so she could help work the race.
Becoming Elite
Saturday morning came quickly and it was time to prepare for my first Elite Spartan Race since surgery. Going into the event I knew I was still not nearly as fast I needed to be to make it into the Top 15 but knew this would serve as a great baseline for which the rest of the season will build from. After my disastrously overheated and dehydrated race in Vegas and the snowy frozen course at Gladiator Assault Challenge, it was very welcoming to have the perfect race weather on our side. It was even more exciting since just a year ago this race was probably the coldest Spartan Race I've ever competed in, it may have been 34° at most in 2012. This was the perfect race weather. Cool breeze, warm sun, clear skies. It was magical out there on that course.
I warmed up with my usual light jog, stretched my shoulder out on at the Pull-Up Challenge area. The race itself was pretty incredible. I had decent start but again I need to get my hill climbs in check. As always, Spartan Race finds the most treacherous slopes and steepest climbs and while speed is easy to come by on the downhill, I'm finding myself completely gassed within seconds of most hill climbs as of late. I'll be continuing to remedy that as the Death Race approaches. I have a feeling Colorado is going to be harder than anything I've experienced [since surgery] this coming weekend. In the course design, Todd made sure to place obstacles often and fairly close together. The first 3 miles or so you'd barely catch a good stride before tackling an obstacle whether it natural or Spartan built.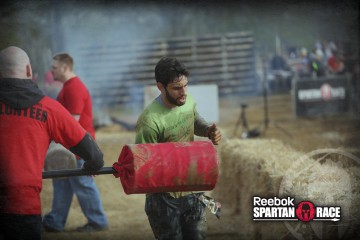 After running the elite heat I found myself continuing what is becoming a tradition at these Spartan Races as of late. I crossed the finish line quickly grabbed my medal nearly skipped the free finishers shirt and found my head hovering over a garbage filled with clear plastic cups and banana peels. Nothing but water came up but I took this as a sign that I gave it my all. At the end of the day I placed 42nd overall and 9th in my age group. Not too shabby for only my third race back from being fairly dorment post surgery. With each race I've found myself becoming stronger. I successfully completed nearly every single obstacle including my new favorite, the spear throw, where I found myself passing a ton of the fast guys who could easily out run me. It's nice to know that some obstacles still give an advantage. My streak of no burpees came to an end, I did in fact fail an obstacle this time, and I'm beyond shocked about it still. The slippery slope at the very end of the course got me, just before the fire jump, where the chip timing now officially ends.  The gladiators came after the timing chip stopped. No longer do you have to worry about a gladiator favoring one guy/girl over another and unfairly determining the outcome of a race. I like that. Good job Spartan.
Lap 2: 50# Ruck
After my first lap I hung out for awhile, talked to the Corn Fed Spartans and watched them take off for their 10am heat. Around 11:00am my cousin Derek and his friend John were getting set to take off for their heat. I made a mad dash to my car, packed my ruck with my bricks, water, etc and within made it back with 4 minutes to spare before the 11:15am heat took off. I kept a pretty wicked pace the entire course, attempted to do every single obstacle with the ruck, many I failed, I almost rang the bell on the traverse wall but the rope climb was impossible I kept sliding down barely 6 inches from the ground. At the Spear Throw I actually missed with my pack on and Jeffrey Bent was there so he called me out and suggested I do a Burpee Back-Flip, how could I not? I also did a burpee back-flip in place of the five burpees at the Atlas Carry. Thank you to all those years of gymnastics.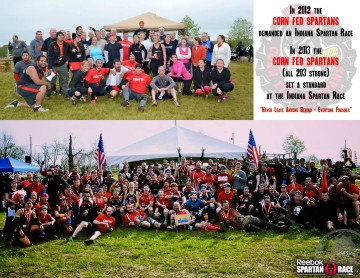 Eventually, I caught up with one of the Corn Fed Spartan packs. What I love so much about this team is the no-one left behind rule. They will hang back and make sure that every single teammate crosses that finish line, so long as they don't find themselves breaking a femur like our friend and teammate Tim White. I didn't find out till we were back at the hotel. Heal quickly Tim! After the Hercules Hoist at mile 3 I decided to kick it back up a notch and took off on my own again. By now my cousin and John were way ahead of me. I finished the course in about 2.5 hours and go figure I successfully scaled that slippery wall, burpee free, when I climbed it with all that weight on my shoulders. It was awesome to finish with a weighted ruck. I felt like me again after this race.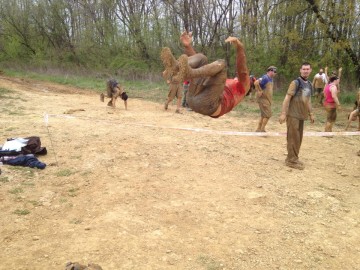 Recovery is not complete yet, however. It has still only just begun. I still have to ice my shoulder daily, I am constantly stretching and massaging it. It'll be a battle but I'm confident I can make it through the Death Race. And that's what this is all about, training for the Death Race, utilizing every opportunity to advance and progress. Developing my mind, my body, and my spirit and focusing on being aware of when and where I can push myself. For all the other times, I'll just have to adjust and adapt.
Why I Loved This Race
The festival area was amazing; excellent flow from start to finish
The course was outta this world. Todd, you are a sick motha effer. I like that shit.
Corn Fed Spartans are an incredible group of people and I'm happy to be on their Team. #LotDR, I need a jersey.
Gummy Bears. #youknowwhatsup
Back Flip Burpees
I love this sport. I love this race. I love these people.
Making new friends, and meeting amazing athletes