Two pairs of Inov-8's, both minimalist off-road trail shoes that truly deliver all the grip you need to compete in the obstacle race circuits.  Before writing this review I wanted to make sure both pairs of shoes were put through the ultimate tests.  Following the Death Race, I discovered that it was time to start looking into some more serious shoes.  Inov-8 came as a recommendation from my good friend, Mark Webb, after a talk with him I decided to buy a pair of Inov-8 X-Talon 212s
within a week of the Death Race.  It wasn't until a few months later that I'd actually have the opportunity to put them through an obstacle race.  Now, I've become addicted.  I'm addicted to the amazing feeling these shoes have as your feet plow into the soil, paving the way for wherever my feet decide to take me.
What I've discovered after running races in both shoes, and going on many, many trail runs in each pair is this; they both serve their purpose.  The X-Talon 212s
are my go-to shoe now for distance races, anything over 10 miles and I'm grabbing these bad boys.  All races less than 10 miles are treated to the electric green that is the Bare-Grip 200s
.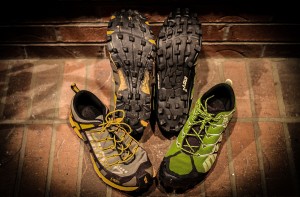 Now before I delve into each shoe's reviews and the pros and cons, let me give you a brief education on how Inov-8 names and classifies their shoes.  They have by far the easiest and most informative nomenclature that I have seen for any line of shoes. One thing you may have noticed is both of these shoes have a number associated with them, that indicates the mass (not weight, because weight is a force and is measured differently) in grams. Therefore, the X-Talon 212s have a mass of 212 grams; the Bare-Grip 200s
likewise have a mass of 200 grams. This is good to know especially if you prefer a lighter shoe.  Inov-8s line of off-road trail shoes vary anywhere from 340 grams all the way down to 190 grams (I won't count the kids shoe which is 160 grams).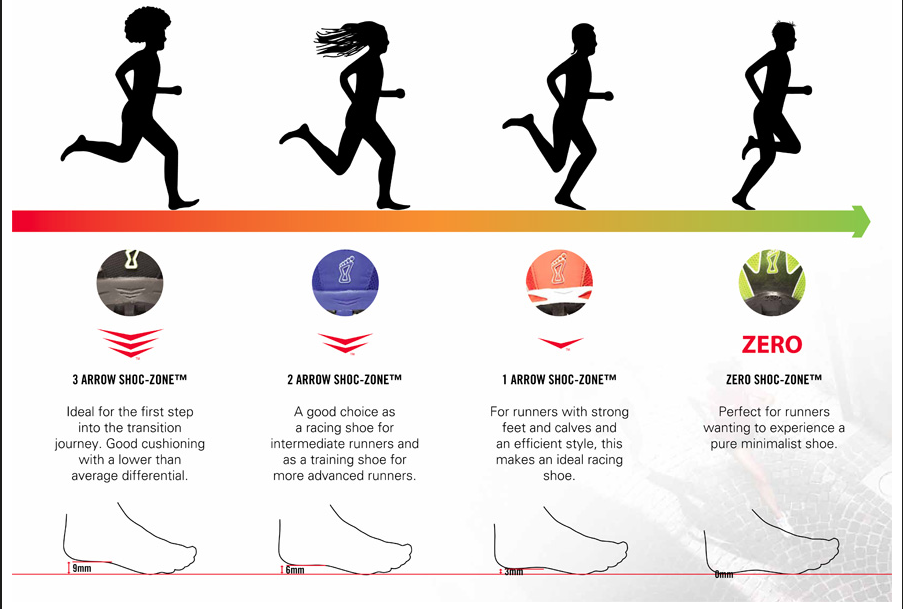 On top of the excellent way to determine the mass of the shoe they also have a very clever way to know exactly how minimalist each shoe is.  When you pick the shoe up and look at the back of the heel you will notice there may be some arrows pointing downward.  The 3 ARROW SHOC-ZONE™ is the least minimalist, it has a 9mm drop so these models have good cushioning with a lower than average differential. Next they have the 2 ARROW SHOC-ZONE™ which indicates a 6mm drop, this type is recommended as a race shoe for intermediate runners and as a training shoe for more advanced runners.  Next there is the 1 ARROW SHOC-ZONE,™ a shoe for runners with strong feet and calves, this type is considered an ideal racing shoe and has a 3mm drop.  Finally, there is of course the ZERO SHOC-ZONE,™ which is for runners that want that pure minimalist feel, as if you're wearing nothing at all.
It is never recommended to go straight to zero drop and should you decide to transition to minimalist shoes I highly recommend following some of the many guides available including the excellent transition journey available on Inov-8s site.
Both shoes are machine washable, simply take out the foot bed, throw both the shoe and foot bed in the wash without any thing else in there. Wash on cold and then when finished; hang them out to air dry.  I usually hang mine by the knobs on my dresser. Do not let them dry in direct sunlight, as this can cause them to shrink.
X-Talon 212 – 2 Arrow SHOC-ZONE™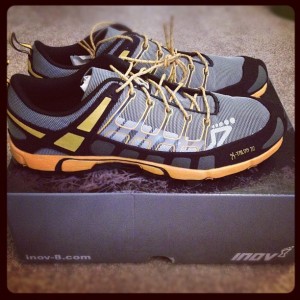 After finally putting this pair of shoes through a proper obstacle course during the Spartan Ultra Beast, I can present a full review on how they perform.  I spent months bonding with the X-Talon 212s on the trails, at the Suck, and even in the gym.  Inov-8 has created a fantastic trail shoe for those looking to get into a minimalist trail shoe that still provides a little padding between your foot and the feel of the ground.  Based on Inov-8s simple nomenclature we know the X-Talon 212 has a 6mm drop and a mass of 212 grams.
Starting with the top of the shoe, the upper is made from a synthetic material and the inside lining is a mesh fabric. The laces are made from a nylon type material and have a coating that adds friction to prevent them from becoming untied.  I still recommend a double knot, no matter what though.  This is a unisex design so both men and women can partake. One thing I wish is that each model would have more color options.  Many of the Off Trail shoe offerings from Inov-8 have one color choice and that's it per shoe model.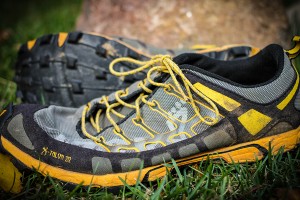 My favorite element of the Inov-8 Off Trail shoe line is the sticky compound soles they have.  While the tread and cleat-like bottoms are totally awesome, it's that extra sticky compound they are made from that really makes these shoes one of my favorite pairs to wear for the longer distance obstacle races. With the grip they provide you can ascend the slippery wall with ease, you can tackle the downhill, even an extremely muddy one without worry.  Simply put, these babies know how to grip on to any of the terrain that I've thrown at them.  I've stood facing down on some of the steepest, muddiest slopes I can find and I. Do. Not. Move. At first when I discovered this it shocked me, I bounced up and down trying to make myself slide down and it just did not happen. I remained in place. That, I have found to be KEY for these obstacle races.
When distance is involved, this is my go to racing and training shoe of choice. I have only found one real flaw in the design and that has to do with the toe box, which is really good overall just the front toe flap that connects to the upper has a tendency to begin peeling off. In some cases I've seen it worse than others, so far mine has been for the most part not bad at all. Only a sliver has begun to peel but I've also put a good amount of miles on these already.  I have heard some that have peeled faster than normal.  I'm hoping with the next generation this is something Inov-8 looks into fixing. Other than that slight issue, I think the X-Talon 212 is an amazing shoe for the trails, for obstacle races, and for those who love being closer to running with their bare feet.
Rating: 4/5
Pros:
Lightweight
Minimalist Sole
Sticky Compound Cleat-like Sole
Superior Traction
Machine Washable
Comfortable Fit
Cons
Front toe flap can begin to peel off
Bare Grip 200 – ZERO SHOC-ZONE™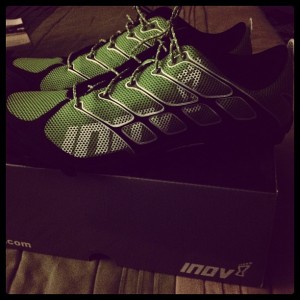 When it comes to short distance running and races under ten miles these electric green shoes have become my favorite pair to grab, and its not only because they're my favorite color, these wicked shoes have a comfort and grip.
First thing of note is these are pure minimalist, don't let all the extra cleat-like tread fool you. There is NO midsole, the top of the shoe is made from a synthetic with mesh lining.  These shoes have one of the best true to size fits I've ever had, and other than being able to feel the cleats beneath my feet it felt like I wasn't really wearing a shoe at all.
When putting them through the 7 miles of obstacles, mud, and hills at the Gladiator Assault Challenge this past September I realized just how great these shoes really are. Within minutes I was up and over the steep muddy hill at the beginning of the race, often times I have been able to help people up slippery slopes because I can just post myself there and grab hold without ever losing traction.  It's a wonderful thing.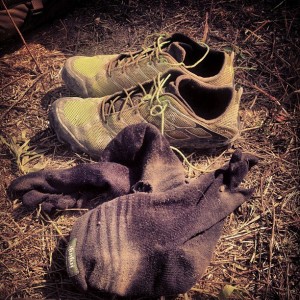 The Bare Grip 200 offers superior performance in an ultra light package. They look amazing and they seem to be able to handle everything I've thrown at them.  The toe box on these is amazing and provides more then enough protection for anything you might encounter during your adventures. Some people do not mind running longer distances in these shoes. For me it's all about feel, and so far I don't feel like my feet are ready to go more than ten miles in something this minimalist. They wash easily and have taken some severe beatings on the trail, off the trail, and at the races.  I have found this model goes on sale often on sites like Left Lane Sports.
Rating: 4.75/5
Pros:
Ultra Lightweight
Minimalist Sole
Sticky Compound Cleat-like Sole
Superior Traction
Machine Washable
Comfortable Fit
Cons:
The Zero drop might be a bit much for longer distances
Adjustment period
*The views expressed in this review are solely my own, and I am in no way compensated by Inov-8. I bought these shoes with my money and tested them myself.