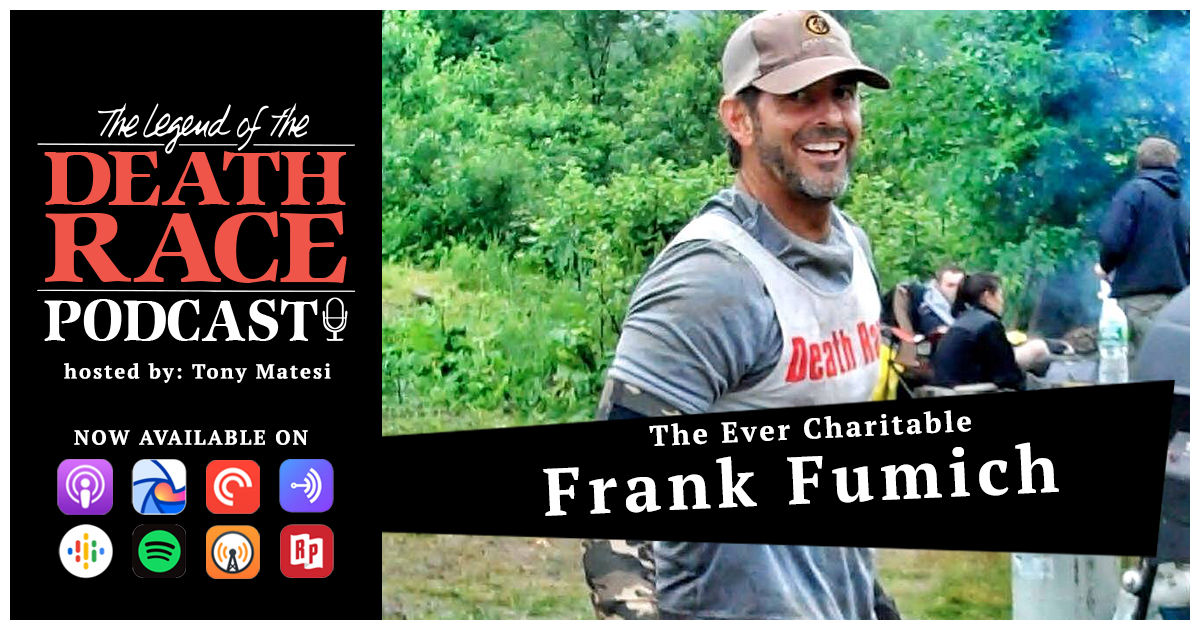 Welcome to the Legend of the Death Race Podcast, where you'll hear the legends of past Death Racers, new and old.
In this weeks' forty-third podcast episode, we talk to Frank Fumich; an entrepreneur whose racing career includes raising funds for causes close to his heart. Listen as he recalls his history leading up to his 2011 legend after meeting one of the founders of the Death Race and pivots from his familiar world of racing and climbing to take on an adventure full of unknowns.
Catch episodes weekly by subscribing. If your platform has reviews please, leave a review. This podcast relies on its excellent listeners to keep things going, so if you enjoy the show, consider becoming a sustaining member today! It's easy, and you can donate either $0.99/mo, $4.99/mo, or $9.99/mo. Sustaining Members gain access to a monthly zoom call with Tony. Oh, and please don't forget to take our listener feedback survey!
⤵️ Follow the Guest:
💀 What's Up in My World:
This weekend I took it easy and did a light jog through one of the local parks here in Seattle.
Don't forget, my book The Legend of the Death Race: Conquering Life with Courage, Power, & Wisdom is now available as an audiobook too!
Stay up to date on my latest adventures, follow me on Instagram @thatenduranceguy or visit www.thatenduranceguy.com.
This episode of the Legend of the Death Race Podcast is brought to you by: Trail Toes, A Phenomenal, Ultra-Extreme Anti-Friction Foot Cream.