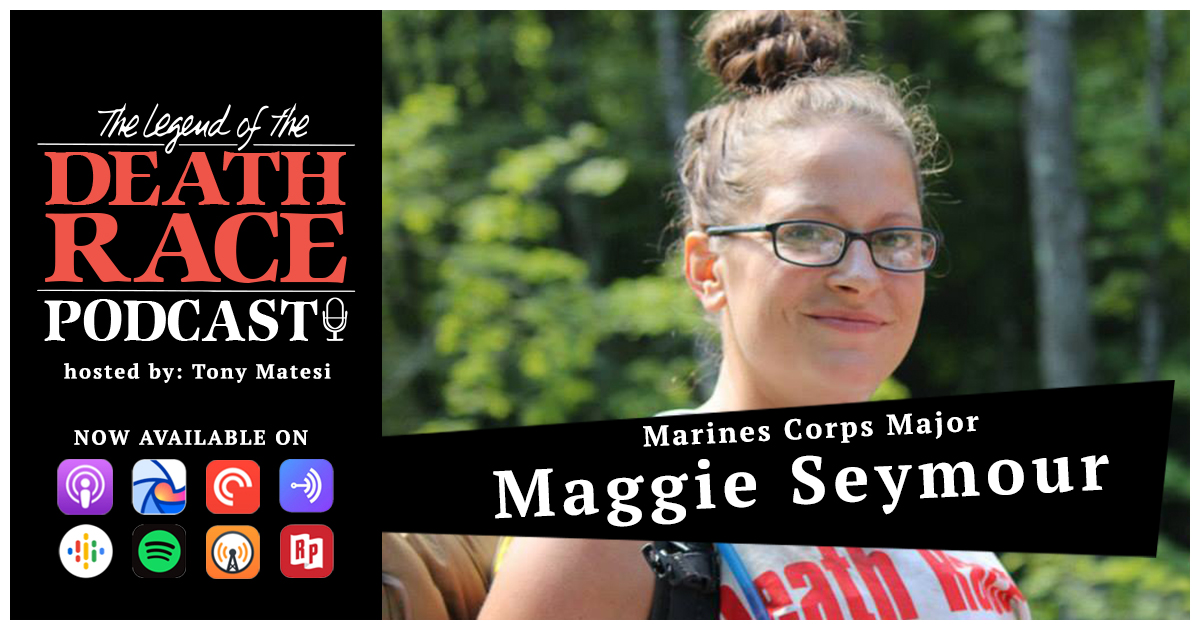 Marine Corps Major Maggie Seymour | LotDR Episode 044
Welcome to the Legend of the Death Race Podcast, where you'll hear the legends of past Death Racers, new and old.
On this week's legend, we meet Marine Corps Major Maggie Seymour. In 2014 Maggie's military experience had already taught her how to play the Death Race game; go hard, get out of your head, hack the system. And yet something went awry in 2014. Unphased, she carried on with life until a familiar friend suggested giving Death Race another shot. Listen as she recalls how those three days finally gave her the Death Race experience she had been looking for.
Catch episodes weekly by subscribing. If your platform has reviews please, leave a review. This podcast relies on its excellent listeners to keep things going, so if you enjoy the show, consider becoming a sustaining member today! It's easy, and you can donate either $0.99/mo, $4.99/mo, or $9.99/mo. Sustaining Members gain access to a monthly zoom call with Tony. Oh, and please don't forget to take our listener feedback survey!
⤵️ Follow the Guest:
Book mentions:
💀 What's Up in My World:
Took advantage of the long weekend to drive out to Snoqualmie Mountain Range and run up Zig Zag Trail in Olallie State Park. It was straight up and it definitely zigged and zagged!
Don't forget, my book The Legend of the Death Race: Conquering Life with Courage, Power, & Wisdom is now available as an audiobook too!
Stay up to date on my latest adventures, follow me on Instagram @thatenduranceguy or visit www.thatenduranceguy.com.
This episode of the Legend of the Death Race Podcast is brought to you by: Trail Toes, A Phenomenal, Ultra-Extreme Anti-Friction Foot Cream.