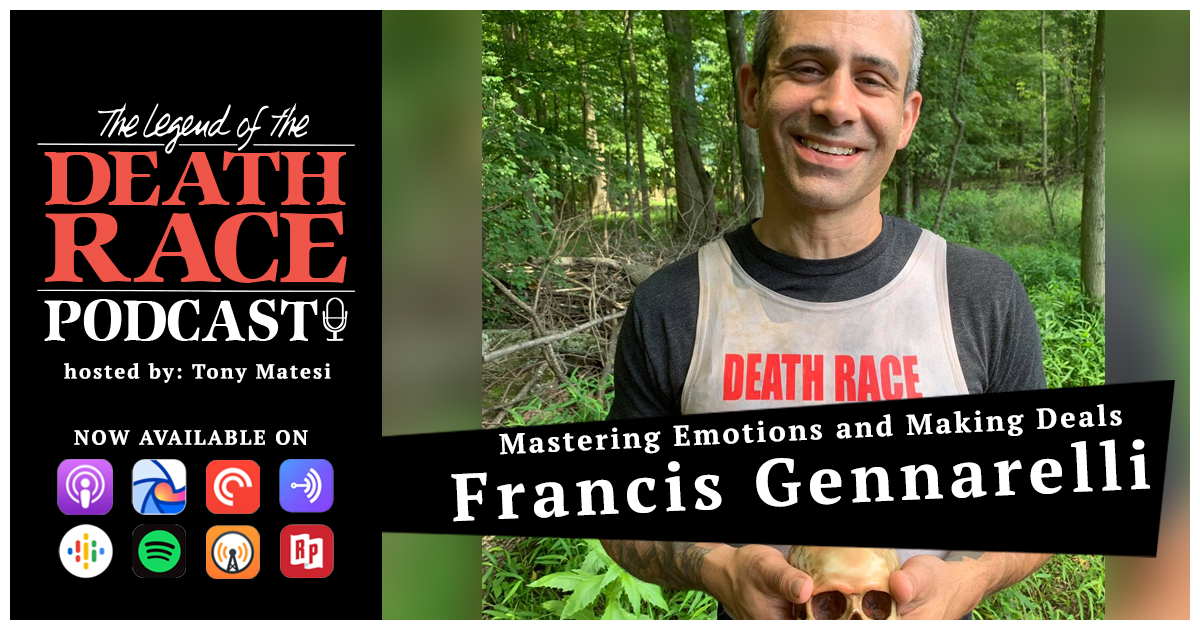 Welcome to the Legend of the Death Race Podcast, where you'll hear the legends of past Death Racers, new and old.
In the thirty-sixth episode of the podcast, we connect with Francis Gennarelli, owner of Mud Sweat Tears in Verona, NJ, who started racing competitively and fell in love with endurance events. Francis qualified and competed in all 3 Spartan Ultra World Championships in Iceland and Sweden taking 2nd place in his AG in 2019. He's a CPT, Spartan SGX Coach, and CrossFit L1 trainer. Hear about how Francis almost missed the start, how he got into this sport, the importance of mastering emotions, and the great art of making a deal. Enjoy the show and thank you so much for tuning in.
Make sure you subscribe so you don't miss an episode. Also, don't forget to leave a review. This podcast relies on its awesome listeners to keep things going so if you enjoy the show consider becoming a sustaining member today! It's easy and you can donate either $0.99/mo, $4.99/mo, or $9.99/mo. Sustaining Members gain access to a monthly zoom call with Tony. Oh, and please don't forget to take our listener feedback survey!
⤵️ Follow the Guest:
💀 What's Up in My World:
I summited Mt Hood and Mt Adams over the past two weekends.
Don't forget, my book The Legend of the Death Race: Conquering Life with Courage, Power, & Wisdom is now available as an audiobook too!
Stay up to date on my latest adventures, follow me on Instagram @thatenduranceguy or visit www.thatenduranceguy.com
This episode of the Legend of the Death Race Podcast is brought to you by: Trail Toes, A Phenomenal, Ultra-Extreme Anti-Friction Foot Cream.