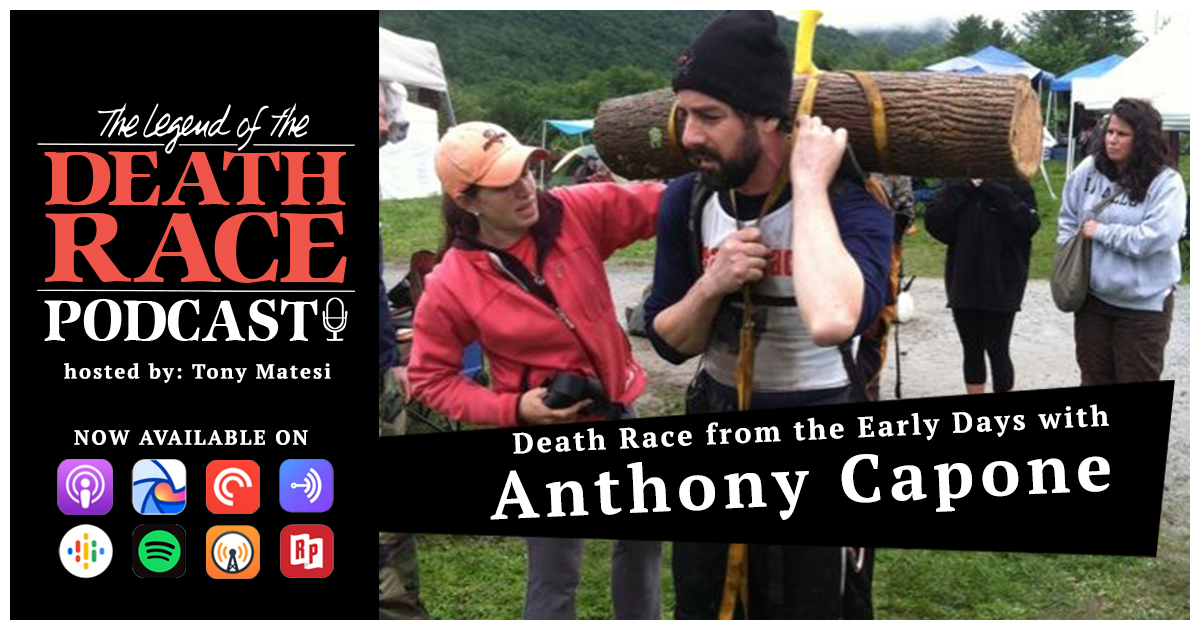 Welcome to the Legend of the Death Race Podcast, where you'll hear the legends of past Death Racers, new and old.
In the thirty-seventh episode of the podcast, we connect with Anthony Capone who first started participating in Death Race all the way back in 2008. You're in for a real treat with this episode as we go back in time and review some of the crazy challenges faced over the years. Tune in to find out why Anthony kept coming back for more and more after each year, to learn some fun history about the Death Race, and hear how the race helped Anthony to develop the confidence to accomplish the seemingly impossible. Enjoy the show and thank you so much for tuning in.
Make sure you subscribe so you don't miss an episode. Also, don't forget to leave a review. This podcast relies on its awesome listeners to keep things going so if you enjoy the show consider becoming a sustaining member today! It's easy and you can donate either $0.99/mo, $4.99/mo, or $9.99/mo. Sustaining Members gain access to a monthly zoom call with Tony. Oh, and please don't forget to take our listener feedback survey!
📚 Book Mentions:
⤵️ Follow the Guest:
💀 What's Up in My World:
Taking a break for a week or two from summitting volcanos before heading back out for some more adventure!
Don't forget, my book The Legend of the Death Race: Conquering Life with Courage, Power, & Wisdom is now available as an audiobook too!
Stay up to date on my latest adventures, follow me on Instagram @thatenduranceguy or visit www.thatenduranceguy.com
This episode of the Legend of the Death Race Podcast is brought to you by: Trail Toes, A Phenomenal, Ultra-Extreme Anti-Friction Foot Cream.