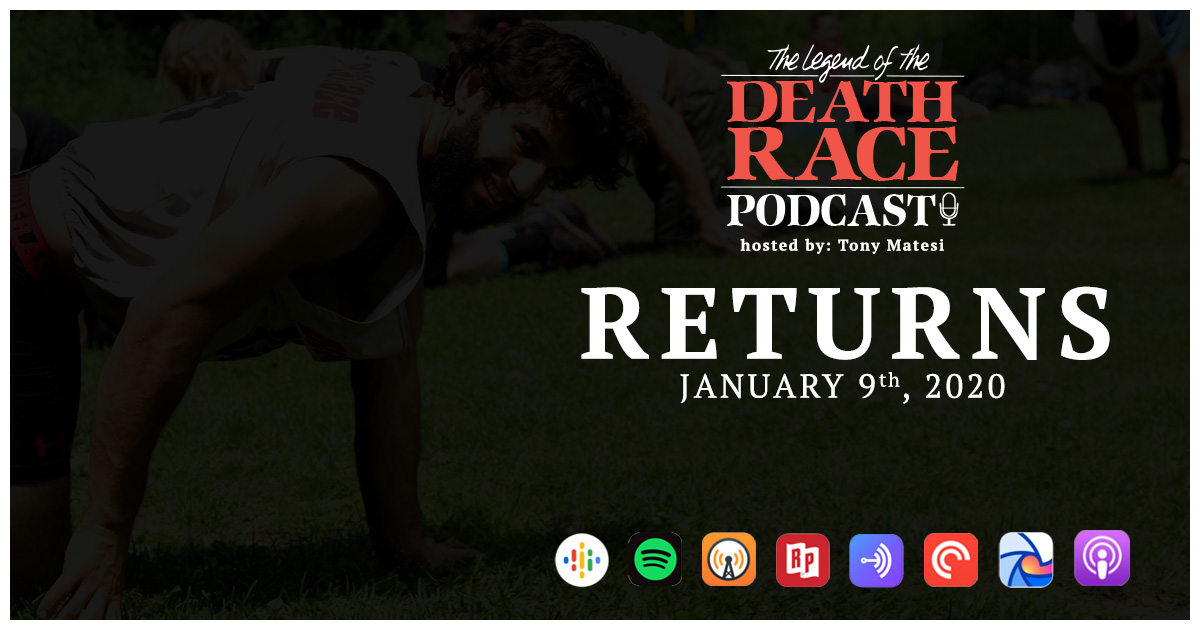 Welcome to the Legend of the Death Race Podcast, where you'll hear the legends of past Death Racers, new and old.
I am taking a short break on releasing new episodes until after the New Year on January 9th, 2020. The reality of Podcast production is it is not cheap or easy to keep a show like this up and running in these first few months at my new job. I gave myself plenty of buffer but I'm feeling a little beat up and I need a short break to take care of me and my new career.
Don't worry I have 8 episodes recorded and edited already – and there are plenty more episodes that are in development. This was just a taste of what's to come. I hope you have enjoyed the first season of the Legend of the Death Race Podcast and I hope you'll continue listening when we return to your favorite podcast platform (and probably a few more new ones) after the New Year on January 9th, 2020.
Thank you everyone for your early support. If you like the podcast and the first eight episodes I've released, please consider supporting the show in a few ways, the links on my website for Amazon help me make money when you make purchases, there is a sustaining membership (if I get some of donors, I'll invest in upping the quality of the show). These endeavours are fun, but the do require lots of time and money to create. If you don't have the money to support the show, please consider pushing the subscribe button if its available on your podcast platform, if they have reviews please leave one, I'd love to get 5 stars from all of you, if you think I deserve it. The bottom line is, if you like what you've heard so far please show some love. I want to do what I can to keep these episodes entertaining and plentiful.
You can become a sustaining member here.
Thank you for your support! 😊🙏🏼❤️💀
Memento Mori,
Tony "That Endurance Guy" Matesi