On June 2nd, 2018, I joined seven other endurance junkies in the Mojave Desert for what was promised to be one hell of a race, I mean, this was June, in the Mojave Desert, that's not just a bad pun, it's the reality we were living. With temperatures approaching 105 degrees, it's pretty darn close to running through what the fiery depths of hell would feel like.
Going into this event, I was a bit naive as to how difficult the heat would and could be. Looking at the course and the breakdown of disciplines, for this race it would be a relay race that would take us all around the Mojave Desert by means of mountain bike, road bike, and our own two feet. Some of my teammates were specialists and focused on their primary discipline, others, including myself, would participate in all three disciplines throughout the race. With a total distance in the range of 254 miles, which broke down into 80 mountain bike miles, 101 road bike miles, and 70 running miles.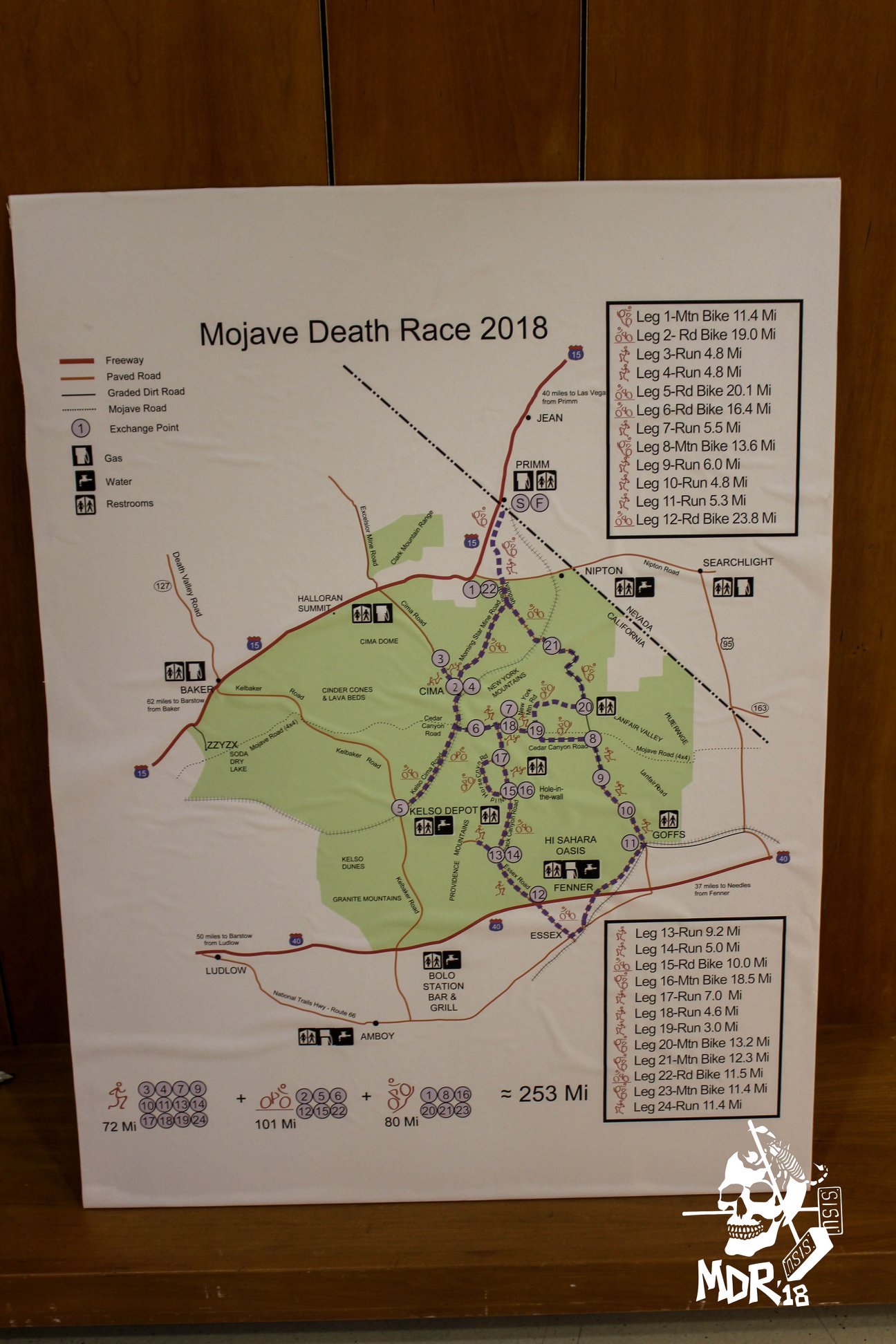 My overconfident ass went into this event thinking and asking my teammates, "why hasn't someone attempted to solo this race yet?" It didn't take long for me to learn why the smallest team ever was the four-person team that was there with one of the most over-the-top setups for navigating this race. These guys had some crazy military looking off-road vehicle with a bike trailer towing well over $20,000 worth of bikes. These guys were serious. It was pretty cool watching how they performed. By the time I did my running leg, I was putting my foot in my mouth with my ambitious thought to return one year and attempt this race solo. At the end of my running leg, I was convinced no human could successfully do this race solo, even with the best crew in the world.
You see, with this being a relay and multiple disciplines, and self-supported, there is a tremendous amount of coordination and planning that is involved. This isn't the kind of race you can just show up to and expect things to go smoothly once the race begins. Just to race, you have to secure at least 2 volunteers per team. For Team SISU, we had three different teams competing, we had a lot of support that we brought along and it was incredible. I was on the "Pro" team, and we were gunning for the best place we could possibly pull off. With the incredibly organized, strategic, and brilliant mind of Andé Wegner at the helm of our team, none of us really had to do much other than listen to her. As long as we all listened to the plans Andé prepared, everything went pretty damn smooth. Anyone who ever does this race would be lucky to have their very own Andé on their team.
With the precise direction and prep in place, our team was able to consistently have the right people in the right place at the right time, and we were able to make all of our starts almost perfectly. My first contribution to the team's effort was leg number 6, an almost all uphill road bike leg that surprisingly started at 2,127 feet above sea level. During the ride, I climbed all the way up to 4,434 feet when you factor in the few downhill relief sections of the ride the total elevation climbed during this section came out to 2,418 ft. The 16.4-mile leg of the course recorded as 17.03 miles by my Suunto Spartan Ultra when all was said and done. Adding to the challenge of the heat and the constant climb was the impressive headwinds that slowed me down to 10.2 mph, it was an exhausting climb, and the temperatures hadn't even hit 100° yet, my watch recorded the temp as being 97° at the time.
Every so often, I would hear hoots and hollers from my teammates as they drove by and encouraged me to keep pushing and offered me some Gatorade which I politely declined. This climb felt like it was never going to end, but when I finally came around to the hard right turning off of Kelso Cima Rd and onto Cedar Canyon Rd, I knew I was almost home free. In the distance, I could see my teammates waiting for me. As I came around, I looked to the ground ahead, the pavement was utterly fucked. Potholes, uneven surfaces, and sand became obstacles I had tried frivolously to avoid, once I hit the sand I was forced to suck it up, and really embrace what it means to SISU to finish my road biking leg. I handed off my tracker to Dr. Red Tights himself, Wesley Kerr, to be quite frank, I was quite relieved to be done with that. It was literally an uphill battle.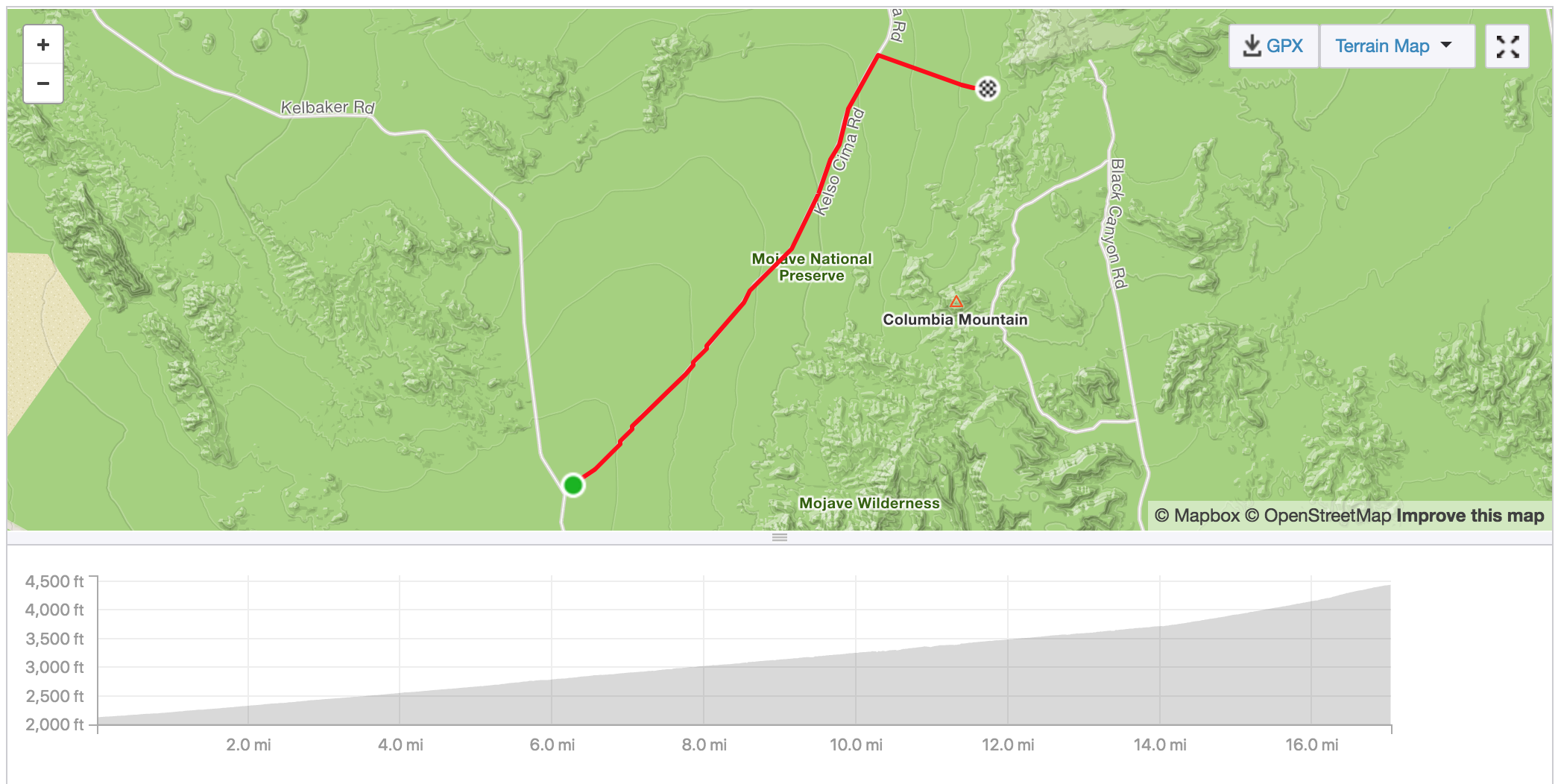 Riding in the van for the next few legs, I had some time to recover before my next leg, a running leg in the middle of the Mojave Desert that would likely happen around three in the afternoon giving the sun plenty of time to heat up this dry and arid desert. Until this moment, I had been wondering why no one ever attempted to compete in this race as an individual, as of the 2018 Mojave Death Race, the smallest team to enter and yes, they finished, was a 4-person team. Having all my previous experiences in Death Racing, I was naive enough to think someone could easily pull this off as an individual with the right crew and planning.
My tune would change almost in an instant after my running leg came to a conclusion. With the heat of the sun beating down on my back, I grabbed the beacon from Maria and took off at an incredibly foolish pace, thinking the next four miles would be a breeze I was slapped in the face by the brutal reality that the air was too dry and the heat more than I could have ever prepared for living in my new temperate climate of the Pacific Northwest, I had become so accustomed to breathing the refreshing air I struggled to adapt to this unique atmosphere. Within the first mile, my pace slowed, drastically. My usual 6:45/mile pace that I'd become acquainted with slowed to an 8:20/mile for mile two and continued to slow to a 9:06/mile pace by mile three. I was not performing at my expectation, but I couldn't let myself dwell on this, at that moment it felt like I was struggling to stay cool and collected. The heat was almost unbearable, I couldn't believe how much it was affecting me and my performance. To keep me moving, my teammates followed closely in one of the vans.
Initially going into this leg, I didn't think I would need much support, so the plan was just to have them check on me every mile or so. That quickly changed and within the first mile, I was asking my teammates to super soak me, as often as possible. The next thing I knew I had teammates jumping out of the van at quarter-mile intervals, super soaker in hand, and I openly embraced all the blasting from the soakers I could get. It was the most refreshing feeling just to get blasted with those cool streams of water as they hit my sun-soaked skin. I asked for more. As the leg came to a conclusion I sucked up my pride and admitted I was abundantly naive and foolish to think I could come back and complete this race as an individual, all it took was 4.92 miles of desert running for me to understand why no one had attempted this race as an individual, while I still think it could be possible, it could also be a death sentence, and ultimately I found a whole new level of respect for this incredible race.
Back in the van, after handing my beacon off to my brother in arms, Daren de Heras for his running leg, I found myself keeled over, dry heaving trying to collect myself after having given my all to pass a larger runner who I had set my sights on around mile two. He was easily a mile ahead of me. By the last quarter mile, I had him in my sights, and as the checkpoint came into view, I threw my comfort zone out the window and began to push my perceived threshold. I overtook my prey with the end of my leg in sight, I gave it everything I had. I wasn't concerned with having any reserves in the tank as my next leg wouldn't take place until the very end of the race, I had plenty of time to recover so this was my chance get our team ahead of at least one other team. I gave it my all, and it was evident from the vomit that eventually made its way up and out of my mouth before we hopped in the van to our next checkpoint.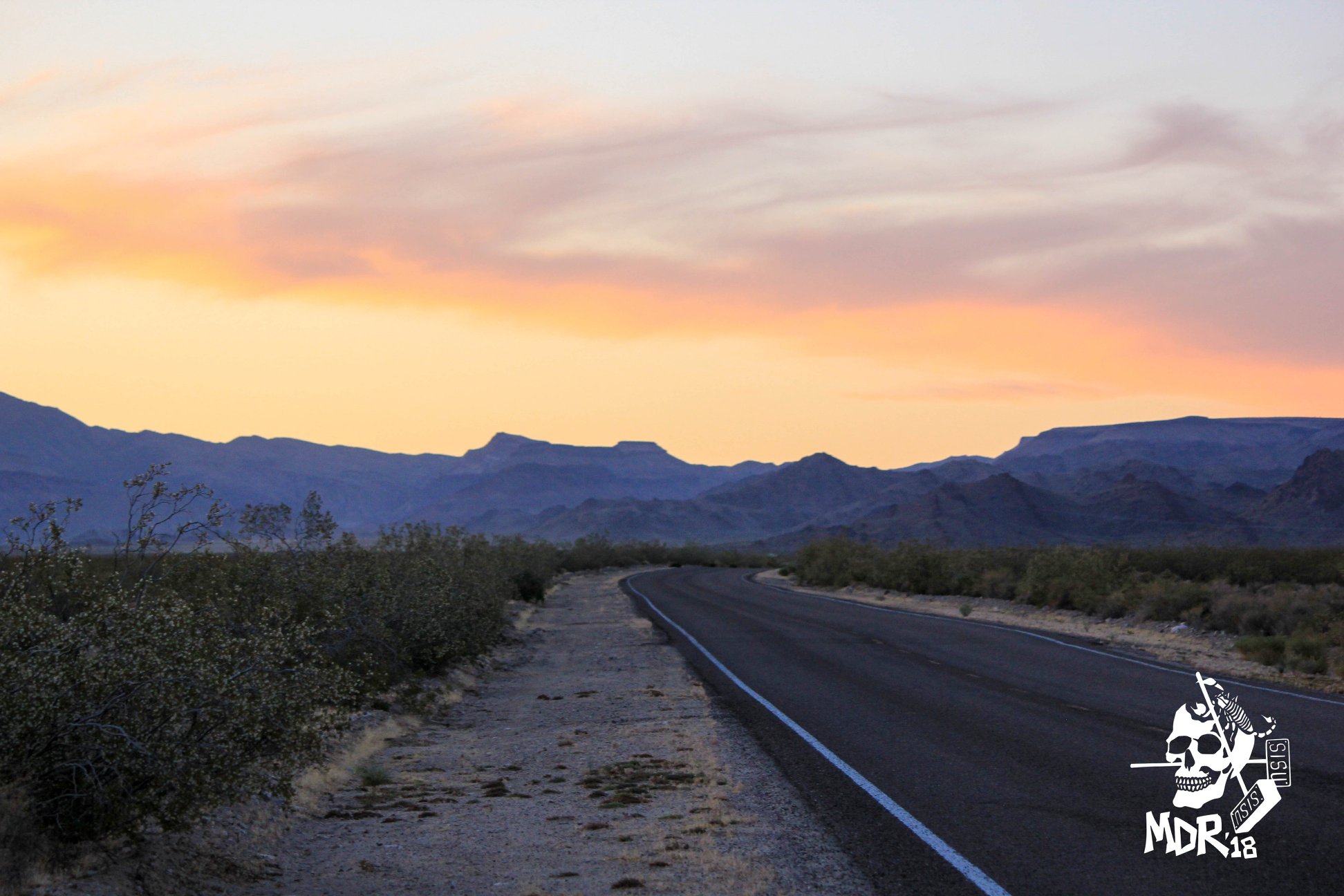 For me, I was able to rest for a considerable amount of time, my next leg wouldn't start for another 12 hours at in the wee hours of the morning around 3AM. With all the time to recover, it was time to focus on my teammates and making sure each person was prepared for their leg. It also meant, for me, that it would be time to get some rest and have a chance to enjoy some free popsicles for simply checking and signing a guest book at a local school. Those popsicles really hit the spot. Fortunately, as the day progressed, I was able to find time to knock out for a good hour or so while we cruised around the Mojave Desert, supporting our racers.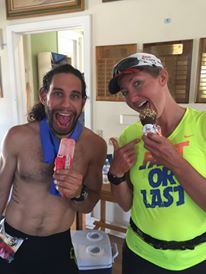 When it was finally time for our last leg, Daren and I found ourselves scrambling to the start of it. Together we had strategized a plan that would hopefully keep us moving with minimal stops. You see, the final leg was what they called a "ride and tie," and while we weren't literally tied together, our directions were to stick with each other, one person running, the other riding the mountain bike. More than anything, this was for the safety of us racers, to have someone there to keep us in check as we made our way across the desert floor back toward the bright lights of Buffalo Bill's Resort and Casino in Primm, NV.
Daren would start out running since the first segment was on pavement, and we all know how bad my shin splints get if I run even a mile on the road. So we decided to break the leg up, it was an 11.5-mile leg that took us across what can only be described as what I'd imagine it would look like running across the moon if the moon had gravity. The lunar-like surface was something out of this world. I was utterly tripped out by how vast and unending it seemed as we hit the surface. After about 4-miles of riding the mountain bike, I jumped off and passed my helmet to Daren. I took off running while he geared up. We did this again for another 4-miles or so before my legs became tired. We would swamp on last time, and I would run the final mile. As the sun began to rise, we came around the last corner, and we could see and hear our teammates cheering us on, it was them and two of the race coordinators, that was it. Some 254 miles were covered by our incredible team, we finished 9th overall and were pleasantly surprised to discover we snagged the win for Co-Ed team.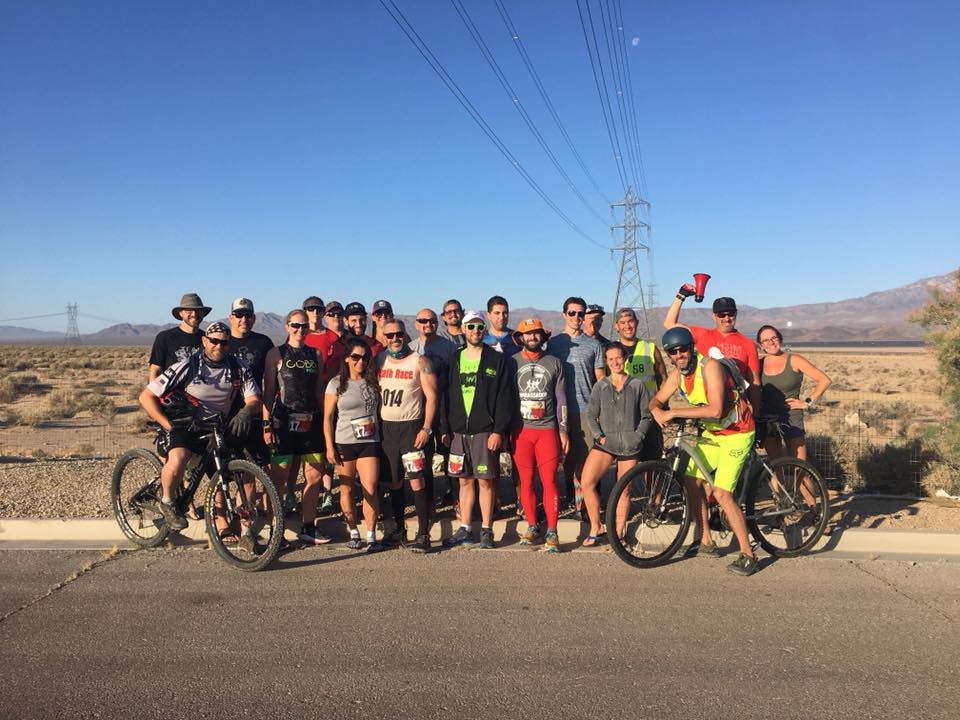 The Mojave Death Race gave me a whole new perspective. Racing doesn't have to be all about competition. It doesn't have to be all about you because it can be about so much more. It can be about connection. It can be about a team, collectively coming together to meet a singular goal. It showed me how we can each harness our strengths to come together and make magic happen. Most of all it taught me the importance of having fun when you race. It reminded me that that's what it's all about, having fun with people you love and trust. I absolutely loved this experience and I am looking forward to participating in more relays in the future. I'll always have my own personal individual goals, but now I have a new goal, finding more ways to connect with those who share the same love for suffering through these unique experiences.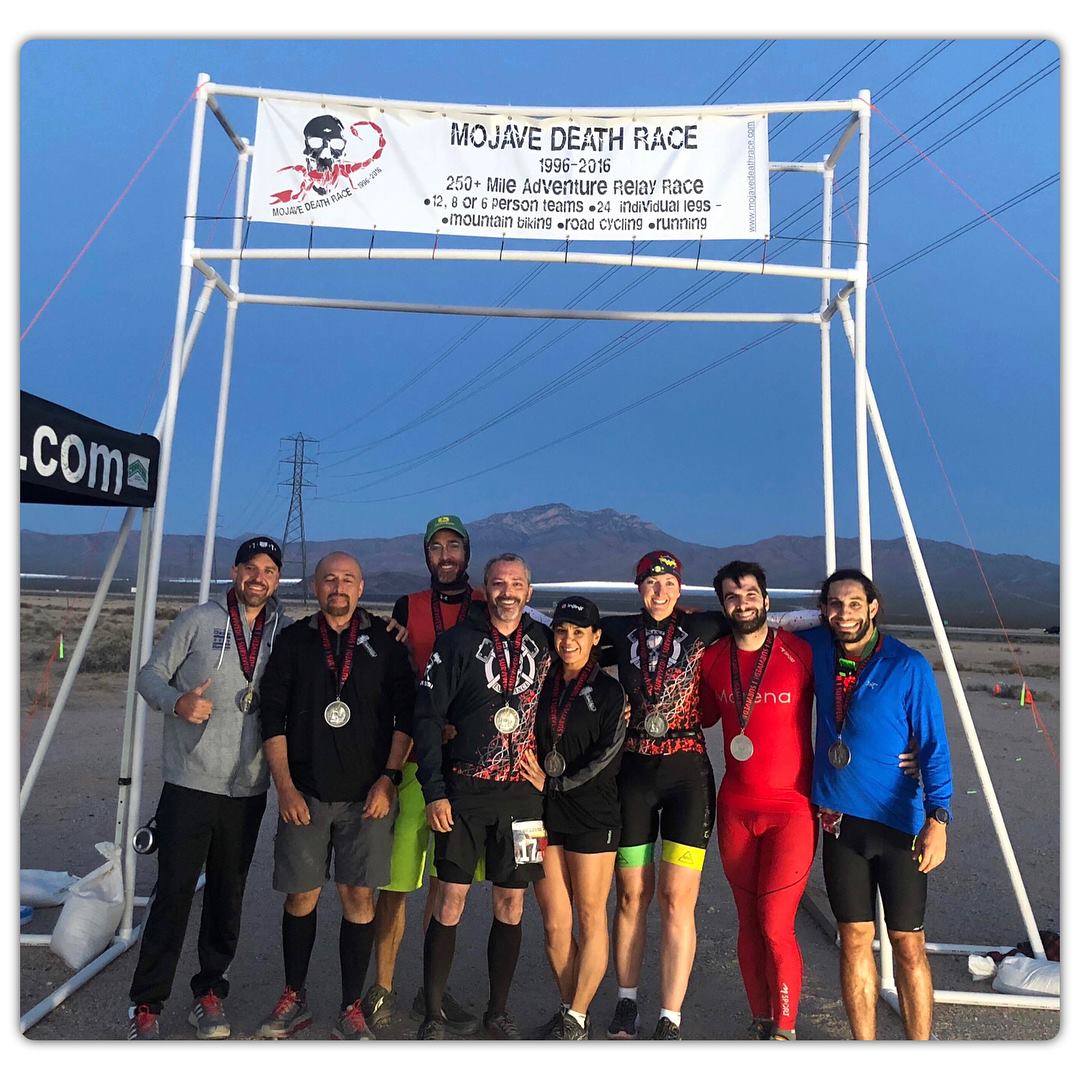 Enjoy this little video recap from of our victory.