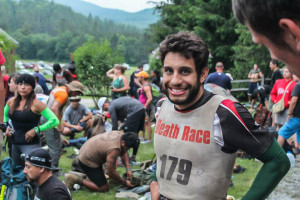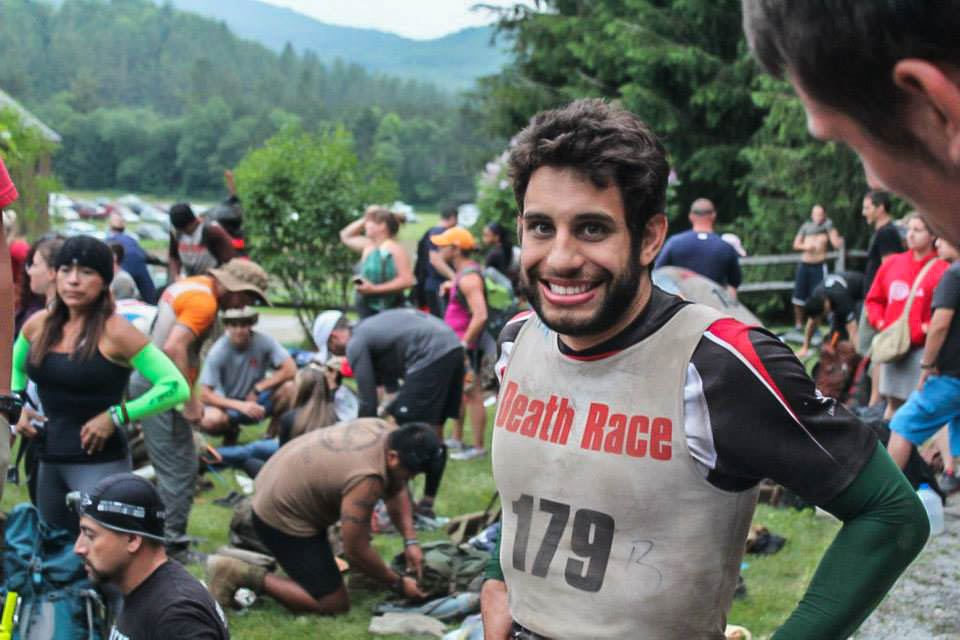 Now that the race had officially started, we were informed that the next leg of the race would take place on the notorious Blood Root Mountain Trail.  At last it was finally upon us, one of the most demanding segments of last year's race took place here, but even when my team was forced to drag a tire for nearly 20 miles through Blood Root we refused to quit even after falling more than six hours behind the rest of the racers. With prior knowledge of how ridiculously technical Blood Root could be and how well we conquered it as a team the previous year, I felt a sense of excitement—this  would be the place where many would break. The scary part about this trail is it's the point of no return. There is no compromising, no turning back, no cutting corners and the hike is designed to decimate the brave souls traversing the path.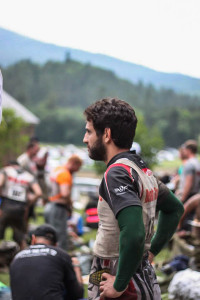 To keep things interesting we were instructed to go search the surrounding land for a large rock, which we would be required to carry in front of us for the entire hike. That's right, they did not want us putting it in our pack, over our head, or anywhere else, but rather right out in front of you. That was the rule. . Before I even began looking for my rock my mind raced through a checklist of all the gear I had on me that could possibly lend me a "hand" in completing this objective. Bungee cord. Rope. 550 Cord. I had a lot of ideas in my mind as to how I would hack this challenge. To be a successful Death Racer one must  be a hacker and must excel at thinking beyond the box's walls; and sometimes requiring a racer to go even further to reach a solution to aid in beating the game that Joe and Andy devised. As I searched for my rock, I saw Joe giving Junyong Pak a hard time about the size of the rock he brought over. Before anyone was allowed to take off, every rock was inspected and a volunteer was snapping photos of each racer with their rock. Supposedly, they'd be using the photos to make sure we kept the same rock the entire length of the hike. I highly doubted they were actually going to perform a photo review at the end of the challenge, but then again, this is the Death Race, so anything is possible.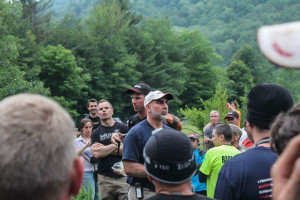 Joe had it out for me for this challenge. He knew how strong I was performing so he wasn't going to let me get away with anything. I brought him my first rock. He laughed, I honestly had thought it would be adequate, but alas, I was sent back to find another. When I returned, Joe told me that I'd have to go find an even bigger rock because again, the one I brought over was nowhere near big enough. I was stunned. This one was actually a pretty solid piece of slate, it had size, weight, but didn't satisfy Joe's sadistic expectation. Off to find another rock. Joe was starting to get to me. My impatience to race was creeping up on me. I thought to myself, I'm just going to have to find a large slab and suck it up. This next section is going to push me. Joe is making sure of that. But, it made me feel good inside that Joe thought I could haul a larger slab. When I returned, I presented my rather large, flat, slab of slate it was a rugged piece, jagged edges, almost the entire width of my body. I knew this was a keeper. Quoting Full Metal Jacket, I thought of the mantra: This was my rock. There were many like it but this one. This one would be mine. And most importantly, Joe approved. At last after having my photo snapped, I strategically positioned the slab so it wouldn't be very identifiable in the photo in the event they actually did review these photos at the next checkpoint. I had a distinct feeling people would be swapping out their rocks along the way. I had an even stronger feeling that I would not be keeping this ridiculously large rock for very long.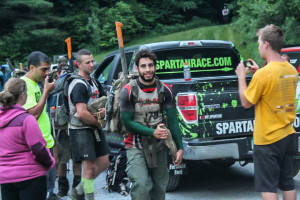 At last, I was on my way across Route 100 heading toward the legendary Blood Root Mountain Trail. The race really felt like it had finally begun the sun was setting. Then, just like that, while we were heading down the road that led to the Blood Root, I felt the air change. It was already getting dark from the sun setting, the clouds dimmed the sky, and I felt a rain drop hit one of my fingers. Then another. Then it came a full-on downpour. There is a running joke in the community that Joe and Andy have a direct line to the weather gods. Too often the weather has come in and changed the game whether (pardon the pun) it be at a Spartan Race or the Death Race. Somehow the weather always seems to play out in the Race Director's favor. Giving them that little extra bit of suck to dish out without having to do anything other than let Mother Nature take over the mind fuckery. It was just another way to make this task a wee bit more challenging. That was the mindset I had to maintain. This is just another obstacle. I was certain the combination of this unexpected rain storm, and the treacherous hike, which forced us to carry a heavy rock would be THE tipping point for this race. I was certain this would thin the heard.
Not even a half hour after leaving Riverside Farm, I was already growing irritated with my rock. The one I choose was less than ideal, but at the time my only concern was making sure Joe wouldn't delay my departure, so I grabbed one of the most gnarly rocks I could find. His plan was working, it was aggravating me. The stone slab I chose had some nasty edges and already pierced through the skin on my hands in a few places. There was no way I was carrying this exact same rock for the entirety of this challenge, I thought to myself. I'll never make it. There it was…that self-doubt. That uncertainty that tries to overcome you right at the moment when things start getting rough. That's when I said NO. I will not let my thoughts defeat me. I will not let this rock defeat me…not yet at least. As we made our way down the road I began to strategize a way to secure the rock to the straps of my ruck. Before busting out the supply of 550 cord, bungee cords, and whatever other rope I brought along for the race I tried to just secure the rock by using my chest and waist belts as holders for the rock. It didn't take long for me to realize that this method was going to leave my pelvis severely bruised. I fashioned the ropes and bungees to my chest straps and waist belt, securing the rock to my body so I could avoid slicing my hands up any more than I already had.
Trying to stay with a pack for once and especially with those who had taken a bit of a lead I found myself having a bunch of difficulties getting my headlamp situated for the impending darkness that was beginning to engulf the skies above. I finally decided to stop and take a moment to fix the straps on my headlamp. Once fixed, I had to gather myself and figure out which direction to continue. I followed a few racers, and was soon united with some of my friends including Daren De Heras, Pete Coleman, Junyong Pak, among many other Death Race veterans. We all continued on through the pouring rain toward Blood Root. Eventually we approached a fork in the road where everyone's opinion was divided 50/50 on which way to go. We spent a fair amount of time here trying to figure out which direction was the correct path. I recalled the directions we were presented and knew that the left path was the shorter route, there was no way in hell that was the correct path to take. This is where things became a bit interesting. Half the group followed Junyong up the path to the left. I decided to hang tight for a bit before making any rash decisions. I wanted to be certain I wasn't going the wrong way, I did not want to risk being penalized for taking the wrong route, miss a challenge, or the worst case scenario, wind up lost with no idea where to go.
After what seemed like a significant amount of time a group of us finally headed down the path to the right. Not too far along we eventually ran into another group of Death Racers who were being led by Andy, Norm Koch and Jack Cary. This turnaround point led to a lot of chaos and confusion. People who were behind us didn't know whether they should keep going or turn around and join this group. Seeing all the Race Directors together was all I needed to see, I would let them lead the way. Where the Race Directors go, I'll follow. I knew I had taken the right path but they were going back in the direction from which we had just been. By turning around I was among the leaders of the pack. That's how fast things can change in the Death Race. Just like that, you can go from being somewhere in the middle, yet in almost the blink of an eye you can be back in the "top" position.
Now knowing we had taken the correct path I realized the other guys went the wrong way. I didn't want to get too excited so I kept this thought to myself and just tried to keep pace focusing on staying with the taskmasters. The further back we traveled the more spread out the group became. I was running with a couple people two guys were in front of me and another pair behind. My bungee cords were flopping around quite a bit and as the rock slowly made its way out I finally brought myself to a halt deciding it was best to take the time to readjust my rock holster. When I looked back up I was alone. No one was in sight. I ran ahead a bit more. Still no one. I turned off my headlamp to see if I could spot anyone else's beam of light through the darkness.  Nothing… I was alone.
To be continued…