After finishing the barbed wire challenge I had the opportunity to gather my gear before proceeding to the next challenge; or lack thereof. My mission required that I head back to the Riverside Farm and wait. That's right, myself and the other four racers who finished were so far ahead that we had to wait for over four hours. After everyone was together, we once again gathered for instructions about the next challenge. In the meantime, we were practically given a free pass to do anything we wanted. The only instruction was to be back at Riverside Farm ready to go by 4:00 pm.  I made my way to the bottom of Tweed River Drive back to the large field outside the White Barn at Riverside Farm. This area was also used as the parking lot for most of the racers and it just so happened that Mark had also parked his car here.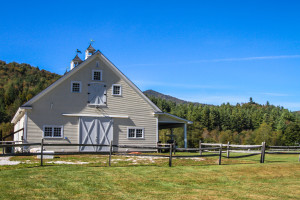 Finally arriving at Riverside Farm after hiking back down, I went straight to Mark's Land Rover, found the key that he hid just in case one of us finished early, and opened up the hatch. Inside I found the perfect tool to keep me busy these next few hours. I recall purposely packing away my travel-size foam roller knowing how wrecked my body would be after another dance with death. Around this same time some of my fellow Corn Fed Spartans came back down from the barbed wire challenge to check on me. They asked if I needed anything from my bag check, or if I wanted anything to eat as they were about to go grab lunch from the General Store.
Oh, the Original General Store of Pittsfield, VT. The most magnificent General Store ever. (How I love you so). I was ecstatic when they asked me if I wanted  anything to eat. Are you kidding me? Of course I want something, I thought to myself, I've been eating protein/energy bars, trail mix, and other random foods up to this point. The thought of a juicy bacon burger from the General Store popped into my head. When Missy Morris asked me what I wanted my immediate response was, "Can I have a burger, with BACON?!" Everyone laughed and then they hopped back in Lisa Weberg's SUV and headed out.
While I waited I grabbed the foam roller and went to town on every sore part of my body. No muscle was left unrolled! Upper Back? Check. Hamstrings? Check. Calves? Check. Hip Flexors? Check. Lower Back? Double Check. My basic theory in rolling everything out during the down time was to prevent my muscles from locking up. A few of the guys I made it back with laid down and went straight into nap-time. Not me, I was still rocking-out from the wicked energy spike after crushing that barbed wire crawl and nailing the celebratory Burpee back-flip. My primary objective was to be proactive and reserve some of my energy and channel it to my active recovery efforts.. The more I thought about it, the fact was evident that, once again, being a leader in this race was less than ideal, especially early on. The larger the lead you take in this race, one of two things happen. First, they continue to give you more and more work to break you down until the rest of the pack catches up. Or, secondly, they do make you wait, giving you time to rest. You are probably thinking, how is that a bad thing? The thought of it isn't that bad, especially since you've been going for over 30 hours at this point. However, the reality is the longer you rest the more the soreness sets in. Muscles begin to cramp and you can feel your shoulders tighten, your legs begin to stiffen up, and the thought of lifting them becomes the greatest challenge. I could not let this happen.. During those hours in the field I did everything I could to stay somewhat active. Everything in my power to keep my body "fresh" whatever "fresh" meant after 30+ hours of racing.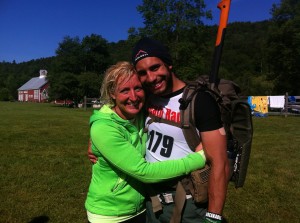 While waiting in the field, I was visited by my dear friend, Andi Hardi. She was also about to make a trip back to Amee Farm, where our gear drop was and asked me if I needed anything. I realized this was quite possibly the last chance I'd have to get some fresh socks and shoes for a while so that is exactly what I requested. I gave her exact directions as to where to find my gear at bag drop and any other pieces of information she'd need so I could finish this monster of a race.  She asked if I needed food but I informed her that Missy was already grabbing me a burger—or  so I had hoped she was. It felt like it had been a while since they had left. Andi took off and I went back to stretching and utilizing my foam roller. I will NOT cramp up, I kept repeating in my head. Control the mind, control the body.
I was just about to begin stretching when down came my Corn Fed Family. The sight of burger brought out pure jubilation from my ribcage. I demolished nearly half of the burger before they had to take off to look for the other members of Corn Fed who were back at the previous challenge now. They only stayed long enough to hand me the burger and wish me luck. My caloric deficit was quite evident, something that's just part  of these multi-day adventures. In endurance racing, caloric intake and retention is everything—it can really make or break someone's race (and body). No matter how much you try the body will almost always be in negative calorie deficit.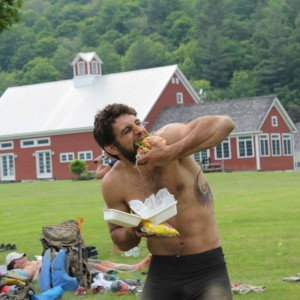 To put that into perspective, in a typical day a person will generally eat anywhere between 1200-4000 calories/day depending on a lot of factors. A typical high intensity, hour plus workout can burn upwards of 1000 calories, again many factors to actually determine accurate counts. During a race of this magnitude you are easily burning nearly 10,000 calories/day and it is very likely you are only consuming somewhere in the realm of 2000 calories per day. Taking that into account I was trying very hard to keep my intake optimal so I could still perform and not lose too much weight and keep my energy levels sufficient. I entered this event weighing in around 158-160lbs on average leading up to the Death Race.  No matter what, I was leaving this race lighter than when I began, and with my metabolism helplessly trying to keep up.
After they left I ate another quarter of the burger and put the rest aside for later. Not knowing when we might start up again, I didn't want to risk being too full. Nothing is worse than throwing up during a race. I wanted to avoid that as long as I could. I don't remember when it was, but eventually Andi returned with a whole trove of goodies including a whole pizza. I was stuffed but not even ten minutes after her arrival I found myself digging in and having a slice. Might as well take advantage of the fresh, food while it's available! Soon enough, it'd be back to dried fruit and nuts, beef jerky, and whatever protein/energy I had left in my ruck. Andi also brought me a new pair of smart wool socks, my Brooks Cascadia 7's that I used last year for more than half the race. I was excited to have something to change into since I'd been walking around barefoot since arriving at the field. It's good to take advantage of being able to air your feet out and keep them dry. I stick to a strategy of using a pair of Injinji performance socks underneath either a pair of smart wool socks or compression socks. The smart wool wicks away the moisture and the Injinji toe socks keep anything from rubbing usually resulting in minimal blisters.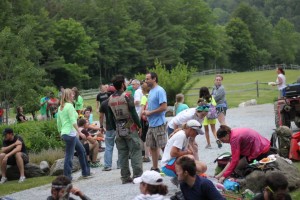 Another hour or so had passed and finally it was time to get back into race mode. All the other racers were arriving at the brown barn toward the back of the. Making my way over to the circle drive where all the racers were reconvening, I was shocked to see how many people were still in the race at that point. It didn't sit right. Given that I knew the race was about to become increasingly difficult from here on out. If this many people remained there was no doubt Joe and Andy would turn things up a notch to assist in boosting the drop rate and help them reach their less than 15% finisher rate.
I decided I'd be ready for whatever sadistic curveball they were about to dish out. I remember wandering around trying to catch up with any of my friends that I hadn't seen in a while to see how their race was going. There was a ZICO Coconut Water tent set up distributing coconut water to all the racers. I snagged a few for myself being conscious of how much I ingested knowing that the magnesium content could make you more likely to be required to dig yourself a hole in the woods. Something I'd like to avoid for as long as possible.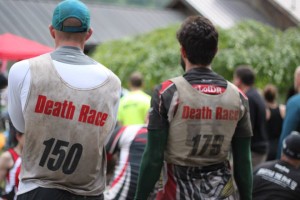 I recall connecting with some of my Team SISU friends, including Daren, whom I met at my first dance with Death the year before during our eighteen mile hike with Team Tire. I also saw my fellow Corn Fed Spartans teammates, Jonathan Nolan, TJ Nomeland, and Andé Wegner who informed me she would not be able to continue after the barbed wire crawl challenge. When I asked why, she showed me her ruck and how it was completely torn apart. There was nothing she could do to fix it. She had tried to make adjustments and fixes but nothing worked and that was it. I never would have thought to bring a backup ruck, but after seeing that I made a mental note. Something to consider. You really never know what could be the determining factor in this race. Somewhere in-between all this and the race announcements I also bumped into another friend that I met around this same amount of time into the race the year prior, Matt B. Davis. He informed me that he had been talking to Corinne and she wanted him to give me a kiss for her. That's right, Matt gave me a kiss…from Corinne, of course. At this point I was like whatever and told him alright, he promised to shoot her a photo of it, too. It definitely gave me a smile and made me laugh. He asked me if I wanted to tell her anything, and I told him to tell her I loved her. He reluctantly obliged.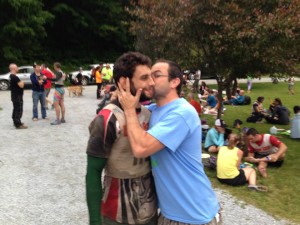 Shortly after, Andy and Joe hopped up on a rock and began to explain to the racers, the crew members, and all of the family and friends in attendance that the race was about to officially begin. Another one of the mind-boggling mind games they play. At this point, I sympathized more for the family, friends, and crew. They usually are the ones that are most taken aback by these announcements usually having less understanding of how the race works than the racers. Being a veteran, I just knew they were trying to see if anyone would drop, they had a goal and sometimes the mind games were the most effective way to achieve their desired results. I understood this, studying the race so closely gave me a lot of insight on what their tactics were, especially from developing how to conduct my own simulation of this event. They began to explain what our next task would be, but my mind was racing. My energy still spiked through the roof and all I wanted to do was blast through this next part of the race. I just spent more than four hours doing next to nothing. I needed to get back out there. I needed a new challenge. I needed something to curve my appetite. I was starving for adventure.
To be continued…