Just over a week before the Virginia Spartan Race I found myself itching. I needed my fix. I decided waiting until the World Championships at Killington for the Beast/Ultra Beast combo was WAY too long to wait until my next Spartan Race. Yes, it's true, I have an addictive personality and it might be out of control but I wouldn't have it any other way. After a quick post on the Corn Fed Spartans page looking for a ride, I found myself a confirmed spot with Missy, Stefanie, and my Dragon Brother, Joe. This was going to be one epic weekend with some of the best company.
The Course and Obstacles
When I tell you that this was the most difficult Spartan Race courses that I have ever done, I'm not exaggerating, the overall consensus from everyone I talked to, Elites, Pro Athletes, even Hobie Call was surprised at the technicality of this course. When I asked him his average Super Spartan finish time he said typically they are under an hour and thirty minutes, usually the 1:27:00 range. This time it took Hobie an 1:55:51 to complete the entire course. A very impressive feat. What was more impressive was the Alaskan, Matt Novakovich, who took first, beating Hobie by nearly 6 minutes. Yes, you read that correctly.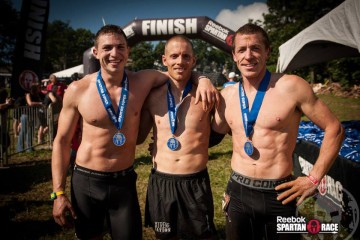 This course had to be one of the most treacherous, dangerous, and intimidating courses to date. Running…ha. There was very little running, except for the speedy downhills and a few switchbacks, most of the course was spent climbing Wintergreen Mountain. When I say mountain climbing, what I mean is, 8,600 feet of elevation change during this race. As much as it sucked at the time, it was epic and every time I reached a peak it was like I had conquered the most difficult climb ever. Each time it felt that way.  Most of these climbs were not easy, they were Black Diamonds, very steep, very long, and extraordinarily demanding of the quads and the hamstrings. Turning many racers' legs into solid rocks. There were literally bodies scattered about the mountain later in the day when I went out for a second lap.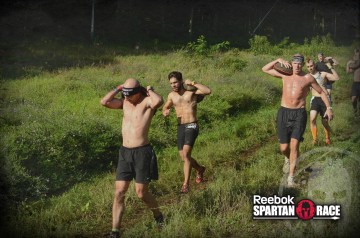 The obstacles were decently spaced considering the way this course was designed and laid out. The usual suspects were there, Over-Under-Through, Wall Climbs, Spear Throw, Monkey Bars, Sandbag Carry, Vertical Rope Climb, Traverse Wall…the usual. Then there were a few new ones as well as some less frequently seen obstacles such as the unexpected Log Flip, instead of a tire flip you had a big ass log to flip down a lane – touching the race tape lanes would be burpees – and back, another new one was a water obstacle that had you swim under three sets of tubing sleds that were strung together which came right after the Super Slip-n-Slide – another infrequent obstacle.
The course and the obstacles were amazing, demanding and quite possibly a bit on the "too dangerous" side for the general population that runs through these courses. From what I heard there were a lot of ankle twists and sprains. This one section down a ravine had a lot of nasty rocks that people were constantly losing their footing and falling down over and over. I was very concerned how bad this section would be later in the day after more people went through, it wasn't pretty. Otherwise I would say this was one of the best courses out there because of how incredibly rewarding the finish was. I've never been more proud of a Super Spartan finish. At the finish line…I knew.
Saturday: Elite – Lap 1
Shoes worn: Inov-8 X-Talon 212s
The morning started out a little rough, I slept very little from a combination of excitement and staying up late making my DIY Luna Sandals kit. A big thanks goes to Billy at the Days Inn who let me use some of the tools from his maintenance room to get the job done.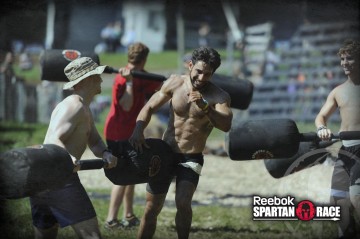 When we arrived at the venue I was feeling a little sore and tired from the 12hrs in the car and lack of sleep but ready for great fun with all the amazing people who do this sport. The race started out fast and turned to slow as soon as we hit that first uphill slope which was then greeted by an extremely fast and long downhill. From there on out the course would become very demanding and took a lot out of me. I was able to finish with a time of 2:31:24.
Saturday: Barefoot Sandals/Barefoot – Lap 2
Shoes worn: DIY Luna Sandals kit and none.
After refueling I busted out the Luna Sandals that I made and got ready to do lap two with Richard from Team Mud and Adventure, and Joe. We took off together and stuck together for the first couple miles, Joe and I eventually broke off for a bit. Downhills in the barefoot sandals was a little scary not having the nice toe box that shoes have to protect them toes. I was still fairly reckless though, what can I say… I LOVE the speed of the downhill. It's a rush.
Close to the 3.5 mile mark one of my sandals busted and that was it, I had no choice to but to continue barefoot. Never quit. Never surrender. I took my sandals off and carried them a bit before resorting to stuffing them into the back of my compression shorts. IT feels great to have sandals rubbing against your ass when climbing…not that I could feel anything anymore.  Before going barefoot I was already receiving a large range of comments from other runners, "that dude is crazy," "check out the Jesus shoes" and a few recognized them for what these barefoot sandals are known as in the runners world, Tarahumara Huaraches. After busting the sandals I became "the hobbit,"and heard everything from "barefoot?! That's hardcore," to "dude, that guy is barefoot, I have nothing to complain about anymore." It was very motivating to hear all the comments about my lack of shoes on the course. I felt somewhere between badass and completely moronic.
To answer the question, "did it hurt?" Yes, it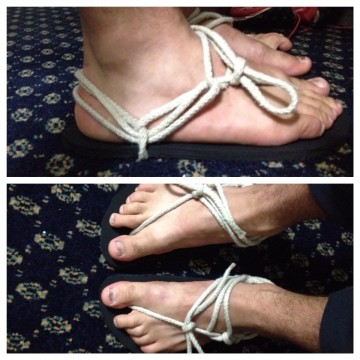 hurt but the course didn't have too many rocky areas to worry about with the exception of the one ravine which was now covered in super slick mud forcing me to stay low and basically ape crawl my way through the muddy rocks and flowing water. I was keeping my cool but truth be told I was scared.  I was afraid I was going to break a toe or worse fall, snap my ankle, and end up smacking my head on a sharp rock leaving my concussed in a location that no one would be able to easily remove me from. Thankfully, none of that happened and I cleared that section safely.  During that section we had regrouped with Richard and eventually Joe and Richard took off ahead since I could not keep any sort of pace with how cautious I was being about protecting myself from injury.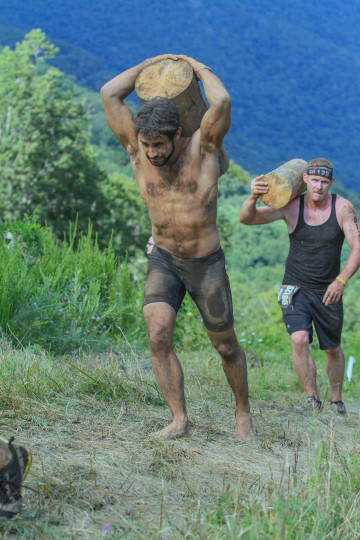 Around the 6th or so mile just as I finished the log carry I ran into one of my close friends, the Barbwire Queen of Green herself, Andi Hardy who was out filming Operation Enduring Warrior. If you haven't heard about these guys look them up. What they do is just some of the most inspiring acts of bad-assery you'll ever witness. They are the definition of no excuses. Thank you for all you do for us, our country, and our world. Andi let me drop my sandals in her bag so I could finally take off without having them rub against my ass in my compression shorts. She hooked myself and a few others with granola bars, brownies, and other fuel. I couldn't be more thankful having already had a GU pack, 4 Snap Infusion Gummy packs and now this, I was far from satisfied but it would give me the boost I needed to finish strong. I gave Andi a quick hug and wished the Warriors and her good luck.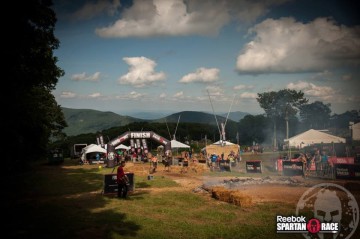 From there my pace picked up and victory was almost in sight. After that last steep ascent it was just a quick tractor pull, followed by one last hill climb, the rope climb, traverse wall, the slippery slope and finally the fire jump and gladiators. I had conquered more than half the course entirely barefoot. I've never felt more in touch with the earth than during those last few miles and crossing that finish line never felt so good.
Will I ever run a Spartan Race barefoot again? Probably.
Sunday: Elite – Lap 3
Yes, when Sunday morning came after much whining and groaning I forced myself to toe the line once again with this BEAST of a mountain. For once this was a Super that actually did live up to the title of being a Mini-Beast. without question this was the hardest Spartan Race Super that I've ever done and I want those who may have done this as their first Spartan Race to know that they're not all this painful but they're also not this rewarding to finish either. Finishing this Spartan Race was an extraordinary accomplishment for anyone who completed the course no matter how long it took or how many burpees you did. If you got that medal, you had better be proud of that one.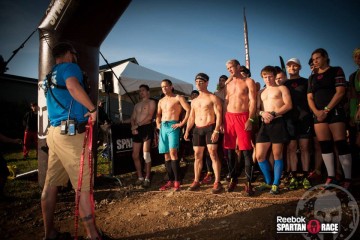 Starting out the Sunday Elite Heat I was very sore and very slow. I could not get much of a stride and walked up the first slope but as soon as we hit those two downhills I took off and used my strength in going fast on the downhill early on to try to get a good position flying past a lot of people recklessly floating down the hill knowing exactly when I needed to switch gears. From there on out I definitely felt like I had to struggle through some of the course but for whatever reason the third time going up the ridiculously long steep slope that led to the Hercules Hoist didn't seem so bad. I guess my body and mind were just becoming numb to the pain that and ruthlessness that this course was putting me through. All that mattered was pushing myself as hard as I could to maximize my training for the World Championships coming up this September in Vermont.
Surprisingly enough I was only ten minutes slower than Saturday's Elite heat. Typically I've run faster on day two but after that second lap I knew I'd be slower, I actually was expecting to clock in closer to three hours so that was a happy surprise. I finished 20th Overall, 18th Men, and 3rd in my Age Group. Let's just say I had a smile on my face.
Festival Area
This was one of the more spread out festival areas of the year and it really makes a difference for how people interact before and after the race. I was out on the course far too long to really have enough input on the festival scene at this venue and left early Sunday but from what I could tell there was less mingling post race than what I've seen at some of the other venues I've been to.
A couple complaints actually came about at this venue which would include the lack of our usual Free Beer at this venue. That really sucked especially given that there were signs along the entire course teasing you about the Craft Brews from the Brewery at the bottom of the mountain at each mile mark. I understand that this was a VA thing and not up to Spartan Race, but why have all the beer signs if you're going to take away my free beer, poor play on the resort's part. My other complaint was with how I was treated at check-in by the bag checkers (who were not Spartan Race employees but Wintergreen Resort). Not only was everything taken out of my bag, my full bottle of Smart Water was dumped out for seemingly no reason (wasn't explained well), then as I went to leave after anxiously waiting for my bag to be repacked, don't they care about efficiency?, I was grabbed by my bag as I tried to leave the bag check area and I was told they had to check my bag. When I explained that the lady just did check my bag the guy said he didn't care and was going to check it. I gave him my piece of mind and walked away aggravated at how I was treated by this guy.
Spartan Kids Race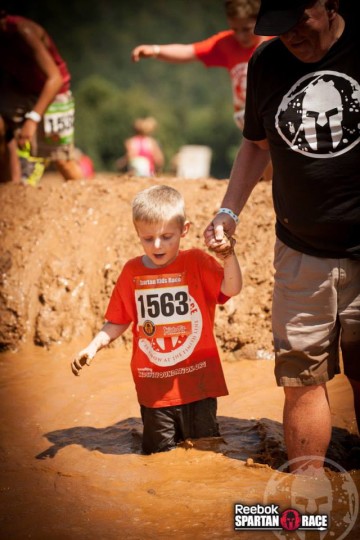 The Spartan Kids Race was once again a highlight for me. This time even more so than previous times. This time I had the pleasure of meeting young Mathias on Friday night before the race. When he raced Saturday morning he successfully completed a lap of the Kids course with the help of  his grandfather, mother and Andi guiding him through the terrain and the obstacles while his father awaited him at the finish line. What makes this Spartan Kid so incredible is that he did this without being able to see any of the obstacles he faced, Mathias is blind. I was very impressed, motivated, and inspired by the tenacity of this young Spartan in training. No obstacle will stop him from succeeding in life. He climbed the walls, went over the cargo net, crawled under the web, I can only imagine how proud his parents, Craig Vescelus and Katie Vescelus are with both of their sons. That's right, Mathias's brother Magus also conquered the Spartan Kids Race. I've gotta say, the thought of a Spartan Family is looking mighty appealing.