I was invited to take on the Hard Charge Chicago/Milwaukee course, since I had nothing planned that weekend and it was close to home I just had to give the first ever Televised Obstacle Race a go. Before starting the race I was given a GoPro Hero 3 camera to wear on my head along with three other competitors including top Spartan Pro Athlete Brakken Krakker. I was excited to be racing alongside him and previous Hard Charge Champ, LeEarl Rugland.  Before the race we had met up and discussed the flatness of the upcoming course, you would have to be pushing 6 minutes miles at this race to be in the top spots. I knew I would be struggling since I still don't consider myself a "runner."
The Course and Obstacles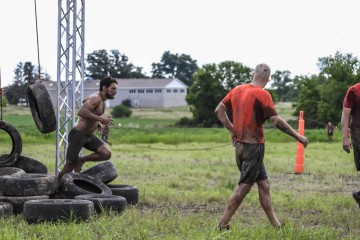 My impression of this course was that it was easy. There was nothing too challenging or demanding to overcome. There were no obstacles that threw ya for a loop or made you struggle. I did like how they utilized much of the venue's already existing obstacles as part of the course. The event took place at a paintball park where there were boats to climb, trucks to jump over, and even a fortress that we had to scale and run through. It was very fun and enjoyable but again, I must say, there was nothing very challenging about the obstacles. The most difficult obstacles were the two sandbag carries and even those were not that bad when compared to some of the ones I've faced in the Spartan Race series, where they typically send you up and down a steep hill. Everything here was flat so the terrain was a very minor obstacle in the grand scheme.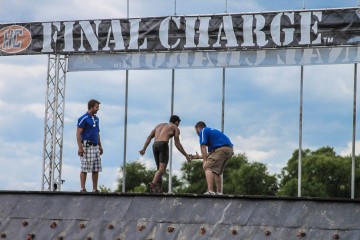 One disappointing obstacle was the "lack of barbwire," wire crawl. Instead of barbwire we just had to crawl under one of the shortest sections I've ever had to crawl and it was just under some standard metal wire that wouldn't even cause a scratch if you touched it. That was the trend of this race though either you were running or you were crawling under something. Majority of the obstacles included, a trench crawl under a tarp, this "lack of barbwire," wire crawl and a few other nets that we had to crawl under. My biggest suggestion to the guys at Hard Charge is to add in some more challenging obstacles that will push racers, stop runners, and create an event that is more exciting and demanding of it's participants. A rope climb, tire flip/drag, or rope swing, or come up with something that hasn't been done yet. For a televised race to be interesting the obstacle need to step it up a notch.
Other than that it was a very fast and fun race. The top finishing times for this four mile course were under 30 minutes. Brakken took first with a time of 28:17, LeEarl in second at 28:37 and Nic Zahasky with a time of 29:09. I place 11th overall with a time of 34:17.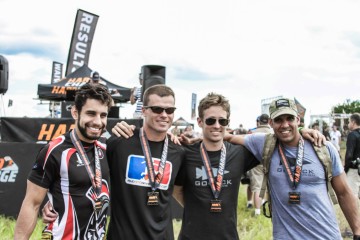 After realizing how close I was to making Top 10 and being coached by my father I decided to go push myself to beat my time and ran a second lap for fun. The second lap was fun but it was not a directly comparable to the elite heat, there were no required sandbag carries (I was able to do the first one since the sandbags were still out), and there were a couple bottlenecks that slowed me down. I found it interesting that they made the course easier by removing the sandbag obstacle for the open heats. This was very strange to me and just doesn't make sense, why not give everyone the same experience? I had a lot of fun running the second lap and realized some key points where I could have pushed myself much harder in that first heat. It was a great experience and I'm looking forward to my next Hard Charge race.
Festival Area
Hard Charge had a great festival area set up. Very easy to mingle and hang out with fellow racers. My parents showed up to support me which is always the greatest and we were able to enjoy some good food and great beer. I was very happy with everything they had to offer. The awards ceremony could have been improved as they basically just had the Top 10 for each category just quickly come up and receive their medals. There were no photo opportunities or anything like that for those who ranked. I did like that they offered medals to the Top 10 in each Age category for both males and females. Even though I was 11th overall I still was able to rank 6th in my age group which landed me a Hard Charge medal to add to the collection of bling. I am excited to see what the next Hard Charge event will have to offer. Be sure to check the schedule to see when you can view this race and maybe even see what it looks like from my point of view on Comcast Sports Net.
Men's Broadcast Week: 10/31/13 – 11/6/13
Women's Broadcast Week: 11/7/13 – 11/13/13