Andy asked me whether I was sure I want to quit or not. Well no, I was not sure I wanted to quit. More than anything I wanted to finish. That's why I came out to Vermont to compete in this race in the first place.  Finishing the Death Race was the only option I had truly considered. Days before the race I pulled a Bart Simpson and wrote "I will finish the Death Race" until I covered the entire dry erase board. When Andy offered me that moment to decide if I really wanted to quit I knew I had to re-evaluate the situation at hand. Morgan wanted to as well.  When Andy questioned us we looked to each other, then back at Andy and quickly responded "Give us a few to think this through."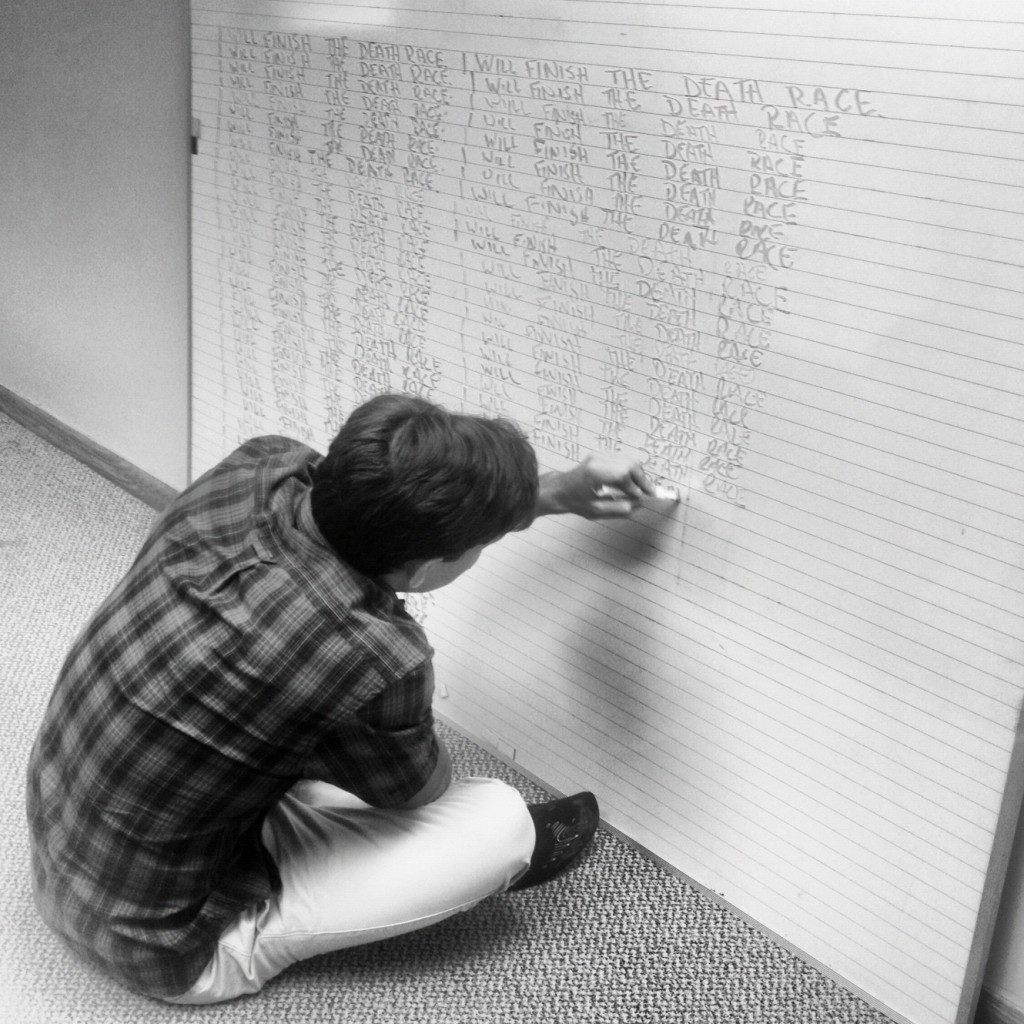 Laying on a make shift cot made from a couple of chairs was Jennifer. Finally, I got to see my crew member. I did not want to tell her I was considering quitting. She seemed half awake at the time. I went up to her and she could tell I was cold. I explained to her the situation with my shoulder, and how Andy had questioned our desire to quit. She told me that no matter what I had to be proud of how far I had come. She was, and so was I. But, I was still only half satisfied. I joined her for a bit in the make shift cot. Thankfully she was very warm, she had me place my legs under her sleeping bag that she was still bundled up in. Just that combination of body warmth and the sleeping bag had me feeling warmer. It was nice. I had taken off my shoes and socks and placed them by the fire before sitting down. I was starving, I'm not certain what my calorie deficit was but it was not helping to make this decision any easier. Jennifer got out a bunch of MRE packs and started feeding me, I had an oatmeal cookie which I covered with peanut butter along with some roasted almonds, and let me tell you, that was stupendous!
Jennifer went on to tell me that she never stopped looking out for me from the time she arrived.  She was informed that we would be making our way back to the farm, eventually.  Instead of searching on the mountain and missing me, she decided to wait at the farm; the plan being to link up with me when I returned.  It was a long while until I made it back.  Jennifer spent her entire night laying on that make shift cot searching for me. Calling out my name over and over throughout the night.  Because of the darkness out in Vermont it was difficult to identify faces, so she would call out "Tony?!"  Over 30 people came through. Jennifer called out to every one of them in hopes of finding me.  Someone actually responded one of the times, but it was the wrong Tony.  Jennifer you are an angel, thank you for sacrificing hours of sleep to avoid missing me when I came through.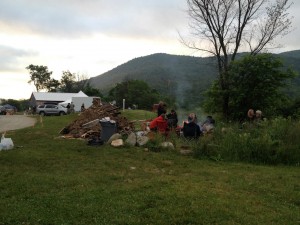 Once I was feeling a little more alive I told Jennifer I'd be back in a bit. I went over to the racers tent to see Morgan. She was organizing some things and had decided she wanted to continue on. She started hounding me to come with and finish what we started. I was not sure yet. Mr. shoulder was hurting me a lot. I told her to give me a few. I had an idea. I scrambled from the tent and went to Andy. I couldn't carry the wood but maybe I could negotiate some sort of alternative obstacle. Andy wasn't buying it though, I had to bring the logs back to the farm. He liked where my head was at but if I didn't bring the logs down I was done. Okay, I thought. Andy, has completed some serious events in his life, he must have dealt with injuries before. I asked him to be straight up with me about my shoulder tear and what he thought I should do. He told me ultimately I have to decide.  If I thought this could cause permanent damage, we're talking damage that would last a lifetime. If I thought that were possible I should really take that into consideration when making my decision. I didn't have much time left to think.
With the new advice I still wasn't fully ready to quit, nor was I completely ready to go back for those logs. Another twelve to sixteen miles would await me.  Just to finish a challenge I was only three miles away from half completing before deciding to "quit."  That really sucked. Then in the distance I saw another good friend, Todd. He was making some adjustments before heading back out to his next challenge. I gave him a quick run down and asked his advice. He looked at me and then divulged to me the key elements that would make this race beatable. We had gone over whether or not I could feasibly go back up the mountain and bring at the very least a couple logs at a time. Of course I could handle that, other than a couple blisters starting to form on the ball of my foot I was pretty golden. It was just the thought of excessive weight in addition to the weight of the pack that got to me.  Todd suggested that no one said you have to take the logs down all at once. If you must, then simply take one at a time. Good logic right? It'd be more distance but, I'd still be in the race. That wasn't the key piece of advice though. That came next when Todd said to me, "only you can pull yourself from this race." Only I could pull myself from the race?  He was right, there were no real disqualifications. That was part of the mental game. If we truly wanted to continue on and continue racing, who was going to stop us? No one. Not Joe. Not Andy. Not any volunteer. The only person who could disqualify you from the race is yourself, you are your own worst enemy. 
With this new found knowledge I thanked Todd a bunch, gave my favorite red-headed giant a hug and wished him the best of luck with the rest of his race. One of the main reasons I was here competing in 2012 versus waiting until 2013 was because of this guy. Todd has a way of motivating and inspiring that is unparalleled. Hell, the man claims training for the Death Race is a crutch. So,  I shuffled my way through the wet grass back over to Morgan in the racers tent. I sat down with her and asked if she was going to continue on. I told her my shoulder was sucking it up and making this extremely difficult, but if I had to go one log at a time then maybe I could continue on. For some time she had been harping on about how we couldn't quit. "Are you going to keep harassing me until I decide to keep going?" I questioned her.  Morgan's head shook up and down and she vocally confirmed that she wouldn't let me quit. Well, alright then, "let's do this damn thing," I exclaimed.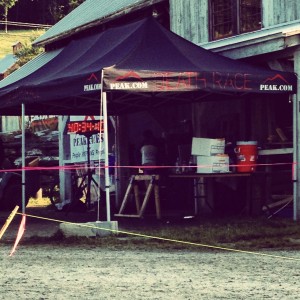 By the time we had our gear back together and acknowledged our desire to continue on, the red led lights displayed just over 40 hours. Jennifer wished me good luck and told me she would keep in contact with my dad about my progress. During the prep time just before we set back out on the trails, I ran over to Mark's car in hopes of finding his keys in his bumper. I searched and searched and didn't find anything. Then I heard a noise. I started to walk toward the rear passenger door, when a head shot up and I jumped back. Holy shit it was Mark. I was shocked. He quickly handed me my container of pain medicine as he opened the door. Apparently, important messages travel well at the Death Race. As it turned out he almost destroyed his Achilles.  It was a very wise decision on his part to pull out of the race (confirmed by his doctor later). He had only just DNF'd a few hours prior and was going to hang out until I was finished.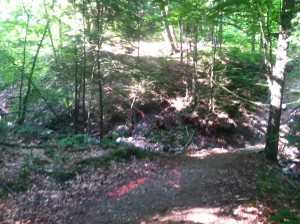 So there we were back on the trail. Morgan and I felt refreshed and silly for wanting to quit. We hustled our way from the farm towards the mountain once again. We had some options for which direction we could take to get back to where we chopped the wood. There was the normal trail route, which would probably consume more time over a longer distance. Alternatively, we could head up the ravine. It was a bit more challenging and involved the likeliness of getting wet feet again.  However, it would decrease the amount of distance we'd have to travel and  hopefully, the amount of time as well. This is where I discovered that the shoe I choose as my second pair would not be to my benefit. I had chosen to bring along my New Balance Minimus Trail MT10's as my second pair of shoes. The problem with the MT10's is they were nearing the end of their life span. They've been through quite a few races, many runs and a few other miscellaneous adventures. Though the bottoms were low on traction I don't think it was simply the fault of them being old. The ravine was slippery. As, wet rocks tend to be. That was the only bad part about choosing this route. I was on my ass a few times and every time I did slip, Morgan and I would just laugh it up.
It didn't matter that my shoes sucked though. The sun was shining through the trees, and the water trickled down the ravine. Pure bliss. This is the life, this is some good living! It's truly amazing how refreshing and revitalizing the sun can be. It reinvigorated our very souls, and gave us that extra push to be happy about racing again. There was nothing that could wipe the big smiles off our faces. We were back in the Death Race and we had decided to make a pact.  From here on out we would finish this race.  Together, we would finish the Death Race. No matter what. Together, we would be, unbreakable.
To be continued…