At last, I could relieve myself of carrying my pack. I was overdue to give my shoulder a rest from all the added weight. Unfortunately, swinging an axe, being left handed, splitting a log in half and then both halves into sixths is not the kind of rest I needed. Walking along the right side of the road, which had been consumed by logs, I scouted for a good one. During that time I came to a few quick realizations. First, the good pickin's were becoming scarce at an increasing rate. Second, some of these logs are GINORMOUS! Okay, maybe just lowercase enormous. My last realization was that my shoulder had become a serious issue I needed to consider from here on out. I would have to chop this log using both right and left handed swings to get through this challenge. I found a log with a diameter slightly larger than I'd have liked. No time to be a picky, though. I grabbed it, pulled it out into the road and made my own little area to start chopping.
Even though I had cleared an area, so I thought, I was very nervous about how close people were walking without noticing my swing. That included racers, volunteers, and support crews. It was a sea of people hacking away at their logs. A few racers broke their axe heads off. Others were struggling to get through, taking out handsaws to finish getting through their log. The open spot I thought I cleared for myself continued to be a nuisance for me. After changing my angle that I swung from much I became much calmer.
Smack, crack. All you heard all around you was the sound of axes ripping through the logs. Wood splinters flying off in every direction. Every so many strikes I would take a pause, switch sides and go back to it. I positioned my log with a rock wedged in front of it to minimize its rolling, and movement. Trying to get this log in half was quite the task, there was a pretty nasty knot towards the center. I finally made it through and once I had my two halves the rest was just like the Fiskars website had advertised. While I didn't have exactly a one swing split, it only took a couple of strikes before my first half divided. Soon enough I had my first six logs and was ready to move onto the other half. Same deal, thankfully. Now there I was, I had a dozen split logs. It was time to strategize.
The next part of this challenge was to return to Amee Farm. As I understand it a few people were sent back to the Farm and told to leave their logs. They were being penalized for the cheating that happened with the numbered sticks. Their punishment. Tread in the pond for various amounts of time. Since I was informed that we were given the go ahead because of the mistake the volunteers made I did not join the cheaters. I remained behind with some others to figure out how I was going to get all these logs back with all the pain I was experiencing. If there was ever a time I could use my pain medicine it was right here and now. Had I more pills readily available at this point, which I was completely out, the following events may have unraveled differently.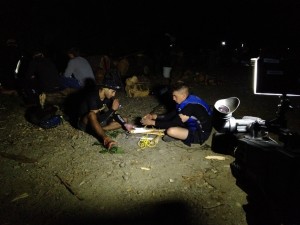 For some time I played around with different configurations, I had strapped all my logs to my Gunslinger bag, that was a fail. When I tried to stand, I could barely get my pack off the ground. Then I split it in half and tried putting six in my bucket and strapping six to the pack…another fail. I still couldn't bare that much weight on my shoulder. What was I to do? The sun was gone, it was now night. I found myself teaming up with a partner. We spent some time grabbing some long skinny trees out of the woods. From there we proceeded to build a sled of sorts. Using a lot of rope to bundle the logs, and even more 550 paracord to create a platform and tension system to hold everything together. Well that ended up being a waste of energy, strength, and time. It didn't work and fell apart within seconds. Our brains were not functioning at their full potential. We should have known that wouldn't have worked but we were willing to try anything to ease the workload. It wasn't going to be simple though. It was going to be evil, so heinous that it would eat at me and put me into a downward spiral that would lead to my first desire to just quit this damn race.
Since the sled didn't work I decided there was no way around it, I was going to have to take two trips to get all the wood down to the farm. I believe it was 8 miles to get back. That was a lot of distance to cover just to finish this task, but then again, this is the Death Race, right? I dropped half my logs. Grabbed the other half and made my way out with Patrick and another racer (sorry, drawing a blank on names). We began our decent and my logs were not cooperating with me. The bundle I had made wasn't holding together well, some logs were sliding out, and I had to keep adjusting. Patrick thankfully lent me some compression straps which made things a lot more bearable. My shoulder continued to aggravate me. It'd have been best if I could get my mind off of it but it seemed nothing would stop my mind from focusing on the pain.
During our decent we ran into a couple other racers including Morgan. Morgan is a fellow Storm Chaser who I knew from a brief meeting over six months back. It was after the World Championship Spartan Race in Texas. We were excited to see each other and started talking about how much the race was sucking at this point. We both were aggravated with how things were going. At that instant of the race we were starting to feel notions of quitting. One negative thought after the other. This is pointless. I'm hurt. How bad would my pain be without the cortisone shot the Monday before? Why are we here? Should we even bother finishing this race? We were losing focus on the goals we had set prior to starting the race. I no longer cared if I finished our not. I was actually very proud of how far I'd come. Finishing seemed so far away though, and some of the madness was getting to us. The darkness of the night, the silence of the forest, the pain.
Oh My GOD! The pain! The pain was getting so bad that I could not do this anymore. F this and F that. I don't want to do this anymore. I QUIT!
Soon enough, Morgan and I had made our decision. You know what sounds a lot better than this lunacy…a beer! Thats right, Morgan and I had decided. This was it. We were going to quit and become TEAM BEER! While everyone else will continue to suffer we'll get to go drink beer and have fun during our remaining time in Vermont. We chucked our wood into the forest, I returned Patrick's compression straps. When I told him, he was a bit shocked. Patrick didn't blame us. He felt this years race was way different from last year when he finished. He wasn't having as good of an experience as he remembered having a year ago and was even considering throwing in the towel. I'm happy he never did. Patrick was an inspiring person out there. I am happy we worked together here and on Team Tire.
Even though we had decided we were done we still had over three miles to get back to the farm. Those three miles were some of the most absurd. We were beginning to face some of the consequences of sleep deprivation. Once we had an understanding of the path to take back Morgan and I decided we were going to break off from the rest, Patrick and the others, so we could get back faster. The path zigged and zagged. There were a few long switchbacks which led us to Morgan's most interesting hallucination. "Is that the Michelin Man?" exclaimed Morgan. Perplexed, I looked at Morgan and back out into the woods. I didn't see the Michelin Man, but I did see what she was talking about. It was another racer not too far off in the distance. It was someone we knew, Will. We joined up with him for a bit right until after we crossed this creek.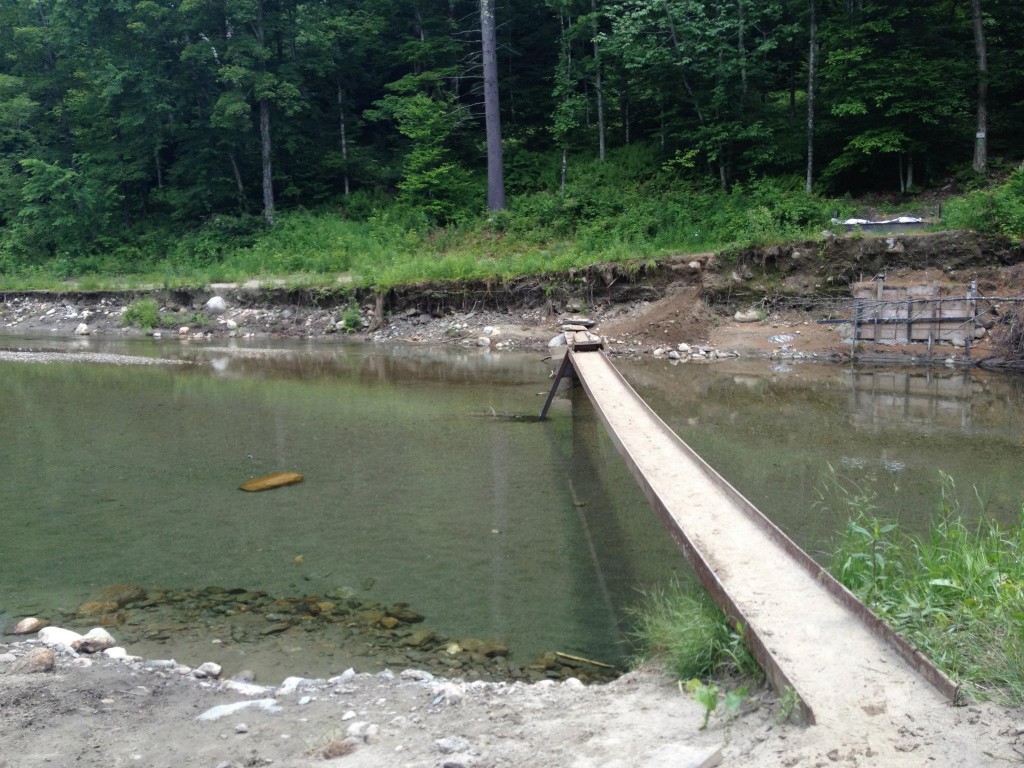 We couldn't find the bridge in the dark so we opted to cross the shallow creek together. Once we got to the other side we had to go through this very wet field of tall grass. I was only wearing shorts, a compression shirt and some compression sleeves. My legs were already wet and cold from walking across the creek. This grass was just making the cold wetness worse. I wanted to just get out of that field. We could see in the distance a light and we were really hoping it was Amee Farm. It wasn't. When we got to the road we looked left and we looked right and we had no clue where we were. We plopped ourselves down in front of a house that sold Maple Syrup. That's what the sign out front advertised. I took out my phone and tried to see if we could get any signal. Sadly, there was none.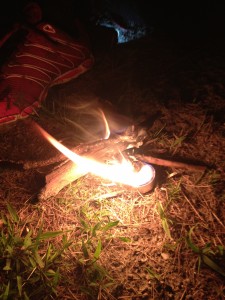 My body temperature was starting to drop. We sat down and Morgan got out a foil blanket. We wrapped each other in it. She also went and busted out a fire starter. So there we were. We had a mini fire for us as we snacked on some trail mix, pretzels, and I think I even had a piece of chocolate (fyi: I almost never eat chocolate). The chocolate gave me some life back. A few cars drove past. Every time we saw a car we would start waving a twig that was lit on fire and I'd wave my lit up iPhone in hopes of getting them to stop. We never stopped to think, hey these people probably think we're nuts. All wrapped up in foil waving a cell phone and fire lit twig at them. Clearly our brains were fried. After many ill attempts (more than I expected to be possible at 4am) to get a lift from a passing car we decided it was time to pack our food and supplies back up. We had to start moving again. I had a really good feeling that we were in fact on the main road, Route 100, and only had to go about a mile to get back to Amee Farm. Sure enough, as the sun rose behind the mountains and dimly lit the sky I could see just down the road. There it was. Amee Farm. As we got even closer I could see someone running across the road. I knew within a tenth of a second who it was, "Norm?!" I shouted, hoping I wasn't wrong. He saw us and once he realized who it was asked why the hell we were coming from that direction. We explained how we were lost and wanted to throw in the towel. I could tell he was disappointed to hear that but he also seemed very eager to bring us to Andy to report this news. Was he one of the moles?
Norm brought us over to Andy. We said to him, "Andy, I think we're done. I think we are done with this." The red led lights on the timer displayed how long the race had been going. I think it read something like 38 hours and some minutes. We've already been in this race 38 hours, I had thought to myself. That's pretty damn incredible given that prior to this my longest challenge was only thirteen hours or so. When Andy responded I was shocked. From everything I knew about the race, and especially about quitting the race, it was not what you'd expect. Andy looked at both of us, and with deep concern for how far we had already made it, he asked us, "Are you sure?"
To be continued…