Being out on the mountain, living, surviving, being physically and mentally challenged, this is what life is about. From chaos, came clarity.  In the heart of feeling defeated we had found our inner strength.  Camaraderie creates a very powerful connection; it has the ability to make the impossible become another training day.  The presence of a strong, powerful woman helped give me the will and strength to go on.  I remember Morgan telling me about an incident early on when she was dehydrated and found herself vomiting. Thankfully, for both our sake she came back from it.  Without her, continuing on may not of happened.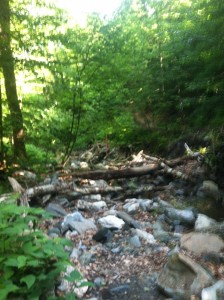 About half way up the ravine we found a couple of bundles of what appeared to be pre split logs.  Upon further investigation we discovered that not only where they already split logs but there were 12 of them.  This could be our first six out of  twelve, we both thought.  Morgan suggested we move forward and continue to the top of the ravine to see if anyone was making there way back. We met a trio of racers but they were already onto another challenge. Perfect.  We could head back down and save ourselves time traveling to our previously split leftovers, or worse having to chop more wood. From there we immediately pulled a 180º back down the ravine. Once we had made it back to the spot we had found the logs, I managed to squeeze a half dozen into my bucket and Morgan stuffed the other six in her pack. I actually took my ruck off and just brought my bucket up.  My ruck was left at the bottom in a nook I had thought was hidden enough.  Given the theme of betrayal I had no idea how risky this could be. I was willing to take the gamble in order  to give my shoulder relief before possibly having to split more wood. It paid off; the pack went untouched.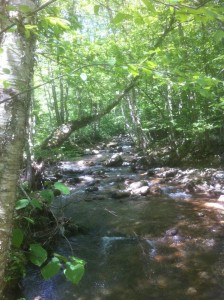 During the descent we had went slightly off course to avoid the ravine.  Truthfully, I was sick of falling on my ass, looking like a fool.  I went ahead to retrieve my pack. It actually took me a while to figure out where I had to cut over to find it.  Once I retrieved it, I made my way back to meet Morgan on the elevated path.  I was still a little ahead so I hung out, sat down, and soon enough I was fading away. Snap! Crack! Huh? What?  It wasn't so much fear as it was panic that woke me.  Being seen sleeping by another racer (other than Morgan) was something I really wanted to avoid at that time.  Now, it seems kinda silly, considering we were closing in on racing for 42 hours. I had already been awake for two days.  Damn.  I grabbed my pack, stood up, then Morgan and I continued on. We reached a series of switchbacks that led down. Certain this was the right way, I started making my way down. I slid down a couple to try to scout out to make sure we were going the right direction and started second guessing myself.  Morgan was convinced this was not right so we went back toward the raving the way we came.
When we reached the ravine again, I looked to Morgan and teased her about how we had to go back the same way.  We laughed it off.  I mean, lets be honest how many trails can our brain actually process under current conditions. We made our way back and from a different direction found ourselves back on the switchbacks that would lead us to the bridge we had crossed earlier that morning. This part is fuzzy, but I remember running into a DR Volunteer, Jessica.  She radioed back to Joe to try to stir the pot some and create more madness. I kept shooshing her off.  When she ran into us as we were applying protection to our skin. We didn't need the blistering heat of the sun to leave us sunburnt on top of everything else.  We also ran into our fellow Storm Chasers, Mies and Chris along with Jennifer who were on their way out with another racer up the mountain.  I asked Jennifer if I could steal her for a bit. She broke off from the others and came back part of the way to the farm with me. Morgan already had gotten a head start, we were less than a mile away now.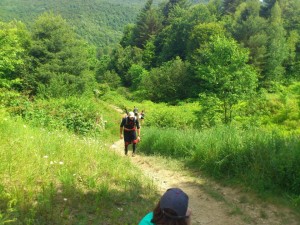 Following a motivating conversation with Jennifer, at least I think it was, we hugged it out and she wished me well.  It's moments like these that can really help you get through the Death Race.  A pep talk, pretty girls, hugs, the sun, I was surrounded with positive reinforcements.  Speaking of pep, I added a little to my shuffle and caught back up with Morgan. We were still carrying our logs and would have to check in as soon as we returned to the farm.  When we finally arrived Joe told us we needed to do burpees as a penalty for taking so long.  First we had to walk over and drop off our logs.  A volunteer witnessed the returning of our logs and we were sent back to Joe.
This was a pretty unique moment of the race.  Margaret greeted us initially; she was live streaming our check in on Ustream via Dirt in Your Skirt.  We answered some of her questions on the video and continued with trying to continue on to our next task.  I also recall being greeted by Matt, I had never met him before but he recognized me because of my blog.  It was the first time ever that someone recognized me for that reason.  I was secretly ecstatic.  Joe's presence was made known the best way he seemed to know, by telling us that we were unable to continue on.  Joe continued to tell us that not only were we disqualified but also he went on to tell us that we would never finish.  Our minds had been made up, and as with all the other attempts to get us to quit, we rushed him to get to the point so we could continue on to our next task.  I refused to believe a word he said.
We were not the only ones suffering from sleep deprivation it turned out. Joe gave us our next task, and did not at all acknowledge the burpees he threatened us with just a few minutes earlier. What a relief that was!  Thanks Joe, but mostly thank you sleep deprivation. 🙂
Our next task was to make our way back up to the location where we had chopped wood. No, I am not kidding, we were heading back to essentially the same location we had just trekked back from.  Fair enough. I remember Morgan feeling slightly panic'd about our pace and I stopped her. I told her she needed to STOP worrying and that it was all part of the game. They wanted us to rush and exhaust ourselves. There was no reason to do that though, we just needed to continue on at a pace that would allow us to finish whatever they threw our way.
Our trek led us back toward the bridge and up the mountain again. We took some shortcuts that led us out back on the road but eased the overall climb.  It was interesting to walk so much of the road this time.  The last time I remember going this route was when we took the truck up part of the way for weigh in. That felt like so long ago.  It was starting to get a lot hotter out, our focus shifted to utilizing every stay-cool tactic we could think of.  Shade, check. Water, check. Gatorade, check. For shade we would switch sides of the road depending where we could catch the most easily accessible "dark" areas.  Whenever we needed a rest we would hide out under densely covered areas to avoid the DR Volunteers and Staff. Who knew if they would harass you or worse penalize you. We didn't, so we took precaution.
When we finally arrived at the wood splitting area there were a few volunteers on a picnic bench and that was about it. The rest of it was abandoned. Equipment was just thrown about. An ax, walking sticks, half split wood, buckets, there were so many items just left behind. We made our way to the table where the volunteers sat.  They had a list with our names, I think they were just checking us off with it.  We gave them our names, told them which obstacle we had just completed.  They made some marks to their sheets of paper, and told us we could head back and move onto the Origami portion. Really?  It was just a checkpoint and nothing else?  Oh how silly and tedious some of these tasks are. Ha Ha Ha. This cracked me up.
Morgan and I about-faced, put our smiles on, and marched off.  To the Origami challenge!  We had to head back down the same way we came.  Like a shot of caffeine being injected directly into your blood stream, suddenly Morgan and I found ourselves becoming very slap happy.  Our spirits overall were so high now.  I looked to Morgan and said, "you know what, we are going to finish this race. You know why…because Weeeeeee Are the Champions.." That's right. I busted out some Queen.  That right there put us in the goofiest mood I think I can ever recall experiencing.  We couldn't take ourselves or anything else seriously. On the descent we passed a few racers who were headed up, but for a different challenge. Uncertain to this day what it was that made us start saying this but we started joking around with people.  We would tell them we had just finished the race and all we had to left was to make it back to the farm.  Then we would be the first male and first female finishers to finish at the same time. We just kept making up nonsense about winning and being in first.  Some people actual would buy it, if only for a second.  Some we admitted to teasing, others, we let them figure it out.  It was all in good fun and we were just having a blast. Truth be told, I thought we had to be in last place.
During our return trip, Margaret pulled up and greeted us as she made her way down the road in a green Subaru. With her window already rolled down, she looked over to us and began one of the, seemingly common, attempts to tell us we were disqualified.  From the beginning of this race and beyond this moment, I lived and breathed by one absolute rule for tackling this Death Race of Betrayal. That rule was to only listen to Joe and Andy, and then know not only when to listen but what to listen to.  It was tricky but it left us with one easy device for handling these situations, don't listen.  They are not Joe, they are not Andy.  Knowing who and what to listen to makes a world of difference in this race.  I'm happy I had this policy intact from the beginning. It was very beneficial.  Later I found out that not everyone knew to avoid listening to volunteers or in this case, someone who had stopped racing. Who knows maybe they were trying to strike a deal to get back into the race.  If they could make someone opt to quit, they'd be reward a spot in the race again.
Hmmmm….The plot thickens.
Margaret's attempt to break us down was simple to shrug off for us now.  The strength of our pact to finish together grew stronger with every shot taken at us.  We wished her farewell, and continued following the road back down towards Route 100. We were starting to run low on water.  As if there was a direct link between Morgan and her parents, suddenly they appeared in their car driving up the road. They pulled up and with out stretched arms asked us "Do you need some water?"  I was in shock; literally two minutes prior Morgan and I were discussing our shortage and the need for hydration in this heat.  Fortune was in our favor.   We kept it brief and quickly they drove off.  Enough thanks could not be given.
When we made it to the intersection with Route 100 we were approached by another vehicle, this time it was an SUV with DR Volunteers.  They told us we could no longer go to the Origami challenge because it had been shut down.  Our response, of course, was, "where to next?"  This caused them to try to tell us we couldn't finish and that we would be disqualified.  We didn't accept that and told them, "No, we are continuing on. What's next?" An unexpected, laughable response followed from the volunteers. They tried to tell us it was a safety issue for us to continue on.  I snapped back, "I don't what kind of safety concern there is for you, but we are GOLDEN.   We are going to keep going, so please tell us what to do next."  It was obvious they didn't have anything else to throw at us when they just responded, "okay go see Joe at the farm."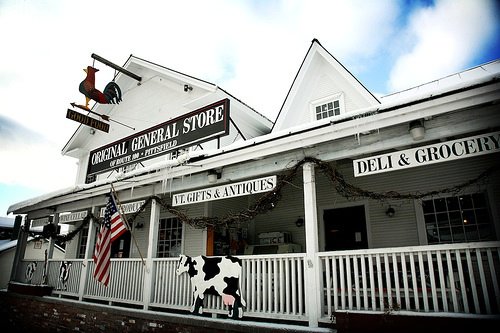 We took off down Route 100, went past the General Store. Our spirits were still incredibly high. We said hello to everyone we passed, including a very nice elderly man hanging out on his porch. Within ten minutes we found ourselves back at the farm ready to find out what challenge awaited us.
To be continued…