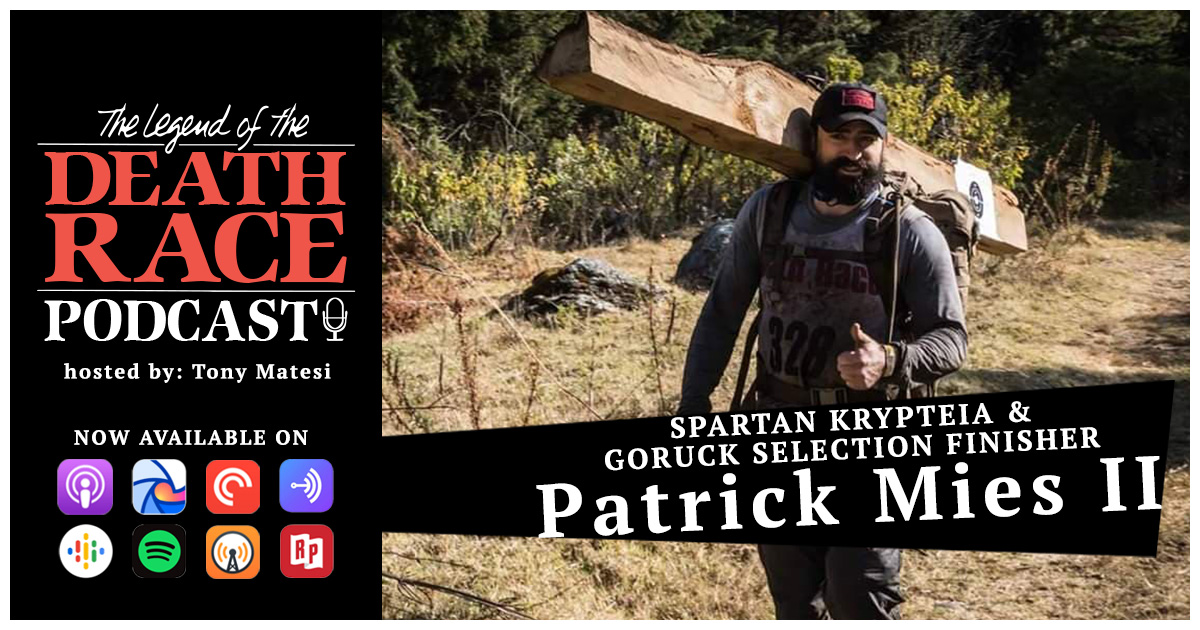 Welcome to the Legend of the Death Race Podcast, where you'll hear the legends of past Death Racers, new and old.
In the seventeenth episode of the podcast, I connect with Patrick Mies II; most recently, you may know him for his successful completion of GoRuck Selection, an intense 48-hour event patterned to resemble Special Forces Selection. Patrick competed in six Death Races. He is currently one of the Spartan Krypteia, a leader of Spartan Endurance events, and he has one heck of an endurance resume. If you want to learn how to overcome life's obstacles, spend a day with Patrick, and if you don't have that opportunity, tune in to this episode for a healthy dose of motivation and inspiration. 
Enjoy the show, and thank you for listening!
If you're enjoying the show and you haven't already, make sure you subscribe, please leave a review, and if you really love it, consider becoming a sustaining member today!
📚Book Mentions:
🏃🏽‍♂️Event Mentions:
💀What's Up in My World:
If you're interested in my legend, the book is available for pre-order on Amazon Kindle and Apple Books. The book will be released on e-book, Paperback, and Hardcover on March 10th. We are hosting a book launch event at Arundel Books in Pioneer Square, Seattle, WA at 6 PM Pacific, come to join us and share your own endurance legend for a chance to be included in my next book!
If you know of any local-to-you bookstores that might be interested in carrying the book, please connect with me! My email is thelegendofthedeathrace@gmail.com. Regarding the audiobook, there's a slight delay, but I expect an early Spring release. To stay informed on the announcement, please visit www.legendofthedeathrace.com and sign up for email updates.
To stay up to date on my latest adventures you can follow me on Instagram @thatenduranceguy or visit www.thatenduranceguy.com