ADVENTURE AWAITS
It's been a while since I've been the Race Director for an event, but once again I'm back to challenging others to push beyond their perceived limits by providing them a platform through which to test themselves. I'm quite excited for this opportunity to bring this event format to my backyard, you see, ever since my little dance with the SISU 24 in California, I have been obsessed with the idea of bringing this race to the beautiful backdrop of the great Pacific Northwest. I reached out to my dear friend from all those years of Death Race, Daren de Heras, and I told him how I wanted to bring the SISU 24 to Washington. With his agreement to make it happen, I set out on a quest to find a location. About a year ago this time, I did some scouting, and in the heart of staying true to the original SISU 24 Adventure Run that started in Monrovia, CA I made sure to focus on finding a Scout Camp just like Camp Trask.
So, last February 24, 2018, I drove to Enumclaw, WA and made my first contact with the Camp Director and we discussed my vision for hosting the event there and we continued to have discussions about when we could possibly host the 24-hour adventure run. After several conversations with the Camp Director and the Camping Registrar we landed on June 15-16, 2019 and just like that, the SISU 24 PNW was born.
SISU 24 PNW
WHEN: June 15 - 16, 2019
WHERE: Camp Sheppard - Enumclaw, WA 
RACE TYPE: 24-Hour Adventure Run | 3-Person Team 24-Hour Adventure Run
RACE OPTIONS: Solo 24-Hour Adventure Run | 3-Person Team 24-Hour Adventure Run | 100 Mile
The way we designed this race gives everyone a chance to see how far they can push themselves to go in a 24-hour period. We're offering multiple race options too, you can sign up to go at it alone for 24-hours, or you can partner up and participate as a 3-person team - teams cans run together or split up to divide and conquer, and finally, we also offer the option to complete a 100-mile race.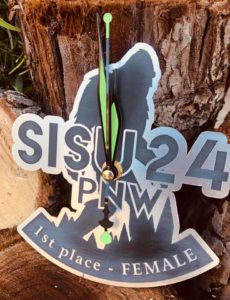 Ultimately, it's up to you how you want to participate, you can go all out and try to win one of the awesome custom SISU 24 PNW clocks we had made for Top 3 Male, Female, and Teams or you can just come out and run/walk/hike as much or as little of the course as you'd like. The choice is yours! After all, this is a Choose Your Own Adventure style race.
The Race Layout
We're currently in the process of designating the various trails that we will use for the course, it's looking like there will be 5 or 6 different routes to choose from. For those competing in either of the 24-hour events, you'll be tasked with earning as many points as possible in a 24-hour period. Each trail will have a turnaround checkpoint where you get a stamp to indicate that you made it to that destination. The first time you arrive at any checkpoint there will be a one time bonus objective you have the option to complete for additional points, and for the 24-hour race, you want ALL the points if you're going for the win. These bonus objectives may be carrying an egg back to the basecamp, or tying a special knot, or memorizing a special code, each will be there to challenge you in different ways and add to the fun adventure! The person or team with the most points at the end of 24-hours wins.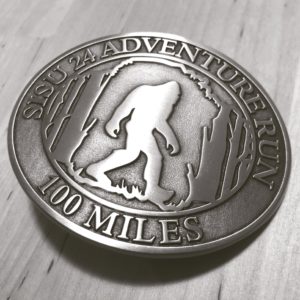 For the 100-milers, you'll be tasked with attempting to complete 100 of the most difficult miles I could find here in the Pacific Northwest. There will be special rules for which routes you can run and when you can run them. Don't come into this thinking you can take the shortest route with the least elevation and just do that over and over again, we don't like making things that easy. The final rules are still being decided upon by our staff, but we promise, it'll be a very challenging 100 miles. During the first 24-hours you need to make it to AT LEAST 75-miles, if you have anything less than that at the 24-hour mark you will not be able to continue. If you are able to make it to 75 miles by the time the first 24-hours have elapsed you'll be granted a time extension of 8-hours, giving you a total of 32-hours to complete 100 miles. Think you have what it takes? We sure hope so because we ordered a bunch of these incredible belt buckles for those that do.
This is sure to be one incredible weekend, we rented the campground for the weekend so tent camping is encouraged. If you want to bring an RV, please contact me directly and I can work with you to get that setup (there will be additional fees required). We have also secured a food truck and espresso cart that will be serving hot food and drinks throughout most, if not all of the event. There will also be all kinds of SISU swag available for purchase including these exclusive SISU 24 PNW performance tops for men and women.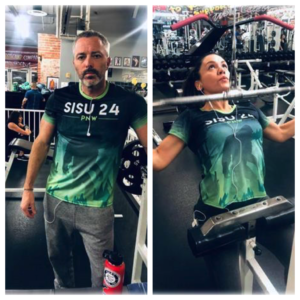 Personally, I am beyond excited to host this event. I love seeing people push their limits and get out of their comfort zone. Below you'll find some details from the race registration page about gear and everything else. If you haven't signed up already, what are you waiting for?
Originally posted on the Ultrasignup information page
About the Race
SISU ENDURANCE presents one of the most unique events on the planet. 24 hours to run any distance you like, including the opportunity to achieve one of the toughest 100 miles anywhere! We start at a private Boy Scout Camp (Camp Sheppard) located in the spectacular Cascade Mountains, just minutes from Mount Rainier National Park and Crystal Mountain ski area. Cliffs tower overhead, pristine falls can be found nearby, and giant elk freely roam the meadows.
You are encouraged to come Friday and set up your base camp (there are tents available if you need one, free of charge). Bring the entire family, crew, or friends – all extra support team are free and encouraged! Kids love camping for the weekend at the Boy Scout Camp! Saturday morning the race starts. 100-mile runners go out first, then Individual and team 24-hour runners follow shortly after. The race ends Sunday, 24 hours later for team and individual, and there is a 32 hour cutoff for 100-mile athletes. If an individual or an individual of a team achieves 75 miles during the course of their 24-hour race, they may elect to carry on.
This race is self-supported. You have a base camp. We encourage everyone to be festive and creative with your camp. We will have movies as well as arts and crafts for the family! There are multiple loops all leaving from base camp. The longest distance is 11 miles, and the shortest approximately 5 miles. Every time you head out you check in at the head table which is at base camp. You choose which loops you want to do, and how many you desire! There are also challenges through the 24 hours if you desire such as midnight yoga, and community service. At the end points are earned by your miles as well any extra challenges you do. You are never far from base camp and your gear/fuel/food. There will be a food truck at camp as well as a coffee truck! The mood is festive with lights, movies, crafts, and onesies.
Registration Types
24-Hour Solo – as many miles as you like
24-Hour Team – Teams of 3. You may run together or individually. Your team points will be totaled between all three athletes
100-Mile –32-hour cutoff. This is a very tough 100. Last year brought our first finisher with over 19,000 ft. total elevation gained.
Trails and Camp
We are trail runners and love this community. SISU is very proud to offer this race at an extremely cost effective price point. Included in your registration is 3 days of camping! You set up your camp as you like, and there are restrooms with showers centrally located. You are highly encouraged to bring the entire family and friends. If you would like a pacer they are allowed at all times, completely up to you. They just cannot assist with your race other than moral support. We want you to be able to race and share with those important to you a great weekend! All family/friends/crew are at no additional cost to you!
This event will take place at beautiful Camp Sheppard and the nearby trails. There are BBQ stands, flushing toilets, showers, and working sinks. We recommend you bring ready-to-eat meals and snacks.
There will be food trucks at the event as well and you are not far from the city if someone would like to drive down and get supplies!
5-6 Trails – each assigned points based off difficulty and distance.
Bonus Challenges – Earn points for various challenges such as midnight yoga, memorization, and other fun task!
Awards
Custom Wood Round Medal – all participants. You may engrave it with your name and bib number
Engraved Clock – Top 3 Male
Top 3 Female
Top 3 Teams (Each Team Member)
Custom Buckle – 100 Mile Finisher
SISU Spirit Award – Best Camp Site
SISU Miles – Most miles earned in the 24 hour period
Swag
SISU is very proud of the experience and our swag. Our athletes all receive Injinji Socks, Honey Badger supplements, Trail Toes Foot Care, as well as much more!
Required Gear
Required Gear:
Headlamp
Hydration Pack or bottles
Food for 24 Hours
Index Card
Ink Pad
Recommended Gear:
Tent
Sleeping Bag
Bug Spray
Sunscreen
Toilet Paper
Windbreaker
Heavy Jacket
Beanie
Cookware (no open flames however propane stoves are allowed)
GPS or phone
Refund Policy
Know what you're in for – read the rules and racer information thoroughly. We realize things happen between now and race day, and in light of that fact, we will be allowing a 70% refund to registrants within 45 days of submitting your registration. Post 45 days from your registration up to race day, registrants may elect to pay a fee of $35 for soloists and $90 for teams to transfer their entry to next year. Teams are allowed to switch out their members for a fee of $10. However, we do not allow substitutions or transfers of solo registrations. Failure to toe the starting line is a DNS. No exceptions and absolutely no whining. Please take the time to read the registration instructions and get it right.