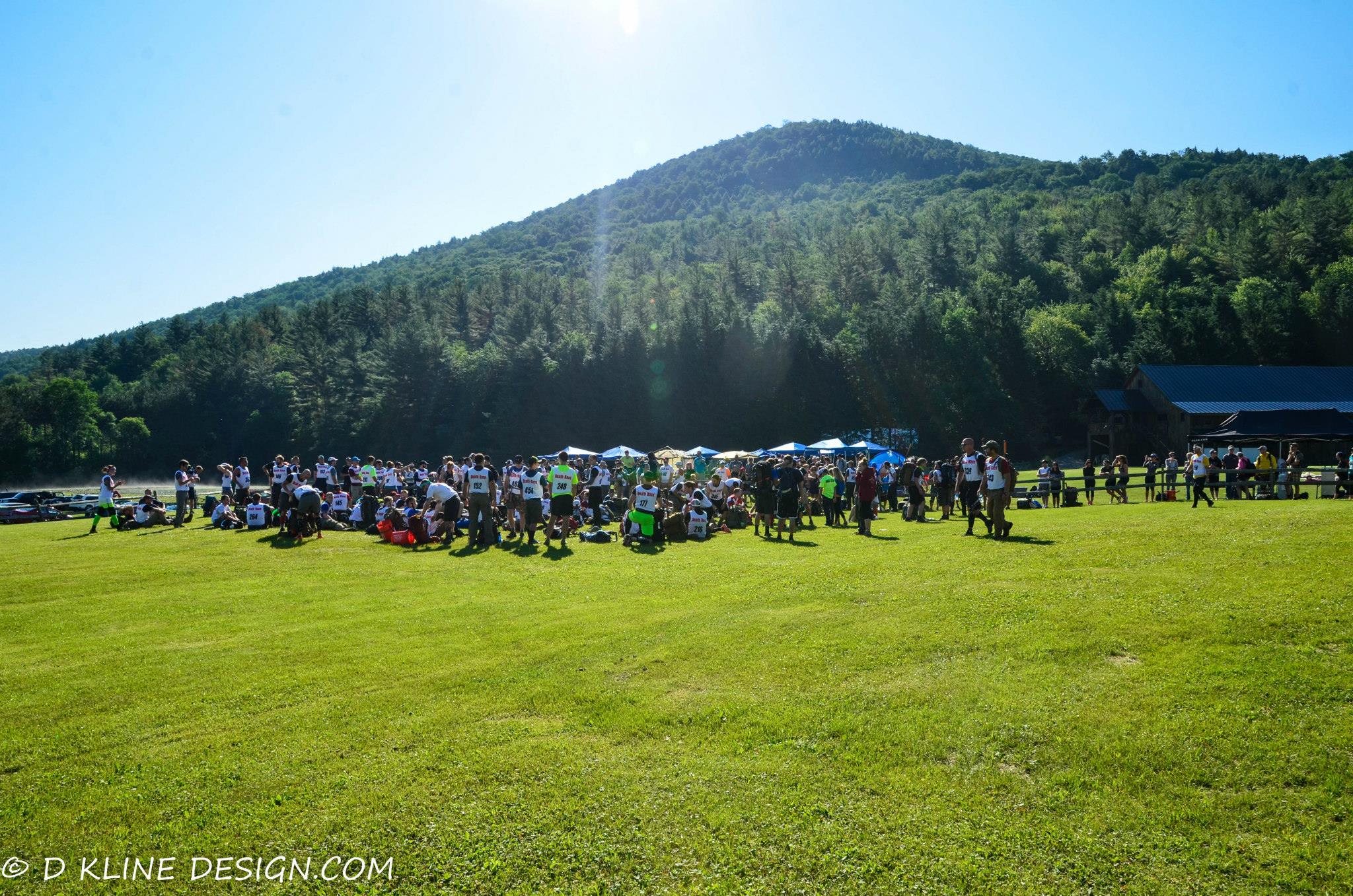 As the end of June approached it became ever apparent that my favorite kind of painful pleasure was coming into focus, The Peak Death Race. It loomed over my head like a dark cloud following a cartoon character around, just waiting to blast them with lightning. In the weeks leading up to the race I could sense it, the experience and all it encompassed was inevitable. The Death Race was, "In the air,"as they say. I couldn't log into Facebook without seeing some 50 or so notifications related to the Death Race, mostly stemming from the specific Death Race Facebook group. Every once and a while, I received a phone call or an instant message from friends entering the race for the first time; each of them asked for advice. I told everyone the same thing, focus on your nutrition, stay in the middle of the pack, and just keep smiling. Of course, there was more to some conversations than others, but these were the most important tips I could universally dispose.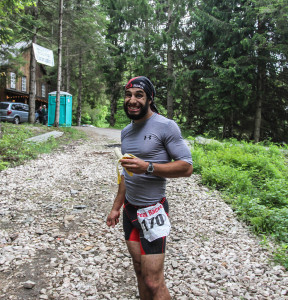 In the few weeks leading up to the race, I slowed my training down dramatically after unsuccessfully attempting the Peak Ultra 100 Miler and focused only on recovery. At the Ultra, I managed to complete a solid 70 miles climbing up and down the very same mountain where the Peak Death Race takes place. I only stopped myself at after my 7th ten-mile loop for the sake of saving my body for the Death Race. I sacrificed finishing that race for the sake of giving myself the opportunity to attempt to finish this one. During that last lap what felt like a potential injury in the ligaments that connect my shin and ankle began to flare up, making every step excruciating. The pain lasted almost three weeks and only went away completely just a week and two days before I arrived in Pittsfield, VT.
Once again, like last year, and in what seems to become the norm for me, I found myself traveling all across the country the week before the race. The weekend before the race I joined my girlfriend, Kristine, for a wedding in San Francisco. The Sunday before the race I flew from San Francisco to Boston to spend some time working at the Spartan HQ. And then on Wednesday, I took a bus up to Manchester, NH to meet my good friend, I suppose I could even call him my Death Race "bestie"at this point, Mark Webb. He graciously welcomed me into his home once again and we kept an ongoing tradition of hanging out, having a beer, and sipping whiskey before the Death Race. On Thursday morning, the day we would head up to Vermont to prepare for the race. We spent most of the day packing. Before heading up, we came to realize our combined eight yards of buckskin, one of the mandatory gear list items, would not be delivered as quickly as Amazon.com had promised — a problem we'd have to resolve before our drive up to Vermont.
Strangely enough, as we readied our gear bins and secured our rucks with the essentials to start the race, we both felt less excited about the race than normal. Both Mark and I kind of shrugged off the unusual notion and went over our checklists before heading to the store to purchase the remaining essentials and the majority of our nutrition for the weekend. Our first stop was a JoAnn Fabrics store that apparently already had other Death Racers frequenting it. The employees responded with a quick, "No, someone else asked for that yesterday,"when I questioned if they had any buckskin. Thankfully, Mark thought of one other place, a locally owned fabric store ran by the sweetest elderly lady. When I asked of buckskin, she didn't have it, but was quick to help me figure out an alternative that could pass for buckskin. I happily and thankfully scooped up the two large rolls of tan vinyl four yards each, and it was off to Target. There, Mark and I went a little overboard on making sure we had a plethora of food that wouldn't spoil over the next few days in a storage container, which included: trail mix, peanut butter, bread, bananas, beef jerky, fruit snacks, Chex Mix and all kinds of delicious treats that I'd normally stray away from. When it comes to the Death Race, any and all food is good food. Unlike last year, I wanted to make sure to maximize my calorie intake and eliminate the possibility of coming home looking like I had lost close to fifteen pounds.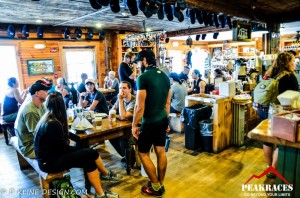 After gathering our food and putting the final touches on our prep and packing, it was time to load up the Land Rover and embark on our journey to Vermont with our mutual friends James Vreeland and his wife, Amanda. Once we were in the quaint little town of Pittsfield, VT, it was like one big reunion. Just one step into the Original General Store and I was bombarded with hugs and smiles from some of my favorite people on the planet. After a quick bite to eat it was time to head back to the Team SISU house and find myself a place to sleep. It was already getting late, and I would need as much sleep as I could muster. My bed of choice would be a futon at the top of staircase in the middle of the hallway that led to the two bedrooms. Not the ideal last night's sleep but it would have to suffice. It took longer to fall asleep than I anticipated. I wanted to knock out as early as 2100 but wasn't able to fall asleep completely until closer to midnight. That left me with a mere seven hours of tossing and turning as I couldn't help but anticipate the challenges I would face over the course of the next 70 hours or so in my dreams.
Predictably, the next morning came very, very quickly. Before heading out to registration Mark, James and Amanda picked me up and we headed over to the Original General Store for the most delicious breakfast,. I opted for the French toast with bacon and bananas. It's so damn good. Registration was open from 0600 to 0900. Trying to avoid having to do any "extra"work, we decided we would wait until around 0830 to enter the registration line.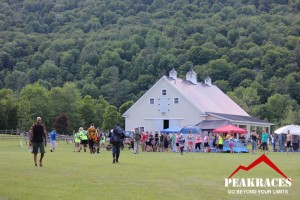 When we arrived at Riverside Farm, we unloaded all our gear, and gear bins and set up shop at the Team SISU tent area. This would be our home base where all of our crew would hang out and be located whenever we came in for any help we might need throughout the race. Between all the athletes racing under the Team SISU banner, we had a LOT of support, more than I've ever had at any race. In years past, I didn't have any dedicated support but this year that was different, I had my girlfriend Kristine Iotte arriving sometime Friday afternoon there for me and I had everyone who was there for Team SISU including friends from the Corn Fed Spartans to assist me in my efforts to conquer the Death Race. Their support, whether it was a high five handing off a burger, or re-filling my water would be vital to my success. After participating in multiple Death Races over the years, one thing I gained was the wisdom from those past experiences that assured me that the participants who had an outstanding crew were that much more likely to succeed. This year, I had that crew.
Once Mark, James, Amanda and I moved all our gear over to the drop area we headed over to registration. Finally the excitement I had been lacking for this event began to sink in. It was about time! I felt some sort of emotion toward participating in the Death Race this year, for a while it felt as though I were just going through the motions. Finally, I was feeling something. I felt excited, nervous, and anxious all at once. It took me almost by surprise. I even mentioned it to Mark, "Oh there it is, there's the nerves and excitement…right on time."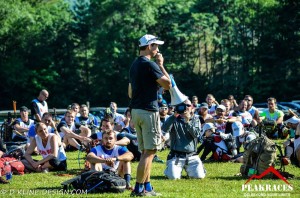 While waiting in line for registration, I started seeing more and more friends, including some Spartan Race co-workers who were volunteering to help with the race. It's truly amazing how many people are willing to sacrifice their time to help us experience this remarkable journey. Without all the volunteers, friends, and family that come and lend a hand in the execution of this race, the adventure of it all would be nowhere near as fun, nor would it be possible. When I finally made it to my turn to turn over my ID and receive my bib I was struck with realizing I didn't bring anything else to turn in for registration. The race admins required two belongings to be turned in whether it be your driver's license and a credit card, car keys, or something else of high value. I left my entire wallet at the SISU house and there was certainly no time for me to go back. I tried to play it off and simply told them, "This is all I have."They wouldn't budge. I had to turn in two items or I couldn't participate. I looked around to Mark and James for assistance here and at first they didn't have anything they could part with, until Mark remembered he had his concealed carry license in his car. He ran back and snatched it up for me. I couldn't be more thankful for him remembering he had that and allowing my use of it for my second "personal"item. Finally I received my bib, number 351. It was time to head over to the white barn where everyone else was gathering for the pre-race briefing.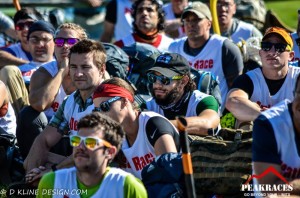 Once everyone had arrived in what became known as the "corral,"an area that was gated off for horses near the white barn at Riverside Farm. We all took a seat with only fifteen minutes left until the official race start would supposedly begin. I say "supposedly" because with the Death Race, one never really knows when the race starts or ends. Last year, it took over 24 hours of hard work, mostly building the stone staircase until it was completed before Joe and Andy switched the gear into race mode. This year, I had no idea what I was in for. I never really do. Racers just show up, and do what is asked of them and always remember to smile through it all— the good and the bad. There in the corral, Andy and Joe gave us a quick briefing on the race, the importance of safety, the understanding that medical could pull us if we were not looking coherent enough to move forward, and an explanation that the race would be a traveling race where we would be gone for sixteen hours. They also made it a point to clarify that this is a race. There would be strict cut-offs. The idea of pushing on when you haven't made a cut-off and continuing on was a thing of the past. Andy and Joe only wanted those who pushed hard enough to continue on. If you missed a time cut-off, you are out of the race. Plain and simple. This would make for a much more interesting race, and it would be interesting to see how this plays out when stubborn people like me just keep going.
With only seven or eight minutes left I took this opportunity to approach Joe and talk to him quickly. After exchanging a few words about this very story, I overheard Andy asking him if they should just kick things off shortly. During the briefing we were informed that the first task would be to leave our packs and run the staircase we built last year to the top of Joe's mountain and check in at Shrek's Cabin. By positioning myself by Joe and talking with him, I had already set myself up with an advantageous start. I was right next to the closest exit point. Not even 30 seconds after Andy asked Joe if they should start the race, I heard them say it, "GO!"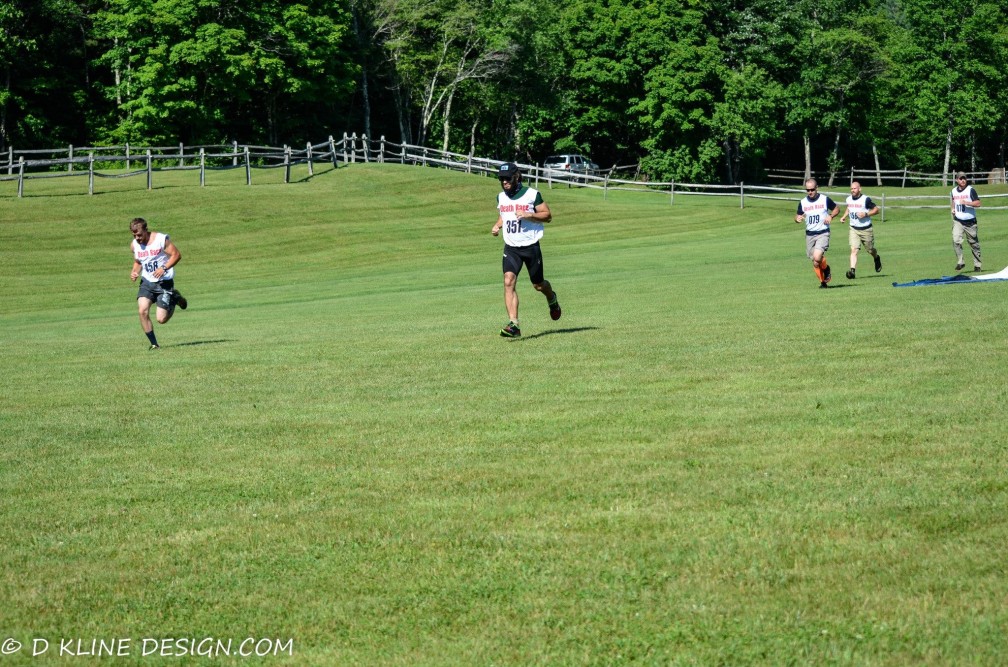 To be continued…
Photo Credits: Marion Abrams and Doug Kline