Originally, I had planned on running the 50 mile option for the Peak Races Ultra Marathon up in the beautiful Green Mountain Trails. When I signed up this past winter for the race, I believe it was around the middle of November while visiting Joe De Sena, Miguel Medina and Andy Weinberg up in their cozy town of Pittsfield, VT.
As soon as I told Andy, the Race Director of Peak Races, that I wanted to do the 50 miler he came back at me telling me that I had to do the 100 miler. Apparently, the 50 miler was not an option for me. Perks of being a previous Death Racer and friend I suppose? I didn't hesitate and happily took on this challenge. Going into the race I did not put in nearly enough training to be running this race, I knew it, my girlfriend knew it, everybody that knew how little I ran on a regular basis knew I hadn't trained nearly enough to be going into a 100 mile race. Regardless, I was still ready for the challenge. After all, I have finished one Death Race out of pure stubbornness and both times I've competed in the Death Race I was forced to stay awake and on my feet much longer than the 34 hour cut-off allotted to complete the mileage in.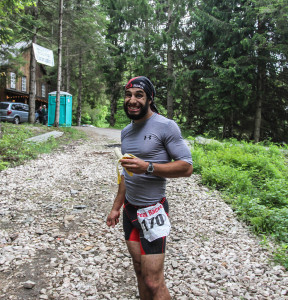 When I decided to write this post I opted to skip the long story that I normally put together for these types of adventures. Let's be real, no one wants to hear about how I went around in circles for nearly 24 hours doing the same loop over and over again. That'd be really boring, I promise. What I did instead is create a list of lessons I learned on the trail from doing my first true Ultra Marathon, other than the Fuego Y Agua Survival Run: Hunter Gatherer 50K I did last October I've never ran more than a standard marathon (2012 Chicago Marathon) in one go.
From what I gathered from the seasoned ultra marathoners on the course, I picked quite the difficult 100 miler for my first. Of course I did. In addition to this list I created, I put together a short video of clips I filmed during each of my loops. Hope you enjoy.
Sign up for the 2015 Peak Ultra Marathon Today.
Receive 20% OFF with Promo Code: Legend
10 Lessons I Learned at the Peak 100 Mile Ultra
Not a lot of people show up to run the ultra long distances, 15 racers showed for the 100 Mile and 11 racers for the 200 Mile
Having a support crew can make all the difference in a race of this nature. Thanks momma (Darnell Matesi) and sista (Mariah Matesi) and Kristine Iotte
Teaching your support crew about your needs for each lap can save anywhere from 5-10 minutes during each lap
Having a water bottle that works is a lot more useful (I couldn't sip out of my Ultimate Direction water bottles if my life depended on it, I kept having to unscrew the cap to drink which resulted in lots of spillage)
More real food, less gels, chews, and other non-real food substitutes. By mile 70 my stomach was in knots and couldn't stand much of anything
Burgers, Pizza, Beer, and Egg with Bacon sandwiches are the most delicious things you can have between laps and give you such an incredible energy boost. Oh ya, and Mountain Dew. Mmmm
Apparently taking Aleve is a very good idea to help with some of the aches and pains that start to settle in after 40 or 50 miles
Trail toes truly is the most amazing anti-chaffing balm there is, after 70 miles of rugged terrain over the course of just under 22 hours I only changed my socks once and had zero hotspots and zero blisters. Note: I wore Injinji Outdoor 2.0 toe socks, they're fantastic – sock review coming soon
Training is a lot more important than I expected. I thought I could will my way through this, I've finished a Death Race, why couldn't I finish this? That was my thought process. It was wrong. Next year I'll be logging more miles the months leading up to this race.
There is something exciting about pushing yourself to run a ridiculous amount of miles through the mountains. When it comes to trails and mountains, I really do enjoy running on them.