There I was in the middle of the forest on the other side of Bloodroot Mountain, sweating, nauseous, exhausted, hadn't slept in over 48 hours and I had just spent 15-20 minutes vomiting up every last bit of nutrients I had left in me. What's happening to me? I need to rehydrate and refuel to make up for everything that just exited my system. I tried hard to focus on my priorities so I could continue on.
I had passed my good friend Mark Webb earlier and he caught back up right around the time I was having my puking episode. He checked if I was alright and I assured him I would be fine, I just needed to gather myself before I continued onward. I encouraged him to continue pressing forward while I lay there just off the trail. Bugs were starting to bite me, my entire body felt destroyed. My stomach ached inside and out. I can't quit, I thought to myself. I must finish this race. All I wanted was an official Death Race finish after having unofficially finished the year prior.
Trying to eat wasn't really working but I forced down some beef jerky, picked myself up and continued to move toward my next destination, which I secretly feared, the Chittenden Reservoir. It was a certainty that there would be some sort of swim that awaited us racers there. I wanted nothing to do with it. It's not that I am not capable of swimming, my father taught me how at a very young age by tossing me in the water and letting me "figure it out." It's one of those things I picked up at a very young age, I was a fish, every summer you couldn't find me anywhere else other than the pool. As I grew older though I developed a fear of the open waters. Seaweed, sharks, sting rays, electric eels, the more stories I heard of people drowning or being attacked the greater this fear grew. I tried to get those thoughts out of my mind as I continued my trek.
Not even 50 feet after getting up and continuing I found myself keeled over yet again, expelling what little was left inside me before going into a dry heaving fit. The feeling was beyond awful, my abdominal muscles were becoming increasingly sensitive from all the flexing, not to mention the 48+ hours of activity that I had already endured.
Regardless of how much pain I found myself in I continued to talk myself through this dreadful environment I found myself in. You're not quitting, you must finish. This will pass. Leading up to this race and after my experiences I had discovered something that I truly believed in, you are only as strong as your mind. In an effort to practice what I preached through my Legend of the Death Race Adventure Races I was doing everything in my power to convince myself that I could overcome this. My mind is strong, I can push through, I can finish. I just kept repeating positive thoughts hoping to prove my mind is as strong as I believed it was.
Continuing through the forest I found myself becoming increasingly delusional. The lack of sleep was having a compounding effect on top of the series of vomit episodes. I swear I saw at least twelve or thirteen different houses that evidently were not even there. Trippy stuff.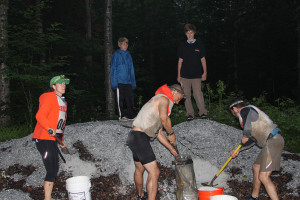 As Chittenden Reservoir grew closer I across what the next challenge would be before being allowed the opportunity to enjoy a refreshing swim. There was a large gravel load that had been dumped alongside the trail and it appeared that the racers were being instructed to spread gravel all along this trail. Once again we were being utilized to make improvements to the surrounding land. There are many racers who become annoyed with these tasks that seem to be just Joe getting us to do his and his neighbors labor, but the reality of it is we're helping to preserve the very land we race on. I see nothing wrong with giving back, given the experience they provide for us.
Before I could begin gathering gravel I still had to deliver my rock that I had been carrying to Joe who was waiting for the racers at the reservoir. Along the way there were signs that mentioned the distance of the swim one must complete in an Ironman. Luckily for us, this wasn't an Ironman. This was the Death Race. That meant we would have to swim three miles. Yes, three miles. I began to dread this next challenge even more.
As I approached the area I tried to distract myself and only allowed my focus to remain on the current task at hand. Gathering gravel to pave the trail. When I arrived I had realized everyone was taking an opportunity to treat their feet. Last year I had found I was quite fortunate and had some of the better looking feet, while still very disgusting, they faired quite well. To prevent my feet from the dreaded trench foot, I decided to take this opportunity to dry my shoes and my feet out. So, I took my shoes and socks off and laid them both out in the sun in hopes they'd dry just enough over the next couple hours that these two tasks would surely take. That's right, I went barefoot for the trail grooming challenge. There were a lot of looks, and a lot of fellow racers asking how the hell I was trekking back and fourth up the trails on the freshly laid, loose gravel. Quite honestly it felt great. My feet were drying out, I had to take caution with my steps but this seemed like the smartest idea ever. At least, I thought it was. Dry feet equals happy Death Racer. Plain and simple and mine were on their way to dryness.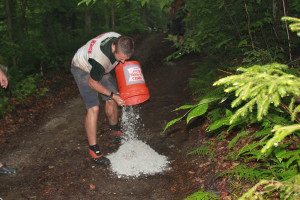 Once I had completed my gravel task it was time to face what would be the most dreaded challenge of all for myself. Three miles of swimming. Three laps, each one mile round trip. After each lap I would have to take a gamble and spin the "Wheel of Death." On it, was a tiny sliver of hope that would allow passage to the next obstacle, the rest of the wheel would return me to the waters for another lap until I had either won freedom or finished three laps, whichever came first. I grabbed my extremely oversized personal flotation device, a life vest hat I had borrowed from my neighbors back home. It was not made for someone my size, even before losing all the weight over the course of the race, it was too big for me.
I began to walk into the water, remembering I've always been a fairly good swimmer I began to convince myself that I would be fine. The Vermont water was still as cold as ice. It was almost July, but up here winter lasts all the way until May most years. As I walked further into the water, now at my calves, I froze. My heart beat accelerated, during the gravel challenge I was slightly delusional but was feeling a little better than I had earlier that morning. My breathing became heavy and within an instant a wave of anxiety rushed through my body. Uncertain where this was coming from I tried to steady my thoughts, attempting to convince myself that I could do this and was still capable of finishing this race. I may not have been feeling well but I could do this, sick or not I could do this. I was freaking out.
To be concluded…
Photo Credits: Marion Abrams – Madmotion