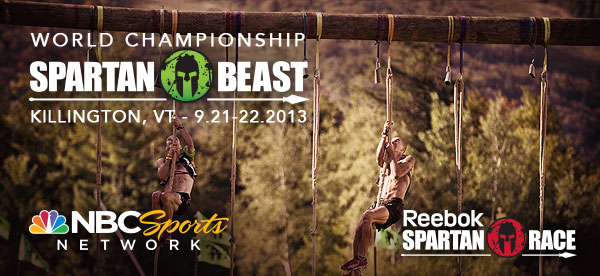 As many of you know by now, [I mean how could you not my entire newsfeed is still crowded with posts about it] the Spartan Race World Championships will be aired on NBC Sports Network. Obstacle Racing Media was one of the first to post after the announcement was made and from there the ripple effect power of social media began. We're all excited. Everyone has been directed to the Spartan Pages (vote for me 😉 )to create a profile and share their story of how Spartan Race has changed their lives.
It's amazing how many lives Spartan Race has touched so deeply. We all know the story of Chris Davis, he moved up to Vermont gave up everything and lived on carrots and lettuce for weeks doing whatever madness Joe DeSena may have put him through. He's come an extraordinarily long way and it's been beyond inspiring to see him fight and push forward. He's a motivator, he's a Spartan.
There are countless stories of Spartan Race changing lives physically, mentally, emotionally. I know countless people who have left their stressful, miserable desk job for something more in tune with what they love. What they are passionate about.  Everyday people are inspiring each other in all the Facebook groups, posting photos from their workouts, providing tips and sharing reviews. You have inspiring stories like that of Michael Mills, the first man to complete a Spartan Race in a wheelchair. The definition of "Never Quit, Never Surrender." Many of our military have found a place within Spartan Race. This challenging Obstacle Race that draws from the Spartan Code has brought the idea of living a healthy lifestyle and sharing it with a growing inclusive community of extraordinary individuals that together are creating an even better world.
My life in particular has been dramatically changed ever since I discovered Spartan Race. Beyond finding a new sport to participate in competitively, I found some of the most amazing friends in the world. It's a brilliantly wild community of people who share the same crazy sense of adventure, health and fitness. I've traveled the country, seen some of the most interesting rural places that Spartan has taken us. I've stayed in nice hotels, slept on floors, in my car, and even directly on the earth atop of Joe's mountain.  I have more tattoos (read: scars) from my encounters with the barbwire. I went from working a desk job that I really was not happy with, I wasn't challenged and I wasn't motivated. After Spartan Race, everything changed. Now I'm enjoying my life. Living it. Breathing it. Loving it.
Recently I've been presented with the great opportunity to take what I've learned and share the knowledge with my fellow Spartans and future Spartans. REACH: Beyond Fitness is a new training facility featuring Spartan Group X Training taught by myself, Coach Dewayne, and Coach Sarah. You see Spartan Race hasn't only changed my life in regards to my physical strength and endurance, it's given me happiness, freedom, excitement, new career opportunities, and so much more. It's like they said "You'll know at the finish line." Ever since my first race I've known. Spartan Race continues to change my life daily, it's a very bright future and I am so thankful for all the people I've met, the places I've gone, and the opportunities I've had.
So what are you waiting for? Sign up for the Spartan Pages. Share your story. In the words of Don Devaney "aspire to inspire."