After finding out that Alpha Warrior was going to be taking place in San Diego the week after my Spartan Group X Training I just knew I had to sign up for this race that looked very similar to what you would see on Sasuke or better known here as American Ninja Warrior. A race whose tag line is No Mud. No Miles. No Mercy. When I first show shots and video clips of this race I had a feeling this might be my kind of race.
As usual I was doing double duty while racing, making sure to get some coverage and photos for Obstacle Racing Media ("Like" on Facebook) and enjoying an incredible race. Corinne Kohlen, female winner of the first Alpha Warrior in San Antonio, TX (and California LotDR Race Director), and I made our way to the event early Saturday morning for our shot at the Elite heat and a chance to win some prize money. Alpha Warrior has prize money for 1st, 2nd and 3rd Male and Female Finishers, $1000 for 1st, $500 for 2nd, and $250 for 3rd.  When we arrived at the race I was very excited it was clear that this course was designed for people with lots of upper body strength. The obstacles were stacked heavily, one right after the other with minimal running in between. Most obstacles required grip strength, hanging strength, strong arms and shoulders. Obstacles ranged from the Barrel Jumps at the beginning to vertical pipe monkey bars, rope swings and cargo net climbs, and even trampolines! My background in gymnastics and Corinne's experience in mountain climbing gave us an incredible advantage giving the style of obstacles offered. To say I was excited about this race is an understatement.
The Race
Lining up for the race I tried to keep myself focused and not get too overly confident. I didn't want to let myself end up failing an obstacle (20-30 burpee penalty depending on the obstacle failed) and losing my shot at a podium finish. The elite wave began at 8AM and racers were sent out in waves of six – men and women mixed – each wave leaving approx. 45 seconds apart. Corinne, Dirt in Your Skirt's Margaret Schlachter and myself were in the second wave of runners. Within seconds of the first wave we witnessed the first injury on the course, he took a nasty fall off a cargo net and we hope he is doing okay now, and we were sent off right after it happened. I was concerned for the racer and wished him well as we raced past.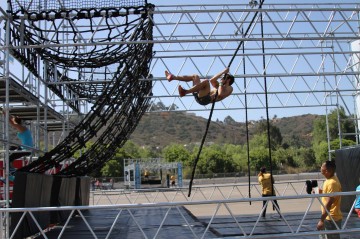 After the Sea of Ropes obstacle I found myself gaining on two of the runners from the first wave, I could feel the excitement rising seeing as I was flying through the obstacles. After the Skywalk trampoline series we started to get into more and more obstacles where I wasn't 100% certain what I had to do because it was my first time ever on this course. The baby blue Battering Rams was one obstacle that threw me for a loop since they were hanging from chains and you have to basically crawl across them, then climb on one and crawl down another series of battering rams. Since it was my first time doing this type of obstacle I approached it with caution to ensure I finished the race with zero burpees.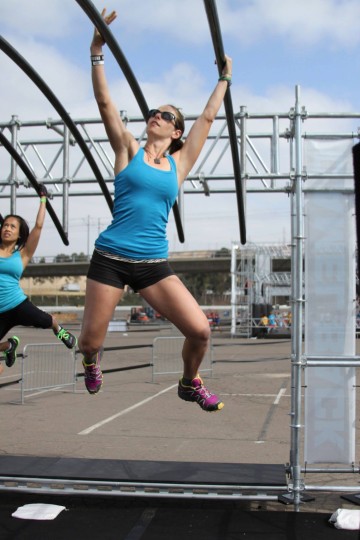 The final obstacle structure of the race (there were 16 structures 35 obstacles) was called Alcatraz and it is without question my favorite part of the race. If anyone fails any part of this obstacle during the Elite wave they are automatically disqualified and ineligible for prize money. I knew I had to succeed at everything within this structure and I was flying at this point. First you climb up a slanted incline with a chain, I sprinted to the near top and grabbed the last foot of chain. Then you run left or right depending which ramp you climbed, and enter the inside of the structure which is exceptionally well laid out for being spectator friendly. Inside you begin with the Gorilla Monkey Bars which are pretty standard monkey bars that are spread out a bit more than normal. After that you crawl up two netted ramps which reminded me of being in a kids playground. When you reach the near top you are faced with a series of blocks of varied height and distance apart that you have to hop about much like a Super Mario Bros game above a crash net. I felt extremely confident and went fast from one to the next without pause. Once you finish that you drop down a level and are confronted with a series of bars that all face in different directions and swing, basically a more challenging monkey bar to push your upper body to its limits. After that its just a quick roll down the cargo net, if you're brave enough, and a leap onto a crash mat and you cross the finish line.
I finished with a time of 11:46.01. I was ecstatic from what I knew about the people who raced in Texas this time was faster than the winners at that race. When I first finished I kind of ignored the volunteers trying to give me my shirt and medal, sorry, I was too busy cheering on Corinne who was fighting her way through Alcatraz. Corinne came way in front of the other females in our same wave. We both felt amazing after our finish. There was a CNN camera there and we did a quick interview about the course. I eventually grabbed my medal and shirt and the waiting began. Since the race is done in waves of six we had to wait for the entire Elite wave to finish before we would know the final results. When all was said and done Corinne reclaimed her number one spot on the podium making her the reigning female Alpha Warrior and I had the great pleasure of my first OCR podium finish taking men's third place. This race was incredible and I can't wait for the next venues to be announced because we will be there.
The Festival Area
The layout of their festival area was very well done. They had a beer garden, Active.com set up a VIP area which was a lot of fun to hangout in. There were food trucks and lots of tents including one for ZICO, a chiropractor, and others. The Start line and the Finish line were next to each other so the whole festival area culminated between those two points which made for a great place for people to hang out, relax and enjoy the race. Since the distance of this race is minimal spectators can easily view the whole course by following their runner all long the inside.
After the race Corinne filmed me doing almost the entire course. All in all this is an extremely spectator friendly event with lots to do in the festival area and I highly recommend this race to anyone who wants to challenge themselves.  If you want to view a how-to video be sure to check out my man Rodrigo Ortiz's FUNning video on YouTube. I was very happy to finally meet Rodrigo as we had missed each other at a few of the recent events that we had both attended. Thanks for the interview bro and thanks for posting these how-to videos to make the world of OCR more accessible to the masses.