This slideshow requires JavaScript.
The very first Training Camp is over. It's been just over a week now since it concluded. It was an incredible experience that I am still trying to digest. I won't say much about it other than I am very thankful to everyone who helped making it possible. Chad Weberg, was an incredible sport and assest in making it happen, not only did he lend me his land and knowledge of the surrounding areas but he helped in so many ways to make it possible. From making the awards through his company, We Plauqe, LLC, to helping me build challenges, scout course locations, and preparing everything I needed to run a smooth and successful event. Chad's wonderful wife Lisa was another amazing sport, she cooked food for the racers, opened her home up to me every time I went up there to visit and work on planning. She also cooked me many a breakfast and dinner, and if you know me you know I love food, so for that I thank her even more for all the delicious dishes. My father, Rich, was a huge help in many ways, not only did he sacrifice his normal sleep schedule to volunteer at the event, but he helped me figure out ways to make some of my ideas come to life and listened to all my non-stop ramblings even when he was too tired to hear another word. Dad, you're the best father a son could ever ask for. Thank you!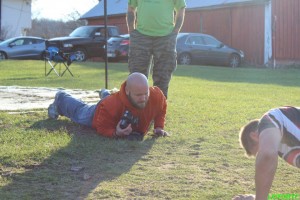 Another important Thank You that I have to put out there goes to John Shue, he was an incredible photographer and quickly made arrangements to come to the event as soon as I had asked him to. You took some incredible photos and gave our racers some incredible copies of memories they'll have forever. For that we all thank you. Michael Sandercock came out to help volunteer even though he originally was planning to be a racer, he became a DNS after making the decision to take it easy in preparation for World's Toughest Mudder. The fact he still came and helped us out all throughout the night, that was something else.  You are a great friend, thank you.
To all the racers and registrants, thank you for trusting me to put on this event. Without you, it would not have happened. Let's make the next one an even bigger success!
We also have to thank all our incredible sponsors who helped provide us some excellent giveaways for this first training camp. Thank you, Innerzyme, Spartan Energy, Gladiator Assault Challenge (Top 3 received free entry to the Grand Geneva GAC event), Spartan Death Race (Finishers received discount on either the Winter or Summer Death Race), Injinji, and ChiroFitness. We look forward to partnering up with you again!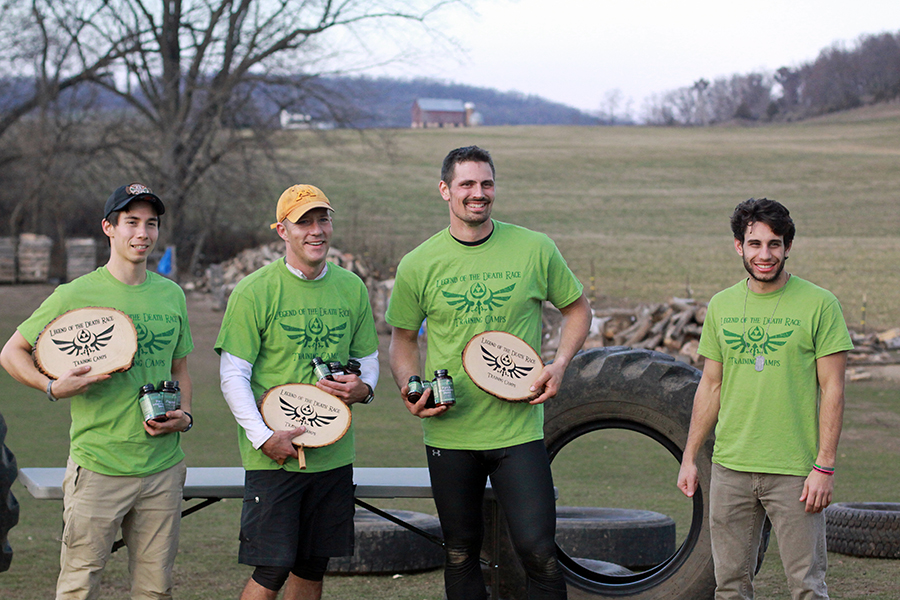 Let's take a moment to congratulate our Top 3 Finishers. We had Tj Nomeland take the number one spot, followed by Jonathan Nolan and right on his tail, Rodrigo Velarde. These three gents faced adversity, they conquered all the mental mind games we devised and managed to put their bodies through over 50K of hiking, running, and physical demand. It was incredible. We had 12 Racers register for the race, 5 showed up unaware of what they got themselves into. Stefanie McKenna and Ryan Formosa pushed it hard the first quarter of the event and dropped after some IT band issues and getting a little lost in the woods. They'll be back for more I'm sure. That left us with just 3 finishers, a 25% finishing rate, the Death Race aims to have only a 10% finishing rate. That means a few things…I have to push them harder next time and we need more people to sign up. We opened registration for the next event and you have until November 30th to register at the early bird rate. Only 50 racers will be accepted.
Read all about Jonathan Nolan's experience as he documents it on the team Corn Fed Spartans blog.
With all the Thank You's and race talk out of the way I would like to present to you a video reel filmed and edited by our very own Chad Weberg, another thank you! haha. He did an excellent job and I'm told there is a longer full-feature in the works so stay tuned and for now have a peek at what went down at the Legend of the Death Race Training Camp. There are even more photos available on our Facebook page, go check them out and throw us a "like"