Tuesday, August 14th 2012, it's almost 4 o'clock and I've just checked into my hotel in Hickory, NC after driving 45 minutes from Charlotte Douglas International Airport .  It's another short in and out trip for work. As soon as I got to my room I connected the iPad to the wifi and looked up the nearest trail.  There was nothing worthwhile showing up within a reasonable distance.  With this realization I decided to change what I was searching for. Where's the nearest mountain?  It turned out that the nearest mountain was about the same distance as the only good looking trails I was finding previously.  That'll have to do.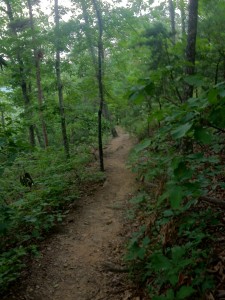 An hour later I found myself pulling up to this amazing looking mountainous area, South Mountains State Park.  Upon arrival I saw a couple coming back to their car, they both had small hiking packs so I figured I'd ask them about the trails.  They said they weren't too bad, but I soon realized we weren't on the same page.  They only took the nature trails, I was curious about the mountain trails.  Since it was fairly late, and I had not ate yet I knew I was taking some risks.  My hopes of finding a gas station to grab water from shattered when I realized how far out from civilization I really was.  Awesome, this was perfect timing.  At the time I didn't realize it, but I was actually doing something very important for my training.  It's always better to workout having fuel in you, but sometimes it helps to know how far you can go on an empty stomach. Sometimes, it helps to know your limits after you've already depleted your energy reserves.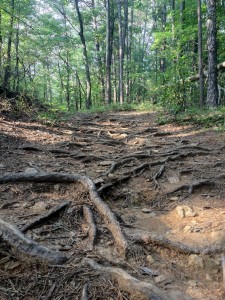 The mountain itself was ruthless.  Now it wasn't as large or demanding as the mountains I had climbed in Vermont at the Death Race but it still had some extremely gnarly terrain.  Single track trails, infested by roots, stairs, and many other natural obstacles that would assist in making this a memorable run.  I was going for speed so I tried not to stop.  During the ascent I stopped off at a few different lookouts.  Typically the lookout spots were dead-ends so I would stop snap some photos, and continue moving as quick as possible.  After realizing the sun was setting I decided I should make my way back down. I had already gone two miles, awesome just over four miles total. The descent was interesting.  The only way to build the muscles needed for going downhill is to run down…hill.  Period.  I've naturally been able to develop in this area rather quickly.  It's exhilarating how fast you can get yourself moving on the descent of a mountain.  Most important is knowing when to turn your body control on and off.  I tend to let myself relax, I let the decline and momentum guide me down.  Swiftly engaging full control when I realize I'm just about to lose control.  During one of the sets of make shift stairs that were built into the mountain I didn't engage control soon enough.  Shit! I lost my footing, fell forward and just barely caught myself.  With my iPhone in my hand, I was only slightly worried about the screen.  It was fine.  I sat for a brief second, dusted my self off and picked my ass back up off the ground.  I finished getting back to the parking lot.  Clocking my RunKeeper in at 46 minutes and 36 seconds, only 4.02 miles.  Damn, I really need to train more mountains.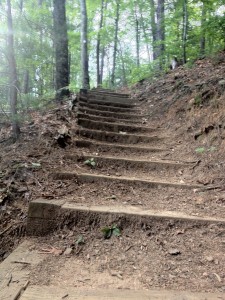 Finishing that climb made be feel a little better about my training as my next trip to Vermont approaches.  This time I'll be tackling the first ever marathon distance obstacle race.  The Spartan Race Ultra Beast.  It came together thanks to a group of us crazies suggesting it multiple times in various Spartan Race Facebook groups.  Knowing that I only had tonight to enjoy this rare opportunity I decided I wanted to practice some photography.  I went back out onto the trails with my fancy DSLR camera strapped around my neck.  This time I took the Hemlock Nature Trail which would lead to High Shoals Falls.  I've always wanted to photograph a waterfall.  It was another mile out, it took a little longer than I anticipated.  Once I got there though it was completely worth it.  With just enough light still available I went to work taking shots. I climbed off the designated walking areas and started hoping from boulder to boulder. Slowly descending down the ravine.  Memories of climbing up and down the ravine with Morgan at the Death Race came back in an instant.  This was much different but in so many ways it brought back great memories. During the descent I snapped off a few more shots and then I took off trying to get back before the park closed.  Jumping from rock to rock, being as careful as possible not to do anything that may result in damaging my expensive camera.  I made it back to my rental Jeep Liberty by 8:24pm.  The park closes at 9:00pm. Perfect.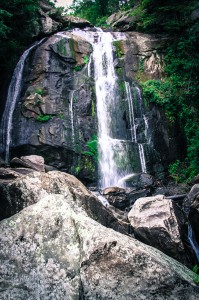 After another hour drive home and an olympic speed shower, I finally was able to go eat.  I was the last person and only person in the restaurant.  Now, that is how you make a workout happen when you are traveling on business.  Small sacrifices lead to greater gains. I trained on a depleted reserves, learning that this is actually a beneficial occasional training technique.  I discovered this fact while reading through the recently released book You'll Know at the Finish Line: A Spartan Guide to the Sport of Obstacle Racing.  I highly recommend this book.  If you're on the fence about doing a race, this is for you, if you want to race better, this if for you. On top of it all I got to practice my photography and clocked another two miles while doing so.  My first ever trip to North Carolina was an incredible success. I hope to return for a longer visit to tackle more of that mountain.  It was beautiful.