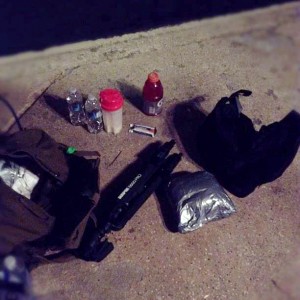 Last night I came home from work. ate some chicken, brown rice and broccoli (my go-to healthy meal), and then I laid down and took a 2.5 hour nap to prepare for the night ahead. I woke up around midnight and began preparing everything I would be taking with me for the evening hike. I grabbed the 5lb bag of sand I had laying in my shed, filled up a one gallon ziploc bag with the sand and wrapped it in two layers of duct tape. I weighed this pill at approximately 15lbs. The other gear I brought with included: one Canon Rebel Xs Camera (which I kept in my camera case along with an extra lens), camera tripod, 2 bottles of water, filled camelback (I removed it from the pack and placed it in one of the ruck's compartments), 64oz bottle of Gatorade, one homemade protein bar and one Balance protein bar, protein shaker cup with powder, and an extra pair of gloves. I didn't do a weigh in but I would put the total weight around 40 or so lbs.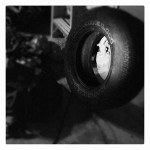 I set out on my excursion around 2am or so. Everything started out fine, I tried to keep a nice pace for the first 2-3 miles. For the entire hike I mixed up the terrain by going in the ditches and sometimes staying on the streets, I even took a few dark trails.  At the third mile I found a car tire on the side of the one road I was running along. When I saw that tire I made a commitment to myself and its the same commitment that was ingrained into me after my first Hurricane Heat, anything you pick up must make it back to the finish. Well that tire and I formed quite the bond last night. I found myself constantly shifting it around, holding it on one shoulder, then the other, over my head, out in front of me, it was quite killer.
To keep things interesting I made sure I found as many hills as possible in these flat midwestern lands of ours and I must say I actually found some great spots last night. Most of them came after I passed Sunny Acres Farm off of North Ave Rt 64 which was around mile 4. Which was around the one hour time, at which point I dropped down and did 35 push-ups with the rucksack still on of course. At the 2hr time and the 3hr time I did 35 burpees and 50 air squats, respectively. By the last mile and a half I wanted nothing more than to just stop, all I wanted was my bed. My feet cramped up pretty bad toward the end I was thankful the shin splints and knee pain were only apparent from mile 3 until mile 6 then the pain kind of vanished. After 11miles I had finally arrived home, and the first thing I did was grab the ice water bucket we've been keeping outside for my sister, threw some more ice in, wrapped my knee with an ice pack and soaked my feet in that delightfully freezing cold water. I've spent the better half of today resting but I'll be doing some ab work before the evening concludes. I hope everyone out there takes advantage of the extra time that weekends provide us to focus on our health. Workout hard and never give up on your goals, only you can make the difference happen, so get out there and SPARTAN THE F UP!