I found this recipe a few weeks ago and have been wanting to toy with it ever since. I finally got around to making a trip to the store (I hate going grocery shopping, takes too much time away from working out, hehe). I picked up all the things I was missing, wheat germ, flax seed meal, dried fruits, etc. This recipe is extremely easy to make, I personally love cooking food in general but when it comes to "baking" I don't usually go there…but this, this was UBER easy. I made a few modifications from the original recipe and it turned out great.
1 tablespoon unsalted butter, plus more for coating the pan
2 cups rolled oats (not instant)
1/2 cup raw sliced almonds
1/2 cup raw walnut halves, finely chopped
1/4 cup raw wheat germ
1 tablespoon chia seeds
2 tablespoons flax seed meal
1/4 cup honey
3 tablespoons packed light brown sugar
1 teaspoon ground cinnamon
1 teaspoon vanilla extract
1/4 plus 1/8 teaspoon fine salt
3/4 cup dried blueberries, cherries, cranberries, and plums
Pans Used: Handi-Foil Eco-Foil Cookie Sheet and iChef Square Cake Pan
INSTRUCTIONS
Heat the oven to 350°F and arrange a rack in the middle. Coat an 8-by-8-inch baking pan with butter; set aside.
Place oats, almonds, walnuts, wheat germ, chia seed, and flax seed meal on a rimmed baking sheet, toss with your hands to combine, and spread in an even layer. Bake, stirring halfway through, until walnuts are light golden brown, about 12 minutes. Transfer to a wire rack. Reduce the oven temperature to 300°F.
Place honey, brown sugar, measured butter, cinnamon, vanilla, and salt in a medium saucepan over medium-low heat and stir until mixture is smooth and combined and brown sugar has dissolved. Remove from heat and immediately add oat-nut mixture and dried fruits to the saucepan, stirring until combined. Transfer to the prepared baking pan, spreading the mixture evenly with a spoon.
When the mixture is cool enough to handle but is still warm, dip your hands in water to prevent sticking and press the mixture evenly and firmly into the pan. Bake until aromatic, about 10 minutes. Place the pan on a wire rack to cool completely.
Remove the granola slab from the pan. Cut it in half to form two rectangles, then cut each rectangle widthwise into 5 bars to form 10 bars total. Wrap each bar in plastic wrap. Store at room temperature for up to 3 days or freeze for up to 3 weeks; let frozen bars come to room temperature before eating.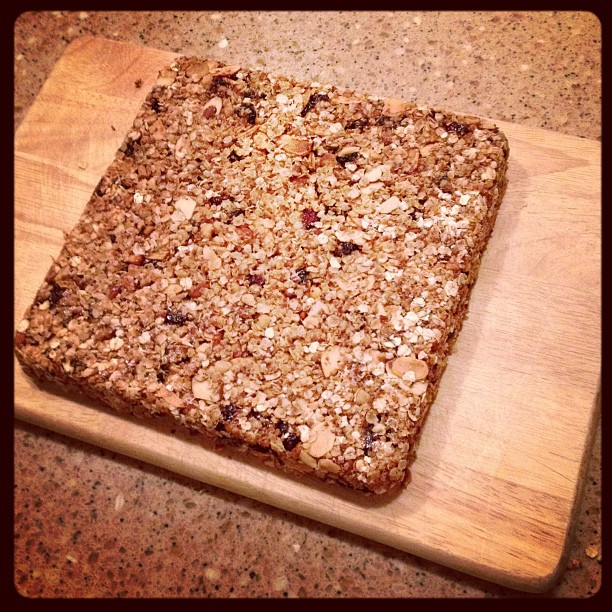 Original Recipe Courtesy of Chow: http://www.chow.com/recipes/28749-cherry-power-bar
Next round I plan on adding a little more honey and cinnamon. Play with it and tell me what you come up with!