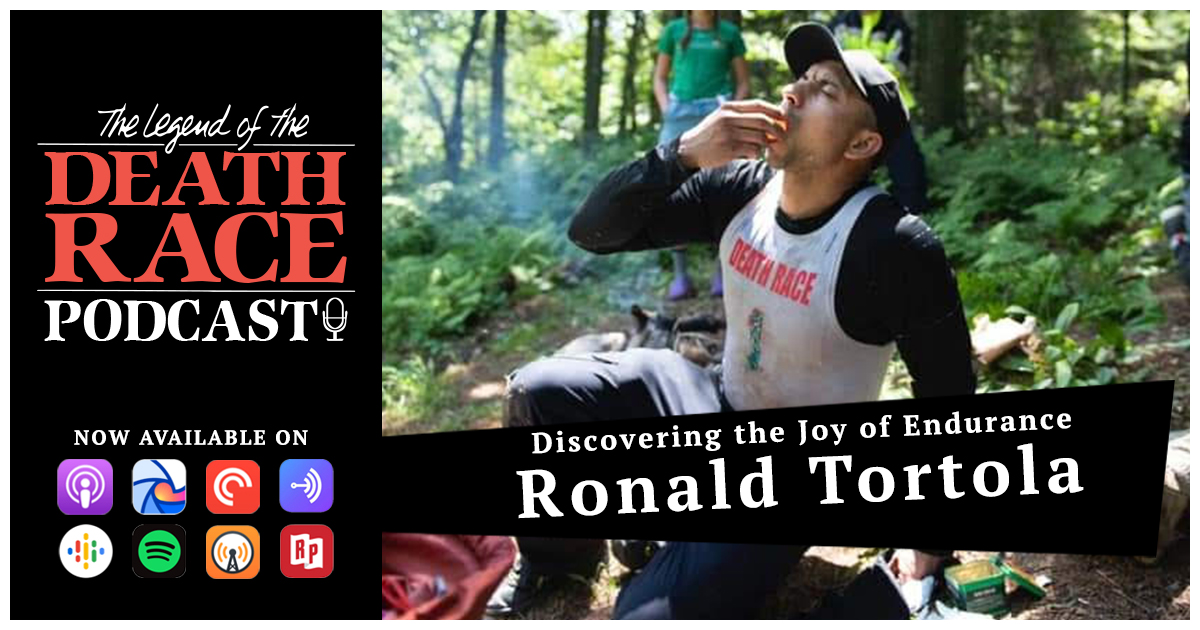 Discovering the Joy of Endurance with Ronald Tortola | LotDR Episode 050
Welcome to the Legend of the Death Race Podcast, where you'll hear the legends of past Death Racers, new and old.
Ronald Tortola hails from Texas and was a life long athlete who came across endurance racing during the brief period of Death Race's absence. Participating in Hurricane Heats and Agoge, he thought he was prepared for the challenge of the Death Race. As he would soon discover, there is no race like The Death Race. Listen as Roland talks about the training, the tricks he learned from past death racers; and how, no matter what year you race in, that nothing quite prepares anyone for the adventure that becomes a legend.
Catch episodes weekly by subscribing. If your platform has reviews please, leave a review. This podcast relies on its excellent listeners to keep things going, so if you enjoy the show, consider becoming a sustaining member today! It's easy, and you can donate either $0.99/mo, $4.99/mo, or $9.99/mo. Sustaining Members gain access to a monthly zoom call with Tony. Oh, and please don't forget to take our listener feedback survey!
⤵️ Follow the Guest:
Book mentions:
💀 What's Up in My World:
The rain is back here in the Pacific Northwest but I managed to get out for a run in the beautiful hills north of Seattle. Stay safe everyone!
Don't forget, my book The Legend of the Death Race: Conquering Life with Courage, Power, & Wisdom is now available as an audiobook too!
Stay up to date on my latest adventures, follow me on Instagram @thatenduranceguy or visit www.thatenduranceguy.com.
This episode of the Legend of the Death Race Podcast is brought to you by: Trail Toes, A Phenomenal, Ultra-Extreme Anti-Friction Foot Cream.