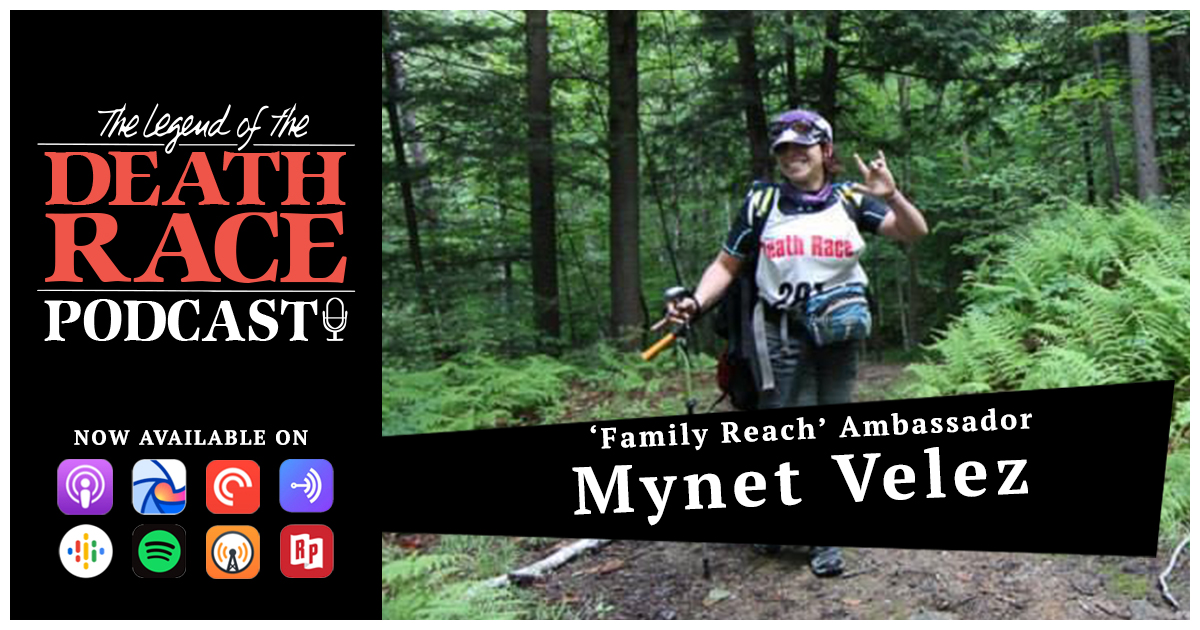 Welcome to the Legend of the Death Race Podcast, where you'll hear the legends of past Death Racers, new and old.
This week Tony continues his conversations with a string of female interviews with Mynet Velez, Law Enforcement Officer, and ambassador of Family Reach; a non-profit that raises money to help cover the living expenses of families as they battle cancer.
'Ma' (as she is affectionately called) speaks about her New Jersey roots, how she incorporated fitness into her life while raising her children, her passion for teaching personal defense, and how her compassion for others led her to compete in the Spartan Death Race. Her story takes several incredible twists you won't want to miss; tune in!! 
Catch episodes weekly by subscribing. If your platform has reviews please, leave a review. This podcast relies on its excellent listeners to keep things going, so if you enjoy the show, consider becoming a sustaining member today! It's easy, and you can donate either $0.99/mo, $4.99/mo, or $9.99/mo. Sustaining Members gain access to a monthly zoom call with Tony. Oh, and please don't forget to take our listener feedback survey!
⤵️ Follow the Guest:
Book mentions:
Wouldn't Take Nothing from My Journey Now by Maya Angelou
Of Mice and Men by John Steinbeck
💀 What's Up in My World:
This week I had to shake the funk and get out for a run as well as pick some pumpkins with my better half. Enjoying the weather while the sun still shines!!
Don't forget, my book The Legend of the Death Race: Conquering Life with Courage, Power, & Wisdom is now available as an audiobook too!
Stay up to date on my latest adventures, follow me on Instagram @thatenduranceguy or visit www.thatenduranceguy.com.
This episode of the Legend of the Death Race Podcast is brought to you by: Trail Toes, A Phenomenal, Ultra-Extreme Anti-Friction Foot Cream.