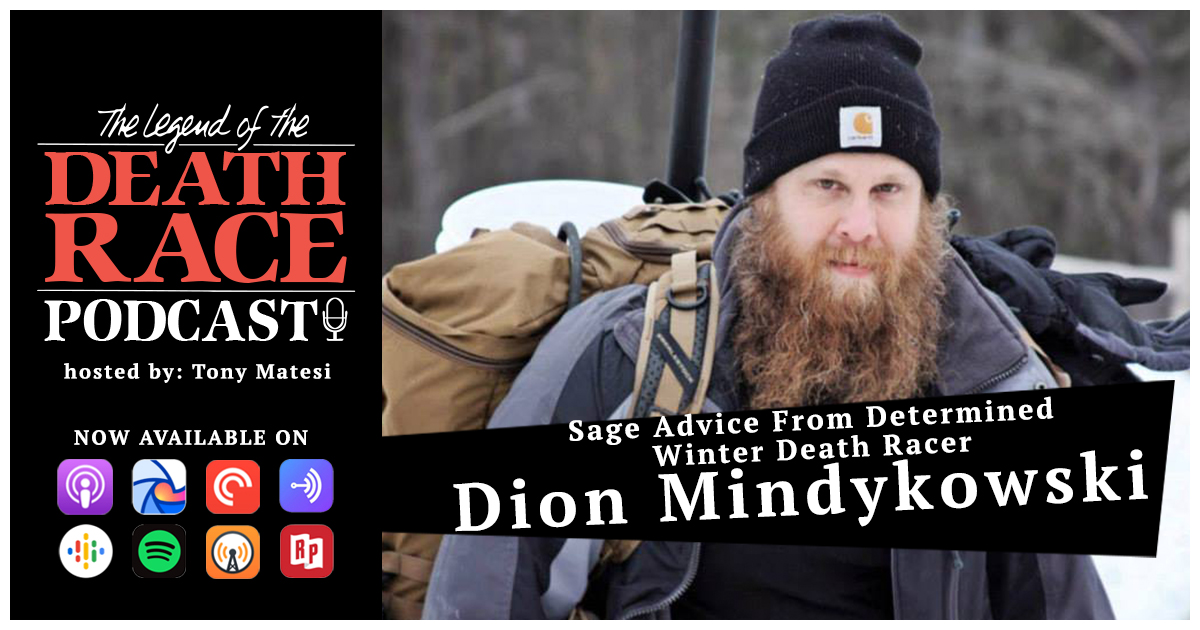 Welcome to the Legend of the Death Race Podcast, where you'll hear the legends of past Death Racers, new and old.
In the thirty-ninth episode of the podcast, we hear from Dion Mindykowski. In 2014 Dion happened upon a chance meeting with one of Death Race's most recognizable figures, leading him down the path that would become his legend. Recognizing his strength in cold weather led him to discover the drive to face the more challenging climates of the Vermont summers. Through all his races he regularly draws on his experience from previous events to help him move ever closer to his goals. Listen as he recalls his most memorable moments and the continued quest for more…
Make sure you subscribe, so you don't miss an episode. Also, don't forget to leave a review. This podcast relies on its excellent listeners to keep things going, so if you enjoy the show, consider becoming a sustaining member today! It's easy, and you can donate either $0.99/mo, $4.99/mo, or $9.99/mo. Sustaining Members gain access to a monthly zoom call with Tony. Oh, and please don't forget to take our listener feedback survey!
📚 Book Mentions:
⤵️ Follow the Guest:
💀 What's Up in My World:
I visited Mount Rainier National Park and explored the Third Burroughs Mountain, what a view!
Don't forget, my book The Legend of the Death Race: Conquering Life with Courage, Power, & Wisdom is now available as an audiobook too!
Stay up to date on my latest adventures, follow me on Instagram @thatenduranceguy or visit www.thatenduranceguy.com.
This episode of the Legend of the Death Race Podcast is brought to you by: Trail Toes, A Phenomenal, Ultra-Extreme Anti-Friction Foot Cream.