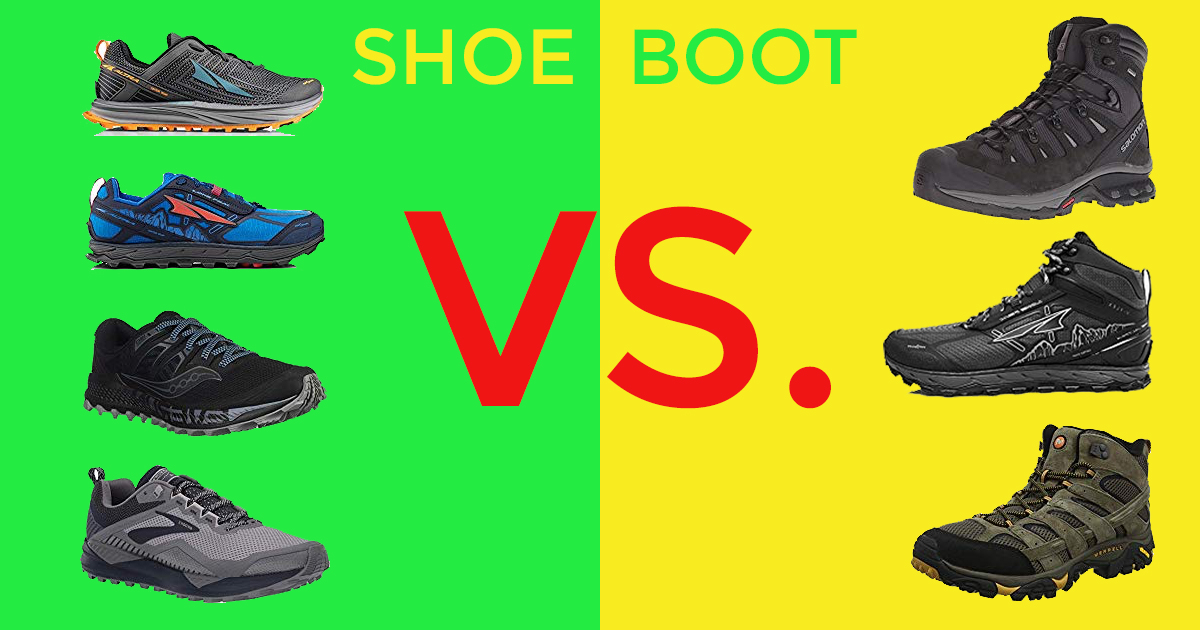 One of the age-old questions before every Death Race…
Should I wear hiking boots or trail shoes for the Death Race?
Well, first and foremost you should wear whatever you've been training in and are used to wearing for hours upon hours upon hours. Death Races are long as shit, and you might get a chance to change them at a gear drop spot, and you might not. It all depends on the format of your Death Race. In my first Death Race, I got to change my shoes at some time 2 days in when we finally arrived back at Amee Farm. If there is a basecamp there is a high chance you'll be able to change your shoes, eventually. No matter what you choose to wear on your feet, make sure they are comfortable, supportive, able to drain water, fit well. Another thing to take into consideration, if you bring a second pair of footwear think about foot swelling and whether or not you need to go a half size up for your secondary footwear.
Remember, you may not even need footwear for an entire segment of the race. Before I did my first race I was silly enough to think I could train myself to do a Death Race in barefoot shoes or similar, then after my first encounter with the event, I realized how important solid footwear is for something like this. Fast forward to the 2015 Death Race and everyone had to wander around the Green Mountains of Vermont barefoot tied to each other. So, the point is, you may put a lot of thought into your shoe just to find yourself not wearing any for 10-20 hours of the race. Good luck!
Now for the question, hiking boots or trail shoes?
It's really about what works best for you. I can't tell you what's going to be better for you. Maybe you have weaker ankles and need the support of a boot, maybe you psychologically hate the idea of having the heavier weight of a boot on your foot, its all a matter of preference. At every Death Race, I have seen a variety of shoes worn by the athletes. When I last raced I saw Inov-8, Brooks, Hokas, heck I even saw a few attempts to use Vibram FiveFingers, remember those? Personally, I used various models of Brooks Cascadia shoe, Inov-8 212s when I was racing, now if I were to go back I'd probably switch to the Altra Lone Peak since those shoes fit my fat hobbit feet better than any other brand. If you like boots wear boots if you like shoes wear shoes. The choice is yours. Make sure they have traction, comfort, support, and that you can stand wearing them for 60hrs.
I know this isn't the answer you wanted so I've procured a list of some of the things I look for in a pair of Death Race footwear as well as some options for shoes that I know about from my own experience, or that I have gathered information about from others and they consider are good footwear to use for a Death Race. Hopefully, this short list will help you narrow your options and find a solution that works best for you.
What to Look for in Choosing Death Race Footwear
Toe Box
What I probably consider to be one of the most important elements of a shoe, the toe box should provide a barrier that will protect your toes from all the mayhem you're about to endure. If your shoe doesn't have a good toe box, you'll find yourself wishing it did by hour 24. The toe box is typically a slightly harder material than the rest of the upper of the shoe.
Traction
You want solid footing, this race takes place on a mountain, in Vermont. Even when it has traveled to the likes of Mexico and other places, it's always been on terrain that requires enhanced traction control. Finding a shoe with good grippy nubs on the bottom of the sole is what I look for. You want something that will grab the dirt or gravel and hold your foot in place as you push upward on the trail.
Support
With the expectation that this event will last well over 48 hours, you want footwear that will provide you with ample support, and yes, you can still find zero drop footwear that provides tons of support. With this you'll want to make sure your foot doesn't slide around and that the upper as well as the sides and the sole all hold your foot securely in place and don't allow too much shifting side to side.
Comfort and Fit
You're going to be wearing these for upwards of 60 hours, and even if you get a chance to swap you're looking at 30 hours in each pair. That's a lot of time, comfort and fit have to be a priority. You need something that will soothe your soles. Everyone is different, personally, I remove insoles to make my shoes more comfortable, do what works for you and make sure you can handle wearing this footwear for hours on end. If your shoe doesn't fit well, you'll regret it, so take the time to get properly fitted.
Breathability and Drainage
This is probably one of the more important features, your feet will be encased in whatever footwear you choose, damp environments can be troublesome when it comes to managing your feet. We want footwear that removes water quickly with each step and allows ample air flow through the upper and throughout. A shoe or boot that breathes well will help you earn that skull.
Now, let's take a look at some options:
Hiking Boots
I don't know as much about hiking boots, as I'm a huge fan of trail shoes and try to do most of my mountain climbs in trail shoes when I can avoid my mountaineering boots. With that said, these are a few I've either had experience with or know of others who recommend them for long pushes.
I've owned the Salomon Quest 4D 3 GTX boots and can attest that they are a great option for hiking, they provide a ton of support and have the bonus of being waterproof with Goretex treatment. The thing about that is if you find yourself fully submerged during the race, the water won't be able to drain easily, so keep that in mind. Wet feet are not happy feet, and personally, I would avoid any shoe with Goretex. These are a great hiking boot, and would probably do well at a Winter Death Race, that's where I tested my pair as I participated in the event from the point of view of a social media content creator. The reason I give these a 3-Rupee rating is the hook clasp broke off within the 2nd day wearing them, was it my fault or a manufacturing defect it is hard to say, but it happened and was a disappointment.
The Merrell Moab 2 is a great hiking boot, it provides good mid-ankle support, and the mesh ventilator version gives you the breathability you need when you're enduring a long adventure. These boots come with the reliability of a Vibram® sole and a fairly decent grip pattern. I wouldn't rate these as the best in class traction, but they are decent and could get the job done at a Death Race. The Merrell Moab is an inexpensive option for the person who needs that little bit of extra support.
The Altra Lone Peak is 💯 my shoe of choice for more than 3 years now. I was first introduced to the shoe via the Goretex, mid-top-version, it was gifted to me for a written review. I loved it. Quickly, I found myself purchasing a pair of the trail runner variety. I fell in love again. Both shoes are absolutely wonderful. While I was an owner of the waterproof version, because of the inevitability of being fully submerged I linked to the Mid Mesh which is the version that will have superior drainage. If you prefer additional ankle support, I couldn't think of a better boot. The Lone Peak Mid feels like a trail runner but provides the support of a boot. It's a really unique feel and I would definitely consider something like this for the Death Race.
Trail Shoes
Like I've suggested earlier, I prefer trail shoes over boots, I feel trail runners offer the best balance between weight, durability, comfort, and breathability. They allow me to have a closer connection with the earth beneath my feet and ultimately, I feel like I can move more freely when I'm in a trail runner vs. when I'm weighed down by a boot. Even the lightest of boots are still heavier than any shoe.
The Altra Lone Peak has 💯 become my shoe of choice over the past 3 years. I was first introduced to the shoe via the Goretex, mid-top-version that was gifted to me for a written review. I loved it. Quickly, I found myself purchasing a pair of trail runner variety. I fell in love again. These shoes are the best thing my feet ever felt. With the foot-shaped toe box, and the zero drop it was the perfect recipe for a comfortable, stable, breathable, traction-enabled, mountain running trail running shoe. I've owned multiple generations and I've been nothing but happy, I currently own 4 pairs of Lone Peaks, and I'll be needing to purchase more soon as these all near retirement. If I were to go to the Death Race again, it'd be equipped with 2-3 pairs of Lone Peak 3.0, 3.5, or 4.0.
Similar to its sibling, the Lone Peak, the Timp is a slightly thicker cushioned version of the Lone Peak shoe. It offers a little more comfort with the same amount of traction, breathability, and support to go the distance. This is a wonderful model especially those of you who want to have zero drops but still like the idea of having some cushion in your sole. These shoes will provide you with that extra bit of support and comfort that you'll most certainly need. If I liked extra cushion this would be my shoe of choice, personally, I'm a little more minimalist and that's why I choose the Lone Peak as my first choice. This makes a nice back-up pair of shoes, however. Sometimes, it's nice to have a slightly more cushioned shoe at hour 48 when your feet had covered 40 miles with a 40lb pack across the Green Mountains of Vermont.
The Brooks Cascadia was my first Death Race specific shoe purchase. Six months before my first journey into the clutches of the Death Race, I purchased my first pair of Brooks Cascadia trail running shoes. These shoes hold a special place on this list, these were the shoes that I wore the most when I was racing in the Death Race. The only reason I wouldn't select these first now is because of how wide my feet have become, the newer models are a bit too narrow for me and Altra's are better for me. These have the perfect combination of traction, support, comfort, breathability, and drainage that you need for a Death Race shoe. If the fit is right for you, I would highly recommend giving this one a go. It just might come to hold as special of a place on your list of go-to shoes as it does on mine.
The Saucony Peregrine was my backup shoe at the 2014 Death Race, and it came in handy after some 36 hours in. This shoe doesn't have as much cushion as something like the Lone Peak or the Brooks even so it's definitely a shoe that may actually play better as the first shoe in your rotation if you were to choose it. The front is a little narrow for my feet but might be exactly what your foot shape needs. These shoes have a fantastic tread pattern that really digs into the soil and you climb the mountainside. The light mesh makes it extra breathable and the sole is quite comfortable for such a minimalistic trail runner.