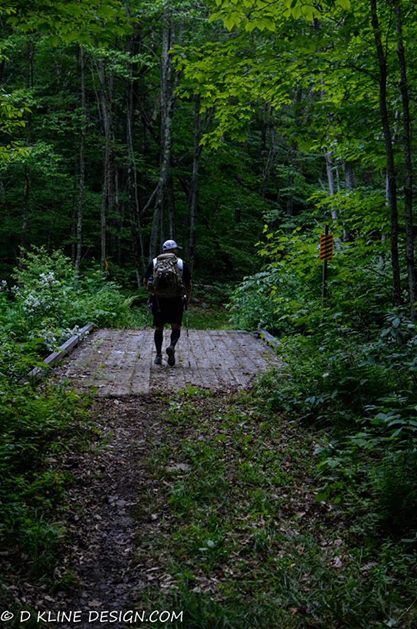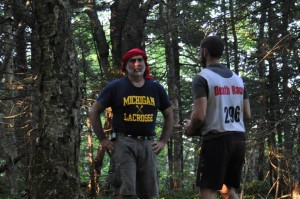 The time had come to depart from the top of Bloodroot Mountain Trail. After a long and tedious process thanks in part to Don's desire to break me by angering my soul, I successfully finished crafting my cup of water in a log holder project. With the remains of my creation packed tightly away, I took off down the mountain trail. With the radiance of the sun gone and replaced by the starry skies of central Vermont, the first night of the Death Race had finally begun.
Darkness engulfed the sky and these moments are a test of willpower and determination. Naturally, when the sun fades, the body and more importantly, the mind will naturally find itself desiring sleep, rest, and comfort. During these long, dark hours are a test of perseverance. Enduring the darkness and doubt brings its own reward — like the rising sun's power to bring a spiritual resurgence and provide the kick in the ass necessary to carry on.
Unaware of what lie ahead during this first evening and now alone in the mountains, I knew I had to maintain my focus. Knowing that Kristine had finally arrived I knew it would be tough when I finally saw her to not want to stop the race and spend all my time in the majestic wilderness alone with her. It's true, internally my emotions within were all over the place, as much as I'd probably want to suspend time and stop racing to be with her, I was equally giddy with excitement at the prospect of having her see what I was made of. I wanted her to see that I had the gusto to finish the Peak Death Race.
My trek down Bloodroot Mountain Trail was far better than my ascent. No longer feeling any foot pain, I had almost completely forgotten about the episode. Determined to return the the White Barn at Riverside Farm to catch my lady, a fire inside began to rage. I barreled my way down the treacherous trails. With my headlamp lighting the tree lines up with the power of 200 lumens, I swear that Black Diamond Icon headlamp is like having your own personal sun, and because of its brilliant light I was able to leap over every puddle, creek, and stream that lay in my path. Utilizing my trekking poles, I managed to navigate the dark path without hitting any water by propelling myself over each water source in my way.
The further down the trail I made it the more I felt the weight of my pack taking its toll on my shoulders. In an effort to quell the discomfort, I messed around with my straps loosening them and tightening them, sometimes unclipping the chest strap and allowing the shoulder straps to fall off, putting a majority of the weight into my waist belt. I was resolute to keep my pace and not have to stop. I had made it down the more treacherous parts of the trails, but no matter how much I shifted and adjusted the pack, the nearly 70 pounds was too much. I eventually caved, and dropped my pack to the ground. I had to rest, if only for a minute. Fellow Death Racers passed by and I felt a sense of defeat, I was unhappy with my inability to bear the weight. It was my own fault; even with all my knowledge from previous races, I made a mistake and over-packed. The truth of the matter was I feared Bloodroot. In my experience, going to Bloodroot typically meant a trek to Chittenden Reservoir. A journey to those parts meant long distance swims in frigid waters. Swimming, I can do. In frigid, open waters? That's when I get a little shaky. Thankfully, it seemed we avoided that water hole of misery, at least for now, I thought to myself.
Continuing to make the long hike back, I relished in the fact that at least with the downhill gravity was doing some of the work. Just a little further and I'll be back, I told myself. It seemed like a never-ending hike. As I made my way off the trails and onto the road that leads to Upper Michigan and towards the path that leads past Jason's home, I paused to soak in my surroundings. Here I was, still in the beginning stages of another Death Race adventure,and yet, if only for a moment, it was a chance to acknowledge the vastness of the universe. I gazed up at the blackening abyss over the clear Vermont sky speckled with blinking beams of light that traveled light years just to reach my eyes in this very moment. The experience was transcendent. Staring out gave me this assurance that as difficult as anything I might face ahead may be, that there are far greater challenges being faced everywhere. For a moment, my mind expanded beyond my conceivable conscious. I returned my mind and myself back to this planet after sitting for a brief moment on a roadside guardrail, lost in the stars above. I redirected my enlightenment to getting through this Death Race as a finisher. This was it, everything I've done over these past few years has led to this defining race. You'd be mistaken if you thought it was only about racing others, the truth is the Death Race is you against you. Can you overcome whatever demons might reveal themselves in the face of the adversity crafted to disrupt you? I believed I not only could, but would.
Not too long after my short meditation, I gained a bit of pep in my step and finally could see the lights of Riverside Farm in my sights; all I had to do was safely cross Route 100 and run up the driveway. As I approached the farm, excitement filled me, having already been going for well over 12 hours; I finally got to see the beaming smile of my lady, Kristine. As I ran up she greeted me already prepared to help me as my crew in any way possible.
I was informed I had to speak to the woman by the teepee tent that was there in the back corner of the corral where a large amount of Death Racers were already hard at work on the next task.
The next task to be completed was to take the log that I had just carried back from Bloodroot and I needed to make a hole in the center. It was required to show this woman, who resembled Pocahontas in the garb she adorned, through this hole that the mandatory porcupine quill I had brought with me could be slid all the way through it. Sounded like a simple enough task. Before I was allowed to do that, however, I had to change my clothes. It was time to take the four yards of buckskin, or in my case vinyl that looked the color of buckskin but felt like a "pleather", and create a top and bottom that mimicked her look. Specifically, I would need to use 108 stitches to do so. Those were the instructions.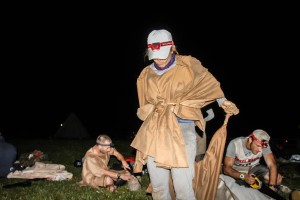 Immediately I ran back to where I dropped my pack by Kristine and my attitude changed. The temperatures were dropping and I was not in the mood to sew a stupid outfit that I would have to wear for what at worst could be the rest of the damn race. All I could think was, this was going to be miserable!. Negativity overwhelmed me. It engulfed my soul so quickly, I was actually thinking about quitting. Why the f*ck do I have to do this bullshit? I could just go back to the hotel with Kristine and enjoy Vermont for once, why am I putting up with stupid shit like this. It's incredible how fast the negativity can exasperate into an uncontrollable fury. Kristine tried to encourage me. This was only the first night; I had to snap out of it. This is what the Race Directors wanted, they wanted to get a rise out of us, and they wanted to break those of us who lacked patience. It's not always the physical tasks that will get you in the Death Race; it's the ones that require mental solitude, perseverance, patience, more often than anything else it's these challenges that force a Death Racer to quit.
This would be my greatest challenge — overcoming the mind-numbing task of sewing, which I'm pretty awful at, my own hunter/gatherer style outfit. I decided to essentially slice the fabric in half, one part to make a skirt of sorts, a kilt, if you will. For the top I would fold it in half and using my Ka-Bar I turned it into a tunic, making a hole that may have been a bit larger than necessary for my head to go through. I sealed up the sides a bit to fulfill the requirements of having stitches and made sure to count each stitch one by one, an impressive test of focus. Stitch, count, stitch, count. It was a repetitive task that had to be done precisely for fear of penalty. By the time I had my tunic and skirt all stitched up I had regained my composure and desire to race. I decided if I was going to deal with wearing this I might as well have a little fun with it, so I took my knife and sliced some stylish cuts into the skirt to give it a more "Gladiator" style, at least that's what I pictured in my mind . It looked far from the garb of a gladiator, but it certainly gave me and everyone else a laugh, including Pocahontas.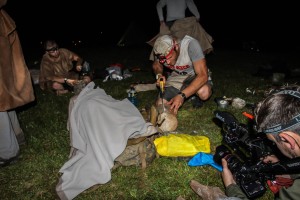 Next up, I had to get to work on my log. While the task seemed like it would be easy at first, I quickly realized how difficult this could be. Strategizing with my crew, Patrick Mies, a fellow Death Racer with whom I had raced with the previous summer, suggested first to begin splitting the wood with my hatchet without breaking it in half. Then I could shove screwdriver or something similar down the middle. While I loved his suggestion, there was one problem I didn't have a screwdriver or anything like that. Not even two minutes later, I found one on the ground by my side. It's strange how items just appear right when you need them at a Death Race.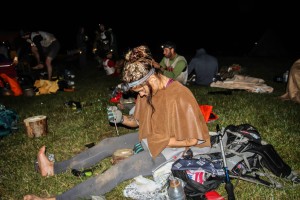 Working hastily, I jammed the screwdriver into my already half split log and started pounding it down with the back of the hatchet I borrowed from fellow Death Racer, Rob Barger. Once it was through I went to pull it back out of the log. It was stuck! Shit?! What do I do? I could feel my heart rate accelerating. I'm screwed. I started throwing my log on the ground, pulling, pushing, twisting, and doing whatever I could to try to wiggle it free. After tirelessly working on it for a good 10 minutes I finally succeeded. Now to make sure I can get the porcupine quill through. It was important to me that I could do it before I went and showed them. My first attempt I lost my quill in the wood shavings and debris. I had to make it smoother. Round two with the screwdriver went a little smoother than the first. After losing another quill, and I only had 2 more left, I finally succeeded. Excited, I ran over to the teepee tent and fire that was burning in front of it and presented my project to Pocahontas. Success came only after my log almost fell apart, only a sliver of bark held it together. Ecstatic to finally be done with this tedious task, I ran over to Kristine and Patrick and began gathering my things so I could prepare for what lie ahead.
To be continued…