Last year I learned a valuable lesson about Death Race gear choices….don't wear a shoe that is beginning to get low on tread. After over 30 hours I finally had a chance to switch shoes. The beginning half of the event I went with an extra comfy shoe, especially based on my standard of having very minimalist, going with the Brooks Cascadia 7s as my primary shoe. For the second half I switched into the second most practical shoe I owned, the New Balance Minimus MT 10 Trail shoe. At the time I didn't have nearly as many options as I have now…I've since become a bit of a shoe whore. The MT10s are a great shoe but mine were already low on tread and going from cushy to minimalist wasn't the most pleasant, though it really wasn't that bad. The problem came when climbing up and down the ravine, bucket of logs, full ruck. Ya, I fell on my ass a lot. I laughed about it mostly but it could have been dangerous in the grand scheme of things. One bad slip and I could have been out of the race.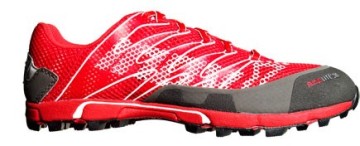 This year I am coming prepared. I kept my Brooks Cascadia 7s from putting many miles on after that race and will be bringing them back for another round, don't fix what isn't broken. In addition to the Brooks I have decided to bring the Inov-8 Roclite 285s as my shoe of choice. I have yet to decide which I'll wear first but I'm leaning towards starting with the Inov-8s so I can switch to something nice and comfy for the second half of this masochist's retreat we call the Death Race.
Everyone is different and everyone will use different shoes so I'm curious what shoes will you be wearing at the Death Race?