Today I had a some energy I needed to expel. As soon as I walked in my door I changed and went straight to the gym (my awesome basement) and decided EFF IT! This is my life and I need to live it and enjoy it regardless of this damn sling.
"Now that don't kill me
Can only make me stronger"
"Work it harder, make it better,
do it faster, makes us stronger,
more than ever, never over,
Our work is never over."
30 Minutes Recumbent Bike
3 sets of 5 – One Arm Burpees
50 Sit-ups
30 Leg Lifts
Right Arm Bicep Curls
Right Arm Military Press
Right Arm Rows
I'm lefty dominant so I figured who cares if I make my right arm a little stronger than the left during this period of recovery. There's a first time for everything as the saying goes. I feel really good doing something active again, even if I only worked one side of my body.
Enjoy my ugly attempt at one arm burpees.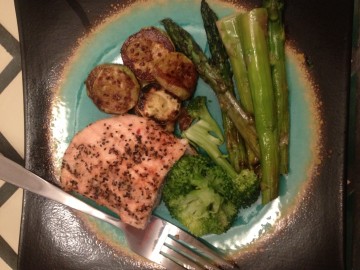 All followed by a healthy dinner consisting of chicken breast, asparagus, broccoli, and zucchini! Yum. Oh ya and guess what…the world didn't end today. Cheers!