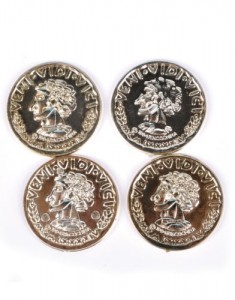 This week begins the final planning stages for the Legend of the Death Race Training Camp. With that we have begun the Social Media Challenge portion of the event. Participants have been asked to create videos with specific challenges announced to them each day. They received their first challenge last night via an email that was sent to each participant. They must post a video to YouTube by 11:59pm CST tonight of them performing 15 Handstand Push-ups. They are allowed to do these against a wall.  Those who complete the challenge successfully will be given a Token. Tokens can be redeemed for eliminating small portions of tasks they'll be expected to do during the training camp.  Last week we did a test run of this through the Legend of the Death Race Training Camps group on Facebook. Only one participant was willing to upload a video of himself doing 100 burpees. Michael Sandercock who guest posted about The ULTIMATE Suck has earned himself the first Token.  Racers are allowed to earn up to 3 Tokens total.  Once they receive three tokens they cannot earn more. We will be posting challenges each day this week. I will post all the videos that we receive for the Handstand Push-up Challenge back here tomorrow.  Be sure to check back to see who earned a Token and to the racers, may the odds be ever in your favor.
Racer: Steve Santiago
Steve had an issue with counting but he submitted two videos and has earned a token for his efforts.

Video 2:

Racer: T.J. Nomeland
T.J. not only did all his handstand push-ups but decided to do some extras just incase. Nicely done. You've earned a token.

Racer: Rodrigo Velarde
Very nicely done Rodrigo. You have earned yourself a token.

Racer: Michael Sandercock
Great job Michael! You killed it. You have earned your second token. Congrats! One more till you max out.

Also here is the 100 Burpee Challenge he completed. Superb!