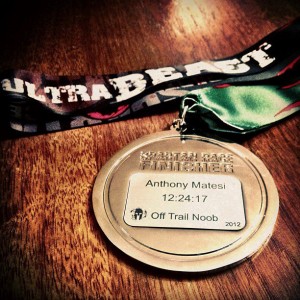 Did you just finish the Beast, or maybe you just conquered the Ultra Beast? Did you complete your Trifecta? I haven't been one to feel the need to customize my Spartan Race medals, or any award I've ever received. However the original award I received came was always good enough for me. When the Ultra Beast was given to me I was in awe at the sheer size of it. Later on I would realize that the coloring for the Ultra Beast Medal was actually glow-in-the-dark. . Starting for 2012 the backs of the medals given out by Spartan Race have a slot where you can insert an iTAB medal insert. This iTAB insert is able to be engraved with race information such as location, finish time, and your name. Something my Ultra Beast medal was screaming out for. So to commemorate the first ever Marathon Obstacle Race (because I will never forget that race) I caved in and ordered an iTAB medal insert, it WAS only $10. On it I have my name followed by my finishing time and to remind myself to never take a trail marker for granted again, I gave myself the title of "Off Trail Noob."
The order process is very simple, you type your information in and within less than a week I had my iTAB delivered and ready to make my Ultra Beast medal even better. The backing is easy to peel off and since it's perfectly cut it fits right into the medal just the way it should.  Normally I worry about not getting things aligned correctly, I have OCD about that type of thing but it was so easy to align on the first try I was shocked.  Before I wasn't sure if I'd get more of these but as my medals begin to accumulate I'm realizing it'd be nice to know where each one came from.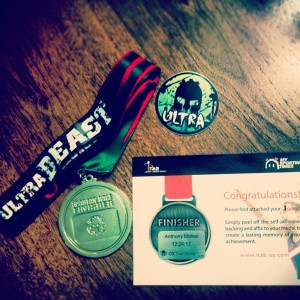 Now if you want to buy one you can do that simply by going to http://www.itab.us.com/ or you can enter the contest below for your chance to win one of ten iTAB Medal Inserts I have here for you.  If you win you will be given a voucher code to redeem your free iTAB. All you have to do is use the entry form below each task gives you additional entries. In a week I will draw winners. The iTABs are available in both standard and Ultra Beast sizes. Good Luck!