Think you've got what it takes? Sign up Below!

November 9, 2012
Start: Friday, November 9, 2012 @ 5:00 PM
End: Saturday, November 10, 2012 @ 3:00 PM
Registration Closing Date
Wednesday, November 7, 2012 @ 11:59 PM PST
REGISTRATION FEE
Training Camp Fee Schedule and Details:
Individual:           Until:
$50                     September 30th, 2012
$75                     October 31st, 2012
$100                   November 7, 2012
Registration is Final. No Refunds.
IMPORTANT RACE DOCUMENTS
Download Mandatory Waiver
PDF
TRAINING CAMP
When: November 9 and 10th, 2012
Distance: TBD – Over 20 hours of endurance, physical, and mental challenges.
Registration Time: 5:00PM – 7:00PM November 9, 2012
Race Begins IMMEDIATELY at 7:00PM
DO NOT BE LATE. YOU WON'T BE A HAPPY CAMPER.
What to Expect:
This is a training camp based on my training regimen for the Spartan Death Race.  While the focus is on learning how to survive the Death Race, what you learn is applicable to all rounds of life. Your body will be physically tested. Your endurance will be pushed to extremes. Your mind will be given a proper workout. Problem solving under severe conditions is to necessary to succeed in life, it will be necessary here as well. Be prepared to go on long night time hikes, know how to chop wood, do yourself a favor and practice with your ruck.  There will be running, and jumping, and climbing and crawling. The event will play out much like a race with a little Legend of the Death Race twist. Taking inspiration from multiple adventure, ruck. and military training concepts and adding in a segment that requires completing challenges to unlock new areas of the course. In order to proceed at some points of the race it may benefit you to team up with your competition. Treat this training camp as a race. You compete how you practice.
Aid Stations:
You are expected to self support yourself for the entire event. We will have some supplies available for emergency situations. It is highly recommended that competitors bring with them what works best for you. Personal recommendations are the following but not limited to, gel packs, jerky, fruit, trail mix, protein bars, electrolytes, granola, energy shots, water, really whatever works for you and keeps you going long enough to endure up to and possibly beyond 20 consecutive hours.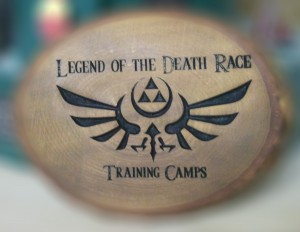 All Racers Receive:
Engraved Finishers Award
T-Shirt
Free Beer for anyone 21+
Opportunity to play on terrain and farmland creating a unique, challenging experience
Bump, bruise, or scratch (at least)
A story to share with everyone at Thanksgiving
Test of Fortitude, Virtue, and Sagacity
Volunteers:
Crew:
Racers, you are allowed to bring crew members. Please take the time to explain what you will be doing and show your crew a video or two of the Death Race so they understand what you'll be going up against. Crew members are allowed to provide encouragement on the field and food support when we are at HQ. Crew members are NOT allowed to carry or assist in solving any of the problems/challenges.
Spectators: 
There will be plenty of opportunities to see the racers throughout the event. You are welcome to camp out and hang out by the bonfire. Dress warm, bring lots of blankets, and be prepared to witness some of the most incredible athleticism you can lay your eye on.
REQUIRED GEAR LIST:
Axe, Ruck, Food, Hydration Pack, Warm Clothes, Change of clothes, Bucket, Headlamp, anything you think you may need to survive in a forest for a weekend.
LOCATION INFO
Address
Marxville Farm
6138 County Road KP Mazomanie, WI
(Just Outside Madison, WI)
Parking:
There will be parking available on site. You'll be directed where to park upon your arrival.